Boeing MAX still could be taxiing over software training
By SCOTT REEVES in New York | China Daily Global | Updated: 2019-05-29 23:33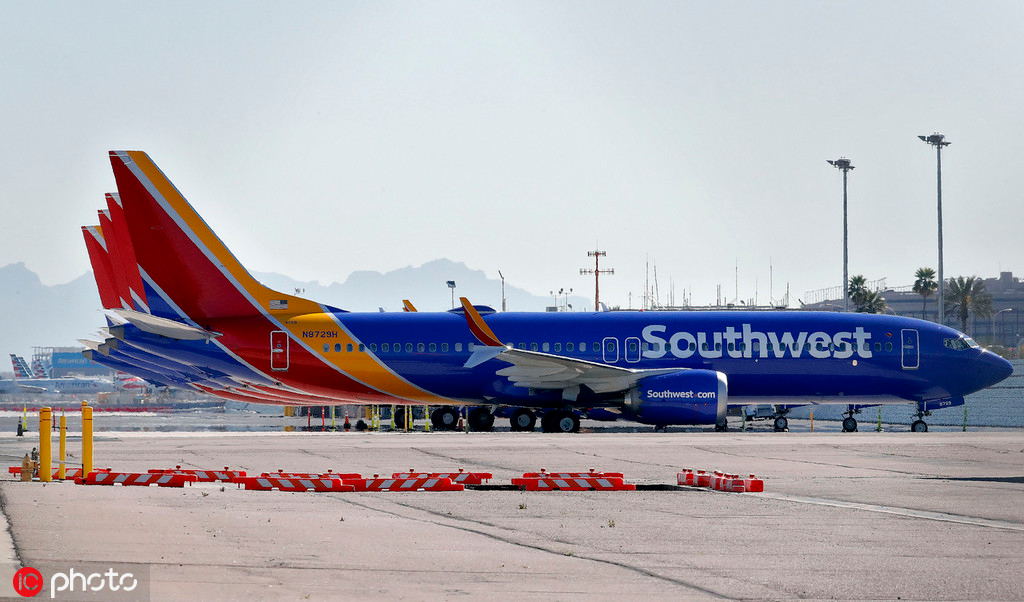 Training needed to recertify pilots on the Boeing 737 MAX could delay the jet's return to service, if a high level of preparation is required for the updated version of the anti-stall system, according to global regulators.
Airlines hope to have the airplanes back in service by late summer, but a meeting last week in Texas underscored a basic problem: There are not enough flight simulators available to introduce pilots to the new software for the Maneuvering Characteristics Augmentation System (MCAS).
"Simulators are very expensive," John Cochran, president of Eaglemark, an aviation consulting firm, and professor emeritus of aerospace engineering at Auburn University, told China Daily.
"Initial training could be on an Apple iPad followed by further training on a simulator. Any kind of training that shows the pilot what to do and when to do it would be a good start."
Simulators replicate the cockpit of an airplane. Top-of-the-line simulators move like an airplane in flight as the mock controls are manipulated and provide video to create added realism. While there are ample flight simulators available for other types of aircraft, it's unclear how many simulators are available in North America and around the world to train pilots on MAX jets, Cochran said.
No decision has been made on the level of training needed for the MAX jet's updated MCAS, the anti-stall device. Training on Boeing's new software for the system, completed by the company but not yet approved by the US Federal Aviation Administration, could begin with a laptop computer and then move to flight simulators as part of a pilot's continuing training, Cochran said.
Boeing MAX jets were grounded worldwide following crashes March 10 in Ethiopia and October 29, 2018, in Indonesia that killed a total of 346 passengers and crew. Preliminary investigations suggest the aircraft's MCAS, an automated anti-stall device, apparently forced the noses of Lion Air and Ethiopian Airlines flights down and into a fatal plunge when it erroneously determined the planes were about to stall. To avoid a stall, MCAS points the nose of the plane down to gain air speed.
There are about 400 MAX jets in service worldwide, including about 97 in China. Wall Street analysts expect Boeing to spend about $1 billion to update and install new software worldwide to prevent the MCAS system from repeatedly pointing the nose of the plane down and to prevent the system from being activated by only one of two exterior sensors.
MAX jets were flown extensively in the US and China without incident prior to the fatal crashes in Indonesia and Ethiopia.
In April, the FAA said computer-based training would be sufficient and flight simulators would not be required. Pilot unions at Southwest, American and United, the three US airlines that fly MAX jets, agreed that simulator training should not be required initially to get the planes back in the air and could be included as part of routine training in the future.
In a statement, the aircraft manufacturer said: "Boeing continues to work with global regulators and our airline customers as they determine training requirements in their home markets. Once we have addressed the information requests from the FAA, we will be ready to schedule a certification test flight and submit final certification documentation."
Regulators from around the world met last week in Fort Worth, Texas, to review the software update for the Boeing 737 MAX and to determine what's needed to assure the safe return of the jet to commercial service. The FAA and foreign regulators did not announce an official schedule for returning MAX jets to service.
Routes Online reports that American Airlines has included MAX jets in its September and December flight schedules. This is unofficial and use of the plane was tentatively scheduled despite the lack of a specific date for recertification of the aircraft.
Critics have said the FAA relied too heavily on Boeing's engineers when certifying the MAX jet. But Daniel Elwell, acting administrator of the federal regulatory agency, testified May 15 before a US House of Representatives subcommittee that review of the plane's safety took five years to complete. While federal regulators relied on Boeing for technical details, Elwell said the FAA made the final decision to approve the plane.
Meanwhile, Air New Zealand announced that it has ordered eight Boeing 787 Dreamliners at a cost of about $2.7 billion each. The new long-haul, mid-size wide-body twin-engine jets are scheduled to be delivered over a five-year period beginning in 2022 and are designed to be 25 percent more fuel efficient than the airplanes being replaced. Air New Zealand is 52 percent owned by the New Zealand government.