China-Russia ties too strong to be destabilized by US designs
By Xing Guangcheng | China Daily | Updated: 2019-05-30 07:10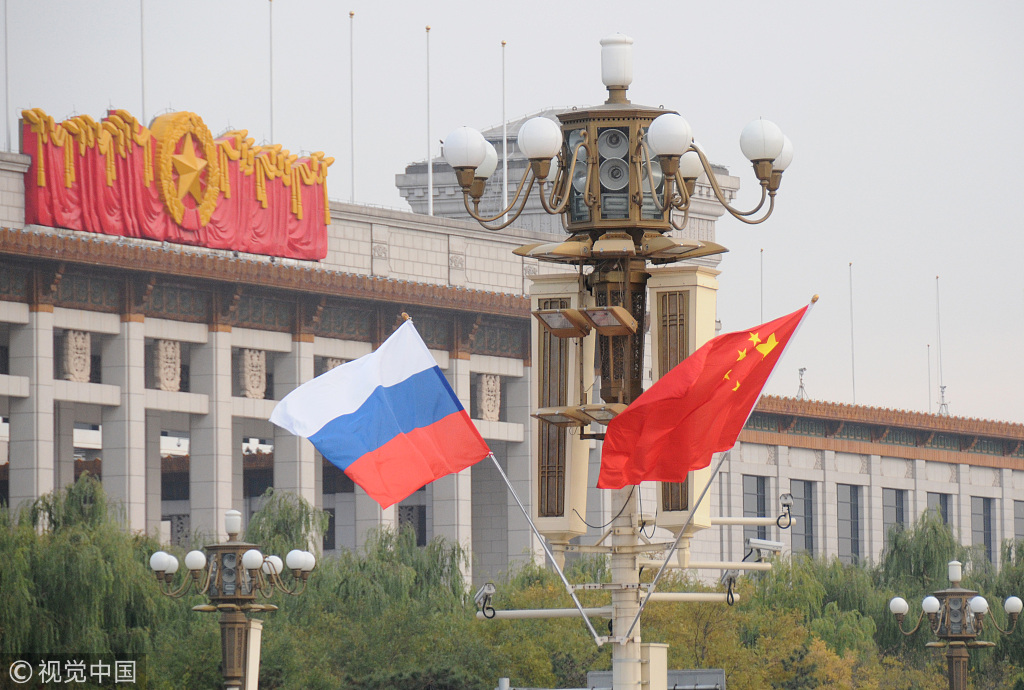 There have been murmurs that the relationships among the United States, Russia and China are undergoing changes. Even commercial projects initiated by some Chinese enterprises have been politicized and used as examples by the Western media to claim China-Russia relations are no longer that strong.
For example, the demand of protestors in Russia's Irkutsk region that a Chinese company stop building a water bottling plant because it could drain and pollute Lake Baikal, the deepest and largest reservoir of freshwater in the world, is being cited as signs of weakening Sino-Russian ties. To confound public opinions further, the US has indicated that it wants to improve relations with Russia, and the recent conversation between US President Donald Trump and Russian President Vladimir Putin on the phone was part of that endeavor.
Such claims have left many guessing whether Moscow would really cooperate with Washington to "contain" Beijing.
But the truth is, Sino-Russian relations are too stable to be affected by minor incidents. The dispute over the bottling plant near Lake Baikal is but a microscopic economic problem which cannot reflect the true strength of China-Russia strategic relations.
The Sino-Russian relationship is a "new type of major country relationship" that has become more mature over the past decades. As comprehensive strategic partners, the two countries have made great contributions to regional security, stability and development by participating in regional mechanisms such as the Shanghai Cooperation Organization and a trilateral cooperation mechanism, which also includes India. Such high-level and intense cooperation has injected further vigor into China-Russia relations.
Thanks to this cooperation spirit and deep mutual understanding, China and Russia can make joint efforts to promote peace and cooperation at a time when the world faces increasing uncertainties brought about by the anti-globalization and protectionist moves of certain countries.
At a deeper level, China-Russia relations are based on the four pillars of non-alignment, non-confrontation, non-interference in other countries' internal affairs and nonpromotion of ideologies. Which means China and Russia will neither interfere in other countries' internal affairs nor allow other countries to interfere in their political and diplomatic affairs.
There is no reason for Russia to ignore its relations with China on the coaxing of another country because Beijing and Moscow have common interests in developing strategic relations and cooperating in various fields for mutual benefits.
Moreover, China-Russia relations are much stronger than what China-US or Russia-US ties ever were. The structural contradictions in Russia-US relations are deep-rooted and complex. Besides, the US has not changed its policy of squeezing the space for Russia's strategic maneuverings, nor has it eased the sanctions against Russia. And without Washington taking sincere actions to improve relations with Moscow, how can Russia change its foreign policy and strengthen ties with the US?
Sino-US relations are also different because their disputes signify the conflicts between a rising power and an established power, and a contest to promote globalization and anti-globalization. On the other hand, China and Russia treat each other as equals, which allows them to maintain a stable and strong relationship. Equality has laid a strong foundation of firm cooperation and mutual trust between Beijing and Moscow. By contrast, Washington's actions against China and Russia amount to bullying. As such, China and Russia are not only wary of the US but also have been opposing US hegemonism.
No matter how much Sino-US relations and Russia-US relations change, they will not affect the China-Russia comprehensive strategic partnership.
The author is head of the Institute of Chinese Borderland Studies, Chinese Academy of Social Sciences. The views don't necessarily represent those of China Daily.