Baby boy survives after liver transplant
By Zhou Wenting in Shanghai | China Daily | Updated: 2019-05-30 09:18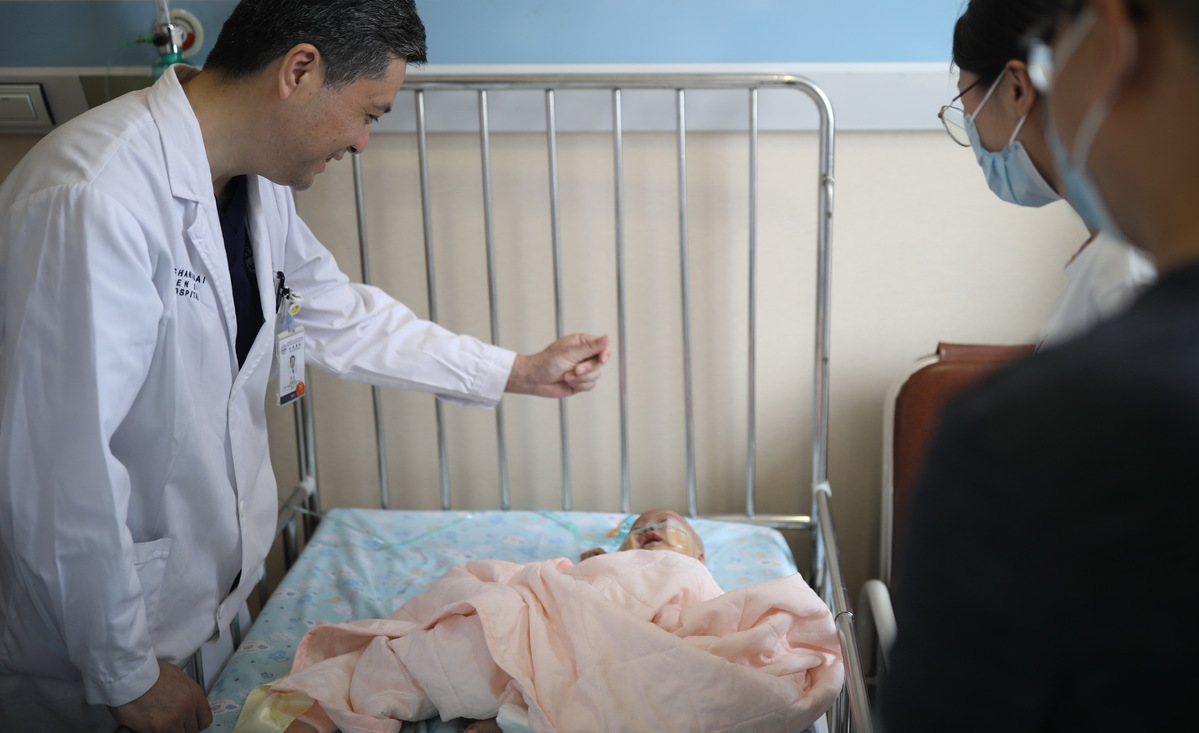 An 80-day-old boy, the youngest recipient of a liver transplant in the country, is recovering well, a Shanghai hospital said on Tuesday. His mother, the donor, is also in good health.
Renji Hospital affiliated to Shanghai Jiao Tong University School of Medicine, where the transplant was performed on May 16, said the newborn, who was suffering from acute liver failure and weighed only 5.2 kilograms before surgery, will be discharged soon.
"The baby is now very active. His milk intake is within normal range and he smiles often. His skin has turned fair from severely yellow," said Qiu Bijun, a doctor on the team that performed the transplant.
Doctors found the boy and his mother have the same blood type, and imaging evaluations found she was a suitable donor. The surgery on the mother took two hours and the one to transplant a section of the mother's liver that weighed 180 grams into the infant took six hours.
Qiu said the liver would grow with the boy and it was unlikely he would need a second transplant in the future.
The hospital said it was the first time a liver transplant has been performed on an infant younger than 100 days. Renji Hospital has been ranked the best in the world in terms of the number of liver transplant surgeries for children for seven years, with high success rates of surgery and long-term survival.
Chief surgeon Xia Qiang, who is also the head of the liver surgery department at the hospital, said a key challenge of a transplant operation on such a small baby lies in reconstruction of the tiny anatomic structures of the liver, which is done under magnifying glasses and microscopes.
"It also made it challenging that the child had been critically ill, which posed higher requirements for perioperative anesthesia and intensive care," he said.
The boy, who was born in Hangzhou, Zhejiang province, on Feb 25, showed symptoms of congenital liver disease a month after being born. He was taken by his parents to Shanghai Children's Medical Center for medical treatment on May 14.
The infant showed symptoms of acute liver failure, including consciousness disorder, collapse of coagulation system and severe jaundice. A liver transplant was the only hope for him to survive, the doctors said.
It had been a race against time to save the boy's life, Qiu said. "It took only less than 48 hours for the boy to be transferred to our hospital for the transplant," Qiu said. "The hospital has accomplished more than 1,800 liver transplants on children since 2006, which meant we had the experience and confidence to go with adequate discussions of the surgical plan."