Crucial step forward taken for 5G with commercial licenses
By Ouyang Shijia and Ma Si | chinadaily.com.cn | Updated: 2019-06-06 08:45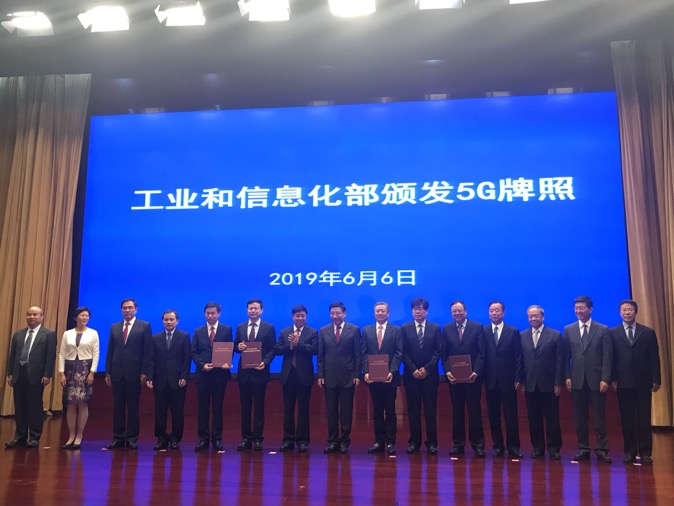 The Ministry of Industry and Information Technology on Thursday officially rolled out commercial 5G licenses, making a crucial step for next-generation 5G commercial use.
The ministry granted licenses to the nation's major three telecom carriers — China Mobile, China Telecom and China Unicom — as well as the state-owned China Broadcasting Network Corp.
The move marks an accelerated push by China in 5G application. Its previous plan was to commercialize the technology in 2020.
"The 5G licensing will help deepen structural reform in the telecom industry, improve the level of social and economic informatization and assist several leading companies with global competitiveness," China Mobile chairman Yang Jie said.
China Mobile claimed its 5G services will be available in more than 40 cities by the end of September..
China Telecom also said in a statement the 5G licensing will be a key step to build the country into a "cyber power". The company added the issuance is also conductive to gaining a competitive edge in the telecom sector, which will help drive technological innovation, embrace industrial upgrades as well as boost high-quality economic growth.
China Unicom noted it will continue to welcome foreign companies to participate in domestic 5G construction.
Minister of Industry and Information Technology Miao Wei said China welcomes foreign companies to actively participate in the construction of China's 5G market and share the benefits generated in the market.
Raymond Wang, partner with global consultancy firm Roland Berger, highlighted China's commitment to further deepen opening-up.
"Miao's remarks showed China's positive attitude toward reform and opening-up, as well as its determination to build the world's biggest 5G market," Wang said. "China has the confidence to compete with foreign companies in the market."
Many foreign telecom companies applauded the move and the country's commitment to international cooperation, saying issuing licenses will accelerate 5G application and development.
Qualcomm China chairman Meng Pu said this marks the official opening of China's 5G year, adding cooperation will be key for the 5G development.