Insuring world's future with useful tech
By Zheng Yiran | China Daily | Updated: 2019-06-10 10:33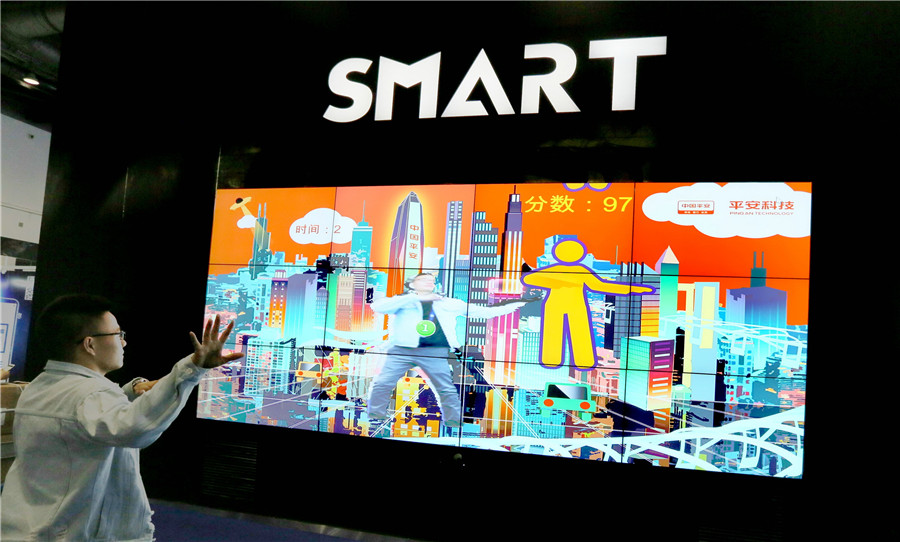 Ping An's three-pronged 1+N platform brings myriad benefits to all economic sectors
China's insurance giant Ping An Group is innovating applications of artificial intelligence, big data and analytics to strengthen various countries in areas like road traffic management, smart cities and agriculture.
For instance, in Singapore, Ping An's "1+N" smart city platform is helping the local government to relieve traffic congestion. In Indonesia, it is guiding farmers on how to grow crops better.
1+N is said to be benefiting hundreds of millions of people in eight countries and regions, including India and Vietnam.
The platform is composed of three sections. The first one is about improving the administration of the whole city, including monitoring of food safety.
"In this way, the government gets better control of the city, as cities are becoming really large, and online information is getting increasingly fragmented. The platform helps to get information more accurately," said Jessica Tan, co-CEO of Ping An.
The second section of 1+N is about promoting business elements by building models for economic reform in various cities. The platform helps a city government understand what the upcoming trends are, and how it should formulate better development policies or subsidies.
The last section of 1+N is about promoting lifestyle services, so that citizens can actually live better in a city.
"For example, everyone living in a city spends hours in traffic every day. So, Ping An uses technology to improve the traffic situation. Using artificial intelligence, we increased the traffic speed in cities by 30 percent to 50 percent. In the healthcare sector, our AI-enabled technologies help doctors to improve their medical ability and reduces misdiagnosis rates," Tan said.
Currently, Ping An's AI-powered image-scanning technology can detect 35 diseases, covering 800 million potential patients worldwide.
"The image-scanning technology can process 15 to 40 percent of the hospitals' image reports. The scanning rate has improved 15 times over, as it takes only one minute to scan the image and generate a diagnostic report," said Xie Guotong, chief healthcare scientist at Ping An's high-tech subsidiary.
He said: "AI is expanding at an exponential rate. The whole AI value chain, from the basic level to the technical and application levels, is full of opportunities. When you combine AI with the healthcare sector, especially healthcare at the primary (smaller, local) level, there are infinite possibilities."
Explaining why Ping An introduced its"1+ N" platform overseas, Tan said: "We noticed that there are a lot of demands from cities in the outside world. I just came back from Southeast Asia, and I found that many countries, such as Indonesia, the Philippines and Vietnam, are also wrestling with a lot of issues that China is grappling with.
"China, in many ways, actually has led smart city development, and even my hometown Singapore, which is technologically advanced, would like to learn from China.
"Therefore, we introduced the platform overseas, and we are particularly focused on Asia, and in line with the Belt and Road Initiative. In March, we signed a deal with the largest health group in Singapore to provide a diabetes management system."
1+N platform offers its image-scanning technology in many countries, including India and Indonesia. In addition, these countries also benefit from Ping An's technology in the agriculture sector.
It helps local governments to better select lands for different crops to grow. It indicates productivity, and the likelihood of different types of catastrophic events that need insurance. Besides, it signals the likely impact of any such events on lives and economy.
In this way, governments are enabled to plan better crisis management measures to support farmers and insurance companies. The company is now in talks with the Vietnamese government to deploy its technology in the country.
Given the 1+ N platform's success so far, Ping An is planning to introduce it in more countries and regions. "The platform is now applied in around 100 cities in China, and we see problems, whether occurring domestically or overseas, are solved the same way using our systems. Therefore, we will continue to promote the platform in more countries," Tan said.
Shang Yang, an AI analyst at research company Equal Ocean, said: "The United States plays a leading role in algorithm research, while China is a forerunner in terms of the product development and commercialization of technology. Chinese enterprises such as Ping An are good at converting technologies into commercial applications, and then introducing such applications to other countries and regions. Southeast Asian countries are their targets as these countries are usually underdeveloped in AI technology, and their governments are willing to support AI development.
"In addition, Southeast Asian countries are geographically close to China, and their governments usually keep a benign diplomatic relationship with the Chinese government. So, Chinese enterprises are taking action to grasp the market. Meanwhile, other economies participating in the Belt and Road Initiative are keen to embrace AI technology applications because of local policy support. Latin American countries are also good targets. Chinese mobile phone brands are already exploring markets there."
According to Ping An, during the past decade, it had spent $7 billion on technology, and will continue to invest $15 billion in the coming 10 years, as technology is one of its major focus areas. Currently, its technology arm employs 99,000 staff, among whom 29,000 are pure developers.
"We have money and talent, and we have fundamental research in AI, blockchain, smart connection and cloud computing technologies. This is one of the reasons why we succeeded overseas," said Tan.