Use of mobile payment services skyrockets as consumers opt for convenience
By Chen Yingqun | China Daily Global | Updated: 2019-06-10 10:38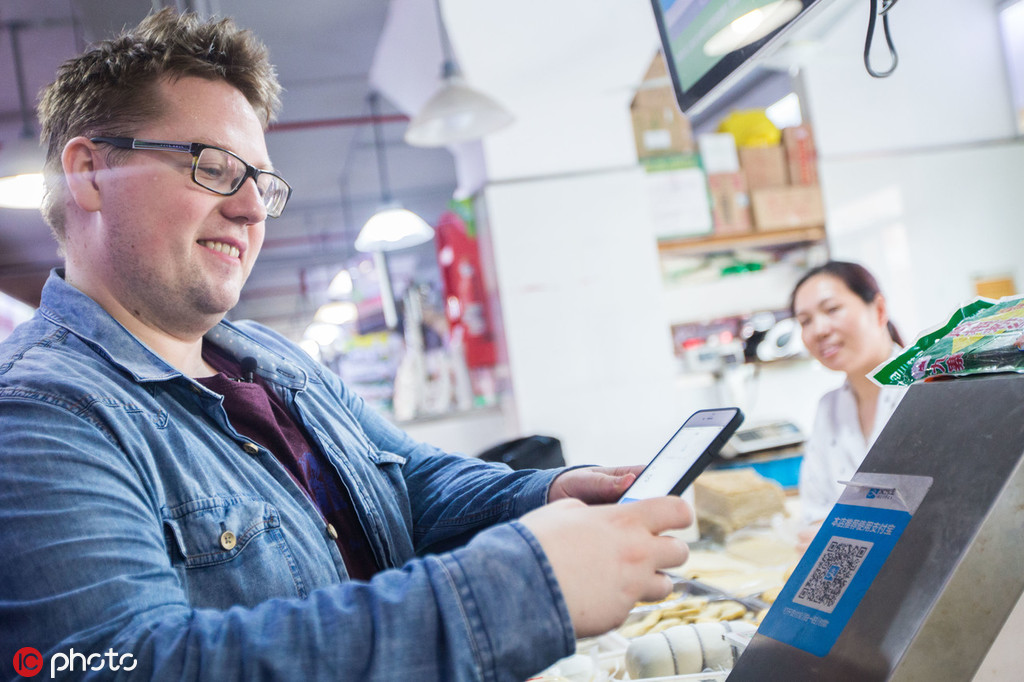 Whether it is the down payment on an apartment involving about 3 million yuan ($434,440), or just 2 yuan needed to buy a steamed stuffed bun for breakfast, Song Yu makes the payments with just a few clicks on his smartphone.
"I usually put a few hundred yuan in my physical wallet, but I almost never use the cash unless I travel to remote villages," said Song, a 34-year-old freelance writer in Beijing.
Cashless payments have become part of everyday life in China due to the rapid development of financial technology, or fintech. People can leave their homes without carrying cash or bank cards and can use digital wallet services on their phones for shopping, dining out, or to make donations.
The use of mobile payment services in China has skyrocketed in the past five years, with the total number of transactions reaching 277.39 trillion yuan last year, a rise of more than 27-fold from five years ago, according to a report issued by the People's Bank of China.
The country is already the world's biggest market for mobile payments, with some 583 million users last year, a rise of 10.7 percent from 2017, according to a recent report from the China Internet Network Information Center.
Kalkidan Hailegiorgis, a 20-year-old Ethiopian undergraduate student at Duke Kunshan University in Jiangsu province, said she is hugely impressed by the widespread use of mobile payment services in China.
"In my country, whenever I leave the house I always have to make sure I have plenty of cash," she said. "Here, I only have to ensure I have my phone, which is so convenient."
A report by the Payment and Clearing Association of China said that last year 80 percent of mobile payment consumers used such services every day. For 43 percent of them, the average amount for a single payment was less than 100 yuan.
Zhen Xinwei, a researcher with the International Monetary Institute of Renmin University of China, said cashless payments offer great convenience for consumers.
"Mobile payment is fast, saves people the trouble of carrying cash and eliminates the risk of money being stolen," he said, adding that more than 90 percent of the market is dominated by Alibaba's Alipay and Tencent's WeChat Pay. However, many other service providers, such as UnionPay's QuickPass, are striving to grab a market share.
Despite the rapid development of cashless payment services, the rights of consumers who are technologically challenged, or do not have access to such services, to choose their method of payment are still strictly protected.
"For the large number of elderly people who are not familiar with them, mobile payments mean great inconvenience," Zhen said, adding that for those living in remote villages or who are less well-off, and where internet coverage is still low, cash remains king.
In July, the PBOC issued a statement saying that companies or individuals cannot refuse cash payments or discriminate against them.
"Some shops in tourist areas, restaurants and retailers have refused cash payments, which has damaged the renminbi's legal status and consumers' rights to choose the method of payment," it said.
Moreover, the report by the Payment and Clearing Association of China said some 64.7 percent of mobile payment users are worried about the safety of their money.
A report by UnionPay said that last year there were fewer cases of people being scammed while making mobile payments compared with the previous year, but the average loss rose to 1,800 yuan, up from 1,600 yuan in 2017.
He Daixin, an economics researcher at the Chinese Academy of Social Sciences, said financial security is essential and government regulation of mobile payments should be strengthened, including protection of consumers' personal data.
Zhen said that from a long-term perspective, the use of cashless payments will continue to rise, but China is unlikely to become a totally cashless society, considering the differences between the country's vast number of consumers in terms of age, education levels and the regions where they live.
"Cashless payments and cash will coexist in China for a long time," he added.