The old take care of older in aging Japan
By WANG XU | China Daily | Updated: 2019-06-11 09:23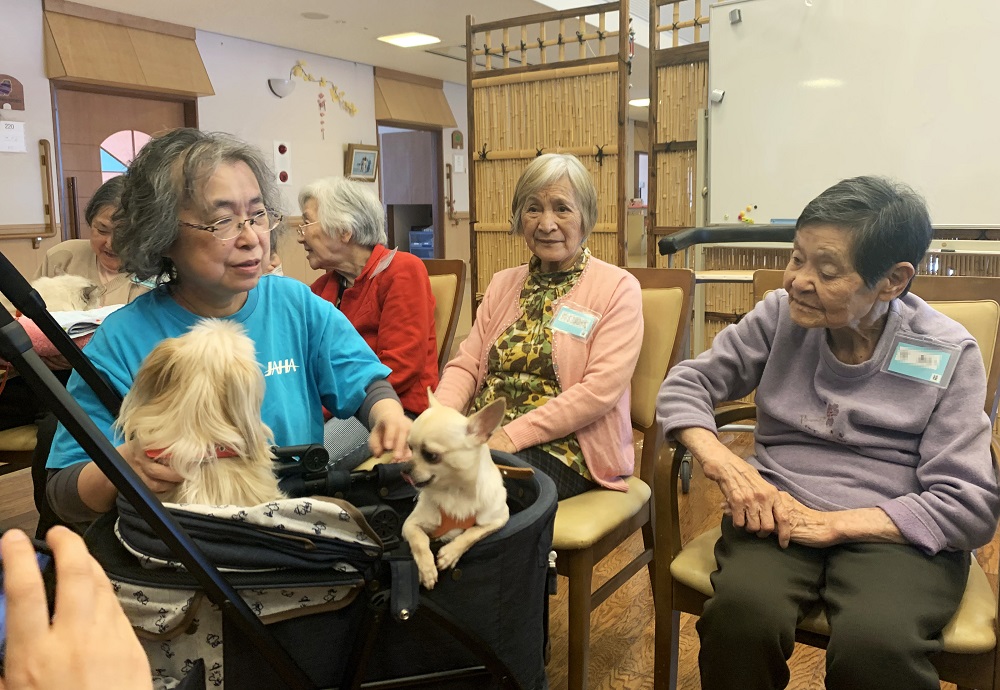 Average age of caregivers in residences for seniors is over 50, new survey finds
At the age of 63, Mikiko Kyouren could be mistaken for a resident in the Shichimi-Kotobukien, a residence for seniors in Imizu in Japan's Toyama prefecture, but she doesn't intend to retire anytime soon.
Instead, Kyouren has found pleasure in taking care of elderly people. She is just an example of how Japan's rapidly aging population has affected the caregiving sector.
Giving up the option of retirement, the former factory worker forged a second career sharing the joys and pains of other people's final days.
"I didn't get a chance to take care of my parents when they passed away so I'm really thankful that I got this opportunity to make up for the loss," Kyouren told China Daily.
"I don't take my age as a disadvantage for this job because I feel I can really understand what these seniors are going through and spend quality time with them. I just focus on what I can do to make their lives better."
Caregiver shortage
With its lowest birthrate since records began more than a century ago and rapid aging population, the world's third-largest economy is considered a "super-aged nation", where more than one in five of the people is aged 65 or over.
According to Japan's Ministry of Internal Affairs and Communications, the percentage of the country's population 65 and over surpassed 27.7 in 2017 and is still growing. That means Japan has the highest percentage of the elderly in the world.
By 2040, 44 percent of the nation's total households will have people age 65 or older. More importantly, 40 percent of those will be single-person households.
"There are a lot of people on the waiting list of our facility," said Akitoshi Kawaguchi, president of Shichimi-Kotobukien.
"But we are not big enough to accept them, we don't have enough beds and people."
According to Kawaguchi, the government has set a ratio of one caregiver for every three residents of a senior living house, but it's not realistic given the needs of elderly residents.
"Taking care of three patients at the same time is just not a one-person job, we tried our best and with the help of equipment like mobility aids and lift chairs, one caregiver for every two patients had already made us exhausted," Kawaguchi said.
Shichimi-Kotobukien has 90 beds earmarked for long-term healthcare and had another 30 for short-term care. The latter means people can stay in the senior house for as long as 30 days but must then move out after the treatment. Meanwhile, it can also accept 45 people for day care. A 60-person staff working in three shifts takes care of all these people.
"Every minute counts in our work," said Kyouren, who could not even make time for a 10-minute interview while on the job. The hardest part is feeding time.
"It took about 30 to 60 minutes to feed one elderly person because 90 percent of the inhabitants living here suffer from various degrees of Alzheimer's disease, making the work even trickier."
"Some people forget they already ate right after they got fed and can be very cranky if you don't feed them again," Kyouren said.
Labor shortages are not unique to Shichimi-Kotobukien.
According to data from the Japanese Ministry of Health, Labor and Welfare in 2017, there were 13,409 senior living houses across the country, divided into three categories depending on the number of doctors, pharmacists and nursing staff each facility has. Among them, one caregiver for every two residents is the average ratio.
A 2018 survey targeted at 8,782 entities by the Care Work Foundation, a Tokyo-based elderly care support organization, showed that more than 66 percent of senior living homes and entities that provide home healthcare services reported suffering from staff shortages, reflecting the fourth year of increases.
"On the one hand, it's very hard to find proper persons to be caregivers as it is an occupation that needs not only professional skills but also a kind heart. How much they give on the job can't be measured," Kawaguchi said.
"On the other hand, it's very hard to retain caregivers, considering the rather low payment and long working hours."
The average age of caregivers working in a senior living home had passed 50, the CWF 2018 survey said, adding that people who provide care services in individual homes is even older, with an average age of 54.
"It has been proved that encouraging elderly people take jobs in the healthcare sector is a constructive way to counter the effect of labor shortage," said Song Lishui, an economics professor at the Meiji Gakuin University in Tokyo.
"It also helps ordinary people to relief their economic burdens after they reached the retirement age of 60, because they can only receive their pensions when they reached 65," Song added.
To cope with the growing labor shortage, the Japanese government has welcomed more foreign workers and encouraged stay-at-home mothers and seniors to re-enter the workforce.
In many ways, Kyouren had been a trailblazer for this incentive, For the past 10 years, she visited house to house providing home healthcare services, ferried elderly people to Shichimi-Kotobukien and sometimes feeding and providing companionship to people even younger than herself.
"Everyone will grow old one day, I think it is important for us elderly to take care of each other because if we don't, no one else will," Kyouren said.