China's achievements as CICA chair from 2014-2018
New platform for exchanges
As chair of CICA, China held a series of conferences, serving as a new platform for governmental and nongovernmental exchanges and cooperation.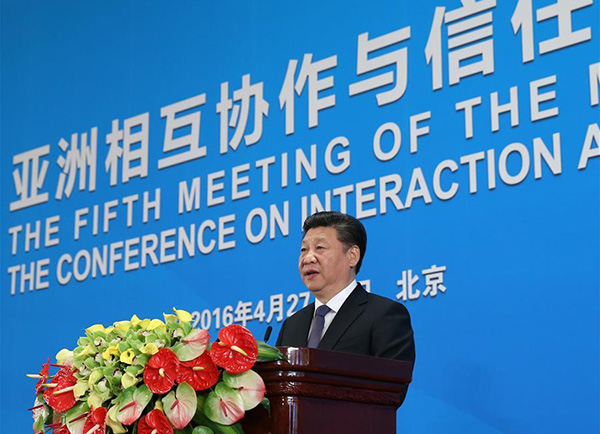 • April 2014
Fifth Meeting of CICA Ministers of Foreign Affairs
President Xi Jinping attended the opening ceremony and delivered the important speech Jointly Create a Better Future of Peace and Prosperity for Asia Through Dialogue and Consensus.
During his speech, he stressed the need to adhere to and follow through the vision on common, comprehensive, cooperative and sustainable security in Asia; build consensus; step up dialogue and coordination; contribute to fostering a security governance model with Asian features; and open up a brighter future of peace and prosperity for Asia.
• May 2015
First Annual Conference of CICA Nongovernmental Forum
President Xi stressed in his congratulatory message to the first meeting that nongovernmental forces can play a role in exploring a security path for the region and advancing mutual respect, mutual trust and harmonious coexistence among different civilizations, regions, races and religions in Asia.
The nongovernmental forum was established based on a proposal by Xi at the Shanghai Summit of CICA in May 2014.
• June 2017
Second Annual Conference of CICA Nongovernmental Forum
CICA has served the common expectations of Asian countries seeking security and development in the region, said President Xi Jinping in his congratulatory letter to the forum's second meeting.
• 2014-2017
First to sixth CICA Think Tank forums
Then-vice-foreign Minister Cheng Guoping pointed out that the CICA Think Tank Roundtables have played an important role with broad vision and operational recommendations.