Game on for GAMECO as Greater Bay Area beckons
By Li Wenfang in Guangzhou | China Daily | Updated: 2019-06-17 09:54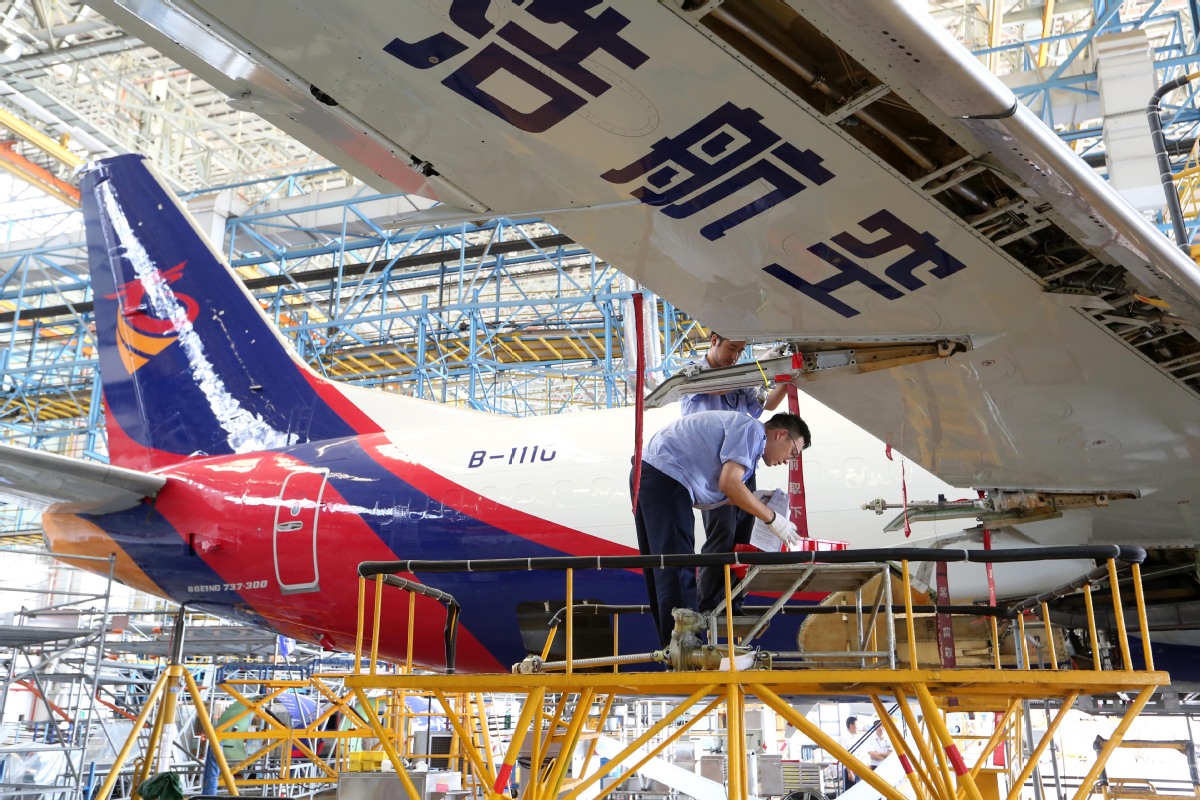 Aircraft maintenance firm to expand operations; invests heavily in strategic fields
As the Greater Bay Area development gathers momentum, Guangzhou Aircraft Maintenance Engineering Co Ltd, or GAMECO, is building itself up with major investments in a third hangar, a component repair center and a composite center.
As Greater Bay Area connects Guangdong province, Hong Kong and Macao, it will be a huge market for manufacturing and vacation-related services, with a number of major airports, airlines and more than 200 million passengers, said Norbert Marx, general manager of GAMECO.
Jointly owned by China Southern and Hong Kong Hutchison Whampoa (China) Co, GAMECO expects the third hangar to entail an investment of 886 million yuan ($128.2 million).
Upon completion in 2021, the facility, whose location is near the Guangzhou Baiyun International Airport, can accommodate six wide-body aircraft and five narrow-body aircraft for heavy maintenance simultaneously. It will have additional aprons measuring 59,000 square meters.
The third hangar will help address the bottleneck in the maintenance of wide-body aircraft, said Chen Ziping, a researcher at the Qianzhan Industry Research Institute.
The new component repair center and the composite center, which are located in Huadong township in Guangzhou, with a combined investment of 600 million yuan, are scheduled to begin operations in 2022.
"The Chinese market is growing very strongly. There are about 3,400 aircraft in commercial aviation. Over the next 10 years, their number will grow to about 7,200," Marx said.
"There are orders for many aircraft from manufacturers and leasing companies," he said, adding although new aircraft need less maintenance, the maintenance business will still post strong growth.
One of the three largest players in the field in China, GAMECO was founded in 1989 and is headquartered at the Guangzhou Baiyun International Airport. With 12 percent compound annual growth rate in the past 10 years, GAMECO's revenue reached 3.5 billion yuan last year. Marx expects the company to "keep growing at that rate".
China's aircraft maintenance, repair, and overhaul or MRO market stood at 128.68 billion yuan last year, generating compound annual growth rate of 9.32 percent between 2010 and last year, Chen said.
China's civil aviation authorities have set a goal of having more than three MRO clusters by 2020 and up to two MRO companies with international competitiveness by 2030.
International airlines account for about 20 percent of GAMECO's heavy maintenance business, with China Southern Airlines, the largest airline by fleet size in Asia, taking up about two-thirds.
Although its first priority is to support the growth of China Southern, GAMECO wants to increase the share of business from third-party domestic and international customers to about half of its total, Marx said.
Opportunities also lie in freighter conversion business. "Because of the e-commerce business, there is a lot of overnight delivery demand. For that you need narrow-body aircraft to modify. And this is a very good market. Once you have done the conversion, we also want to maintain the relationship with customers and build our maintenance business over that."
Asked about national governments in Asia investing heavily in aircraft MRO facilities, Marx said GAMECO's relationship with China Southern is a strong advantage. "It helps us to cooperate and leverage over these OEMs (original equipment manufacturers)."
Although labor in China is no longer cheap, "we have learned over the years to improve efficiency and the quality we produce. We need to keep doing that", Marx said.
GAMECO is investing about 100 million yuan every year on innovation, and holds the most number of intellectual property rights in the field of aircraft MRO in China.
Its innovations include 3D printing of components, virtual reality in training and augmented reality for engineering support in maintenance, and a combination of big data and IT systems.
GAMECO has also established branches for line maintenance in Chongqing municipality, Australia and New Zealand, for landing gear overhaul in Qingyuan, Guangdong province, and C check production lines in Shenzhen and Shantou in Guangdong province.
On his future expectations, Marx said: "There is a lot of opportunity in the future (in the Greater Bay Area), because people will fly here and we can attract business here. If we can equalize and streamline activities between different areas, that can make a center of excellence. I think that will help coordinate the development and help the Greater Bay Area to become more successful.
"Eliminating some of the differences in taxes and regulations and streamlining that will help improve competitiveness in the global context."