Netanyahu to name Golan settlement after Trump
China Daily | Updated: 2019-06-18 09:26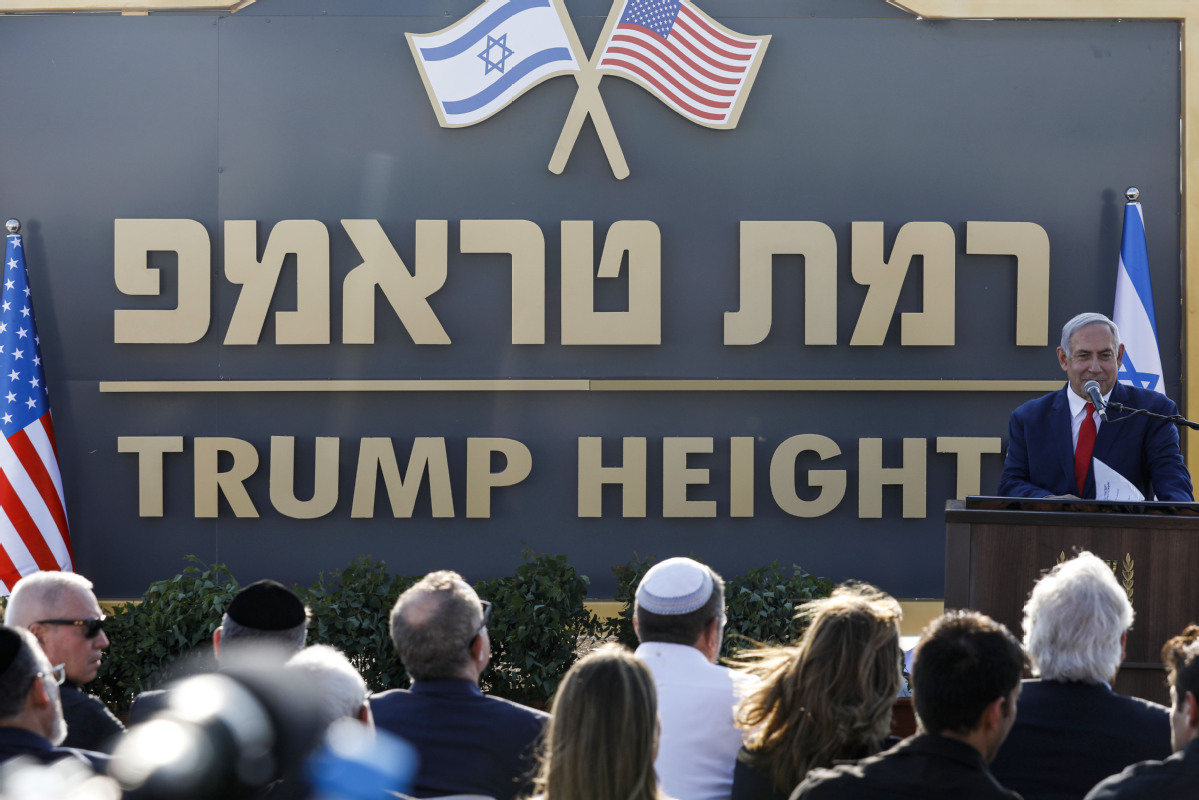 GOLAN HEIGHTS - Israeli Prime Minister Benjamin Netanyahu on Sunday inaugurated a new settlement in the Golan Heights, named after the country's "great friend" US President Donald Trump.
Netanyahu unveiled a "Trump Heights" sign, featuring an Israeli and a US flag, to mark the site of the new settlement.
"Thank you PM@netanyahu and the State of Israel for this great honor!" Trump tweeted.
The ceremony came after the US president in late March recognized Israeli sovereignty over the part of the strategic plateau it seized from Syria in the 1967 Six-Day War.
Israel annexed the area in a move never recognized by the international community.
"The Golan is Israeli and will remain so always," Netanyahu declared.
Trump is "a very great friend of Israel who has taken a decision that has never before been taken", he added.
Surrounding a large table, Israel's cabinet met under a tent in the north of the Golan to name the planned settlement in the presence of US Ambassador to Israel David Friedman.
Outside the tent, a sign bearing the name of the settlement was unveiled shortly after an announcement to local officials.
The naming "is an extraordinary gesture", Friedman said.
But a June 12 memorandum from Netanyahu's office showed the plan was far from implementation: It lacks earmarked funds as well as final approval for its precise location and name.
"In this (cabinet) resolution, it is proposed that the name of the community, if it is founded, be 'Trump Heights'," said the memorandum, signed by a deputy legal counselor, Yael Cohen.
The hesitancy is partly explained by Netanyahu's current status as the head of a caretaker government, having failed to form a coalition after Israel's April 9 election. The conservative four-term premier must now contest a Sept 17 vote.
In such an interval, Cohen wrote, legal rulings "require, as a general rule, restraint in decision-making" by the cabinet.
Netanyahu's rivals ridiculed Sunday's ceremony.
"Whoever reads the small print on the 'historic' resolution understands that it is a dummy-resolution," tweeted Zvi Hauser, an ex-Netanyahu cabinet secretary now with an opposition party.
Construction of the settlement is planned in an area currently occupied by four settler families.
It would be built on the site of a former kibbutz, first established in 1984.
The inauguration of the new settlement will "drive development of the Golan Heights", Netanyahu added, promising the government would invest in building homes and roads, as well as education and tourism facilities.
Netanyahu also said Trump had proved "once again his commitment to the security and the future of Israel", recalling that the US president transferred the US embassy from Tel Aviv to Jerusalem in May 2018.
AFP - Reuters