Corporate aviation sector set to take off
By Wang Ying in Shanghai | China Daily | Updated: 2019-06-18 09:37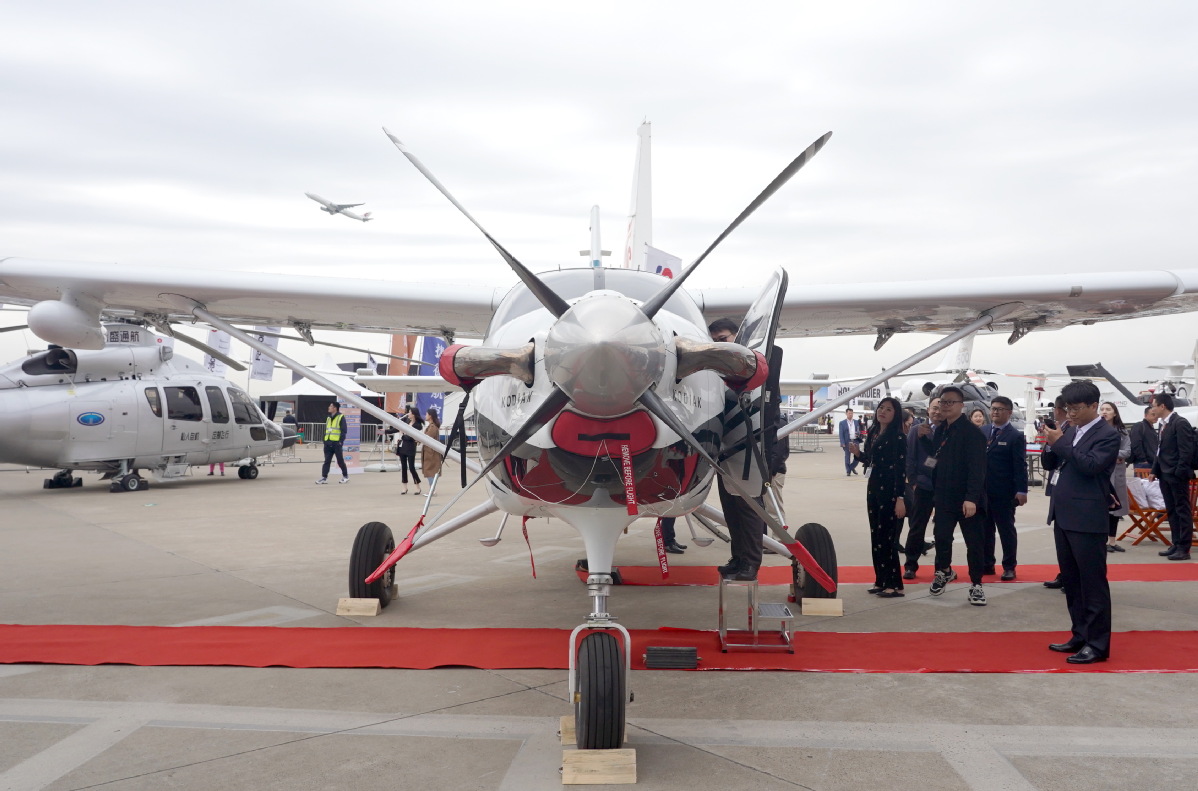 Planned development of infrastructure, airspace and expertise expected to bolster air transportation in China
Business jets and helicopters are finding increased use in China, thanks to the burgeoning demand for air travel for passenger and commercial purposes, experts said.
In December 2018, the Civil Aviation Administration of China drew up a blueprint for the country's civil aviation to build China into an aviation powerhouse by 2050 through three phases.
According to the CAAC, during the first phase, from now until 2020, a balance needs to be struck between supply and demand by boosting infrastructure, airspace and expertise, to make China a global leader in air transportation.
In the second phase, between 2021 and 2035, China will undergo a transition from an air transportation leader into a civil aviation power with strong international aviation networks, first-class aviation services, a well-developed general aviation system, a modern air traffic management system, a complete safety system and a highly efficient civil aviation management system.
During the second phase, the total number of airports will increase from 234 to 450 by 2035, and the competitiveness of Beijing, Guangzhou and Shanghai as international hubs will be greatly enhanced.
In the third phase, from 2036 to 2050, China plans to become a powerhouse for civil aviation, and a complete general aviation system and industrial chain will be formed.
"The increase in the number of airports and runways across China will not only support the development of commercial aviation, but also promote the overall aviation industry including general aviation," said Mike Shih, vice-president of strategy and business development of Textron Aviation in China.
Business aviation involves the manufacturing, use and support of mostly small general airplanes for business purposes.
General aviation includes all flights other than military and scheduled airline and regular cargo flights, both private and commercial. It covers a wide range of activities including private flights, flight training, air ambulance services, police aircraft, aerial firefighting, air charter, bush flying, gliding and sky diving.
"Because the growth potential is there, with a few changes to infrastructure, that number could grow significantly," said David Dixon, president of Jetcraft Asia.
According to him, an improvement in airport access will greatly help the industry grow.
"The airplane is a tremendous business tool, as it allows you to maximize time. So that's fundamental to the future of business aviation," said Ed Bolen, president and CEO of the National Business Aviation Association based in Washington, DC.
There is no other tool that can effectively and efficiently bring people face to face, said Bolen. "You can use computers to convey information, but something important and magical happens when people are face to face."
"When you look at a corporate helicopter, it's not just for representation purposes, it's really a business tool. It's mostly about convenience and efficiency," said Jacinto Monge, managing director of Bell North Asia. He believed there would be growth in the business aviation segment.
After the past few years of high-speed development, the business aviation sector is currently undergoing a shift from quantity growth to quality growth with a focus on the overall prosperity of the entire industrial chain, said Lu Xun, chairman of the Shanghai Hawker Pacific Business Aviation Service Center.
According to Lu, the deepening of aerospace reform and industrial integration will bring opportunities to the business aviation industry in China, making it more open, better organized and healthier.
Monge said the CAAC is doing a good job in developing infrastructure. "We saw a huge increase, year-on-year ... and that was encouraging. There are some initiatives under way and I think that is the most critical factor because you can really change things."
He said the gradual removal of restrictions in aerospace will bring about amazing growth going forward.
Paul Desgrosseilliers, general manager of ExecuJet Haite Aviation Services China Co Ltd, sees a number of opportunities across different aspects of service including aircraft management, MRO (maintenance, repair and operations), FBO (fixed-base operator) services, and some of the support functions within those services.
"I think it is really across the entire business aviation service portfolio," he said.
Because general aviation contains such a broad spectrum, it could develop stably even if the business aviation sector sees slower growth, as it did last year, said Shih.