Platforms use smart tech to enhance logistics capacity, boost sales
By Fan Feifei in Beijing and He Wei in Shanghai | chinadaily.com.cn | Updated: 2019-06-20 11:31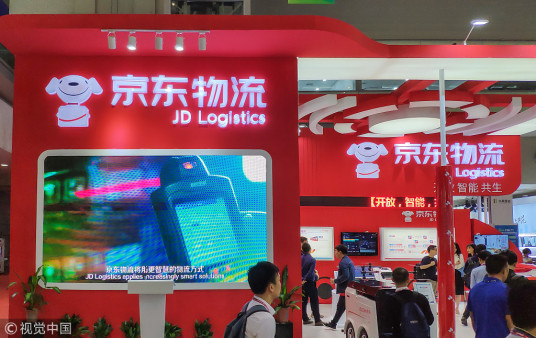 Major e-commerce platforms stepped up efforts to utilize cutting-edge technologies to enhance logistics capacity and boost sales during this year's June 18 shopping extravaganza.
Chinese e-commerce giant JD launched its Asia No 1 intelligent logistics centers during the midyear online shopping festival.
The company now operates 23 such logistics centers nationwide, with plans to build new ones in more than 30 major cities across the country in the next five years.
Smart technologies from automated sorting to unmanned warehousing and robots are employed in the highly automated warehouses. The logistics centers are expected to enhance logistics capacity and help handle the surging number of parcels in the country, the company said.
"As e-commerce is growing in China and around the world, robotics and automation will be a necessary solution to meet that explosion in demand," Wang Zhenhui, CEO of JD Logistics said in an earlier interview.
The Beijing Asia No 1 logistics center can handle up to 600,000 parcels per day, and the intelligent parcel sorting machine increases efficiency by at least three times, said Xia Guowei, who is in charge of JD's Asia No 1 project.
The e-commerce behemoth has been investing heavily in intelligent logistics operations by using drones and robotics for parcel delivery, aiming to bring down costs and transform the logistics industry.
JD's smart delivery robots, which are expected to solve the "last mile problem" in delivery, were put into operation in more than 20 cities across the country during this year's June 18 shopping festival, and the whole operation reached more than 50,000 kilometers in the first half of 2019.
Each delivery robot is equipped with radar and sensors to help them recognize traffic lights and their surroundings. Customers will receive a message when the robot is about to arrive, and are able to pick up their parcels using facial recognition, inputting a code or using a mobile phone app.
JD currently operates China's largest nationwide delivery network and is able to provide same or next-day delivery to a population of over a billion.
Wu Hequan, an academician with the Chinese Academy of Engineering, said: "The digital transformation of logistics, which includes the application of artificial intelligence, robotics, cloud computing and block chain technologies, will make a huge contribution to the industry and society."
Alibaba Group Holding Ltd's Taobao is looking to harness livestreaming tech backed by artificial intelligence to boost sales of merchants who are too busy to attend to each and every customer inquiry in person and in real time.
If you call Alibaba with a question or a complaint, more likely than not you'll be connected not to a human customer service agent, but to a computer system called Ali Assistant.
The virtual chatbot, which handles both spoken and written queries, focuses on e-commerce services, acting as customer-service rep and personal shopping assistant, according to Wen Bo, who oversees the Ali Assistant product at Alibaba's smart service business unit.
In addition to providing answers to frequently asked questions and answering questions about specific transactions such as delivery status, the chatbot can help users find products when provided with a text or voice description or even a photo, returning a list of recommendations that users can filter by brand, color and other characteristics, he said.
The chatbot's combination of AI and speech-recognition technology has already paid dividends in efficiency and lower costs compared with human-based customer service — and may ultimately replace call-center staff altogether.
Alibaba said over 70 percent of livestreaming hosts have the backing of the auto chatbot. That translates into 480 dedicated customer service personnel answering questions. The company estimated that livestreaming will help drive 13 billion yuan ($1.9 billion) worth of transactions.