Dying to Survive, Hidden Man recipients of Dirty Ashtray Award
By WANG XIAODONG | China Daily | Updated: 2019-06-24 09:01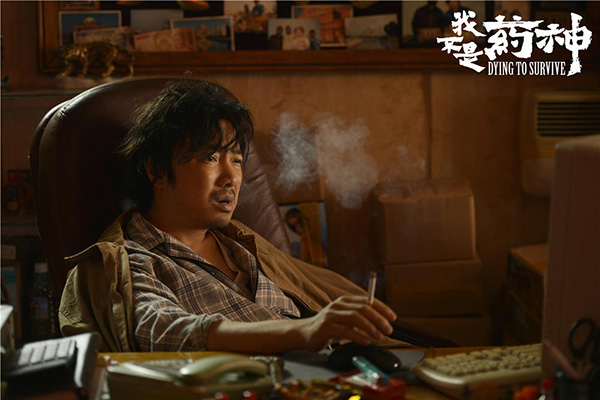 One of the most popular movies shown in cinemas last year has received a Dirty Ashtray Award from the Chinese Association on Tobacco Control for its rampant smoking scenes.
Dying to Survive, which depicted the dilemma of leukemia patients who have to rely on unapproved cheaper generic drugs to survive, received the award for having the longest tobacco-related footage in the movie - 16.8 minutes in total, accounting for 14.5 percent of the total length of the film, according to the association.
Hidden Man, a gangster movie, and the Drug Hunter, a TV series about confrontations between police and drug dealers, also received Dirty Ashtray Awards for their excessive tobacco-related scenes.
The results were based on monitoring organized by the association, which covered 30 popular films and 30 popular TV series broadcast in China last year.
The monitoring showed 87 percent of the films had tobacco-related footage, with an average total length of nearly 2 minutes for each film. One-third of the TV series had tobacco-related footage, with an average length of 3.6 minutes per series. Most of the tobacco-related footage appears in scenes at public places, offices and homes.
Xu Guihua, a senior adviser to the association and former deputy director of the Chinese Center for Disease Control and Prevention, said that, as in the past, no director or producer came to claim their awards on Friday. But she believes such publicity will remind the film and television industry to take responsibility and reduce tobacco footage in their works.
Monitoring conducted annually by the association showed a decline in both the number of tobacco-related scenes and the total length of such footage in Chinese movies and TV series from 2007 until last year. TV shows had shown greater improvement, Xu said.
The average number of tobacco-related scenes for a film last year was 12.3, a decline of nearly 50 percent compared with 2007, she said.
"The changes showed progress in promoting tobacco-free films and TV series over the past years," Xu said. "But some works are still infested with tobacco scenes. We urge them not to produce works with such footage ... so adolescents will not imitate them and become smokers."
In an open letter released on Friday, the association called on the film and television industry to make greater contributions to tobacco control in China by producing more films and TV series free of footage depicting smoking so young people will not be tempted to take it up.
"Tobacco-related scenes in films and TV series are usually presented relating to fashion, beauty and maturity, which greatly impairs people's awareness of the harm of tobacco and plays an important role in luring adolescents to smoke," the letter said.
As the world's largest producer and consumer of cigarettes, China has 306 million smokers, with another 740 million - including adolescents and children - exposed to the harm caused by secondhand smoke. About 1.4 million people in China die from tobacco-related diseases each year, according to the association.
Hu Dayi, president of the association, said tobacco has become a major contributor to many illnesses such as heart disease, tuberculosis and cancer that are becoming major health threats to Chinese people.
The percentage of smokers to the total population in China has been declining at a low pace due to factors including a lack of knowledge about the harmful effects to smokers; the lack of quit-smoking services; and inadequate implementation of tobacco-control policies. The presentation of smoking in films and TV series is also a cause, Hu said.