Residences add cameras to record falling objects
By CANG WEI | China Daily | Updated: 2019-06-25 09:09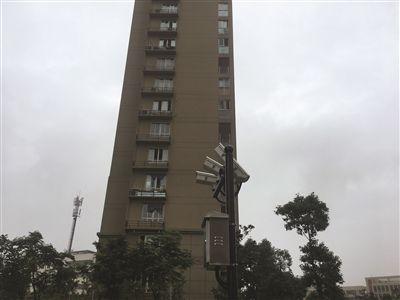 Six residential communities in Nanjing, Jiangsu province, installed special surveillance cameras earlier this month to monitor falling objects or objects thrown from heights, which has become a huge safety concern following several recent incidents across the country-two of which have lead to the deaths of two children.
The communities, located in Nanjing's Jiangbei New Area, have 12 groups of surveillance cameras installed on two sides of their high residential buildings. Each group contains three cameras with different angles that can monitor all windows above the third floor.
"Any objects thrown from heights will be recorded by the cameras," said Chen Qiaozhen, director of Xinjiang Yayuan, one of the six residential communities. "The times and routes of the objects falling to the ground will be tagged specifically."
According to Chen, the cameras will also automatically save the videos 30 seconds before and after the objects fall or are thrown from windows.
Zhang Ziye, who lives in the community, said the installation of the cameras has been welcomed by most residents.
"We were worried that the cameras might violate our privacy, but after visiting the surveillance room, we have found that they cannot record our indoor activities," she said.
Zhang said that no objects have been thrown from heights in the community since the installation of the cameras.
"Compared with the traditional way of preventing thrown objects from heights, such as installing protective nets and posting warnings, I think that installing cameras has turned out to be more effective," she said.
Falling or thrown objects, which have long been a concern nationwide, have sparked an outcry following recent incidents reported in Chinese media.
On June 19, a 10-year-old girl in Nanjing's Gulou district passed out after being hit by an object thrown by an 8-year-old boy. The girl was sent to the local children's hospital immediately for surgery and has been recovering in the intensive care unit.
On June 13, a 5-year-old boy in Shenzhen's Futian district was hit by a falling glass window and died three days later in hospital.
And on June 5, a 4-year-old boy in Jiangsu's Kunshan city was killed by falling glass weighing 100 kilograms.
"If the falls cause serious consequences, the infringers should bear civil liability for compensation," said Xie Renhai, a lawyer with Jiangsu Lutao Law Firm. "They may also may face criminal punishment for committing the crime of serious injury caused by negligence, or the crime of death caused by negligence."
In Hangzhou of Zhejiang province, a community also purchased 47 wide-angle cameras to cover all its buildings. Without violating the residents' privacy indoors, the cameras can identify anyone who throws even a cigarette butt.
The Big Data Center of Nanjing's Jiangbei New Area said more communities will install surveillance cameras if the installation in the six pilot communities proves effective.