US startups respond to swine fever
By LIA ZHU in San Francisco | China Daily | Updated: 2019-07-01 07:15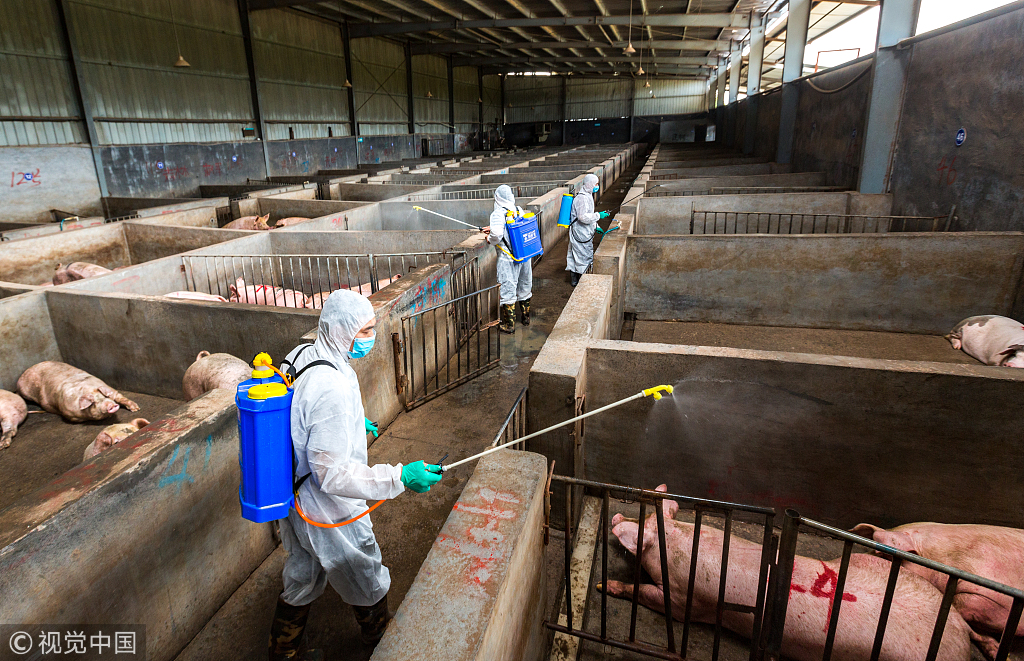 Silicon Valley companies apply new technologies to fight the epidemic
The outbreak of African swine fever that has led to mass culling of pigs in China and other countries has prompted US agriculture and food technology startups to intensify searches for solutions.
A Silicon Valley company want to test for the infectious African swine fever at slaughterhouses with a medical device it developed.
"Our technology can rapidly and accurately detect infectious pathogens on site, so the slaughterhouses can make quick decisions once they find the pathogens," said Li Liu, co-founder of Anitoa Systems, LLC.
The company's core technology is a high-sensitivity bio-optical sensor that is portable and low-cost.
Currently there are three similar products available in China, including one from established US company said Liu. But she's optimistic that her company's product has a huge market potential because inquiries have surged since China required pig slaughterhouses to conduct compulsory self-checks in April.
China's Ministry of Agriculture and Rural Affairs said in a statement that slaughterhouses are "an important link" in the pork production chain.
Those slaughterhouses failing to conduct self-checks of their swine products will not be granted veterinary inspection certificates, the ministry warned.
"There are more than 10,000 slaughterhouses in China. We believe the industry is now experiencing a short supply of testing equipment," said Liu. Her company has started scale production in Hangzhou, Zhejiang province.
Still in the pricing process, Liu said Anitoa's product will be much cheaper than the expensive equipment used in professional labs.
African swine fever is harmless to humans but fatal and highly contagious for pigs. The virus kills almost all pigs infected and it can last for months in contaminated materials, allowing it to travel over long distances.
China reported its first case of the disease in last August in Liaoning province. Severe outbreaks were reported later in other provinces. The latest case was confirmed last week in Qinghai province, where 32 pigs were infected and 17 others killed, according to Xinhua News Agency.
The disease currently has no cure, so scientists are building vaccines to prevent it. Aptimmune, a St. Louis, Missouri-based startup, is developing autogenous mucosal vaccines for African swine fever and other viral diseases that are costly to the swine industry.
Though the company is still working on the vaccine, it has "a distributor lined up for China", said Claire Pribula, managing director of the Yield Lab Asia Pacific, an agrifood tech accelerator. Aptimmune is one of the companies Yield Lab has invested in.
The technology is a new application as the vaccine is sprayed into pigs' noses while traditional methods require injecting or feeding vaccines to pigs, according to Pribula.
She also acknowledged that it takes time to take a vaccine from a laboratory into application because of regulatory approval processes.
Another challenge with African swine fever is that a lot of pressure is put on alternative sources of proteins for humans, as prices for chicken and beef, climb in China, said Pribula.
China is the world's top pork producer and consumer. The huge loss of pork supply has led to a record import of 556,276 tons of meat in May, up 45 percent year year-on-year, according to customs data.
"We need to find new sources of alternative protein or how to get protein inserted into things that we eat in a different way," said Pribula.
Planetarians, a food tech company based in Silicon Valley, can solve this problem by upcycling by-products or solid food waste, she said.
The company uses an extruder to turn unused seeds, which usually go for animal fodder, into a high-protein flour so that consumers can get protein from pizza crust or bread as opposed to an animal source, she explained.