Protesters' storming of HK govt building condemned
By Staff reporters | chinadaily.com.cn/Xinhua | Updated: 2019-07-02 11:15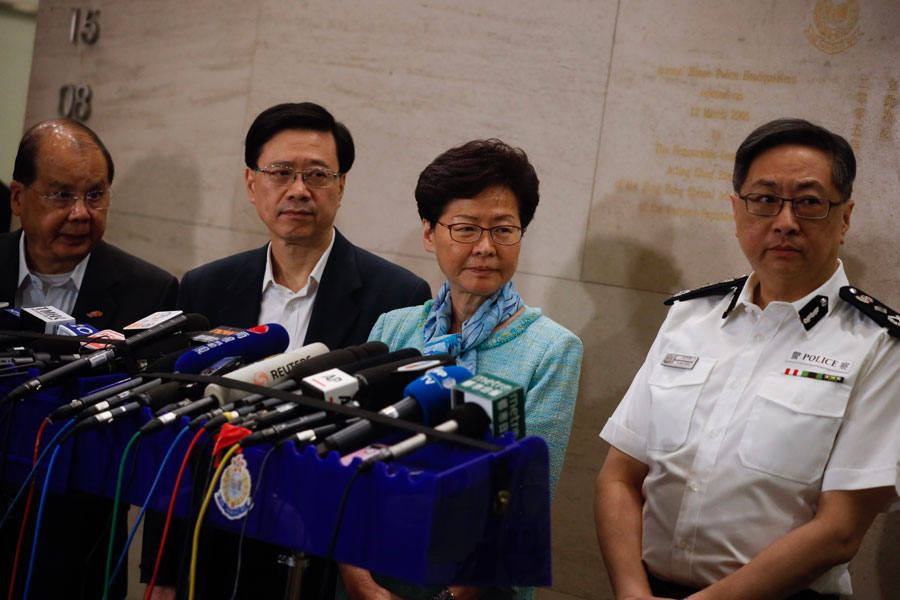 The clashes escalated at night as masked protesters, demanding a withdrawal of the extradition law amendment bill which had been suspended on June 15, broke into the LegCo Complex at around 9 pm. They tore pictures of LegCo presidents off the wall, tarnished the wall by painting profane language, and damaged facilities such as chairs and glass cabinets.
Protesters also besmirched the Hong Kong SAR emblem in the chamber by spraying it with oil paint.
Thousands of others occupied Harcourt Road outside the LegCo Complex, passing umbrellas and metal barricades into the complex.
The Hong Kong Police Force slammed the "illegal and violent" acts for posing serious threats to public safety and public order in a statement.
The police started to disperse the crowds around midnight.
In a statement issued Monday afternoon, the SAR government said it "strongly condemns and deeply regrets" the extremely violent acts committed by these protesters.
"Hong Kong is a society that respects the rule of law, and has never tolerated violence," the statement read.
LegCo President Andrew Leung Kwan­yuen decried the violence against the legislature in two messages relayed via his spokesperson. Leung said he is "deeply saddened and deeply regrets" such violent behavior.
Forty­two lawmakers, including Starry Lee Wai­king and Regina Ip Lau Suk­yee, issued a joint statement criticizing the "extremely radical and violent protesters" for seriously disrupting public order and stability. They called on society to show zero tolerance toward such acts.
Barrister Ronny Tong Ka­wah said that the protesters who conducted such violent acts are, at least, guilty of rioting, criminal damage and harm with intent.
The acts were not about expressing opinions but challenging authority, said Tong, who is also a member of the Executive Council, the top policy advisory body to Hong Kong Chief Executive Carrie Lam Cheng Yuet­ngor. No rationale can legitimize their violent acts, Tong stressed.
Stanley Ng Chau­pei, a Hong Kong deputy to the National People's Congress, said he was shocked by the illegal acts of some protesters, and added that they were "complete rioters".
What they did violated the rule of law — a core value that the SAR has adhered to — and posed a threat to the safety of police officers, LegCo members, and themselves, Ng said.
Violence is never an option for expressing views. The violent acts were nothing but an attempt to overthrow the SAR government, Ng said.
On the same day, a large number of demonstrators took to the street to march against the government's extradition bill, which was relatively peaceful.