The sage in our age
By Mei Jia | China Daily | Updated: 2019-07-04 08:30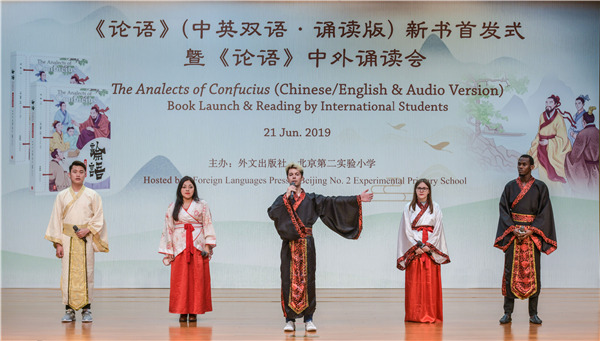 A new bilingual audio version of The Analects of Confucius applies a modern tone to the words of the great philosopher.
Confucius said: "When three men walk together, there will be one I can learn from. I adopt his good points and note his shortcomings in order to correct my own."
When the international students of Beijing Language and Culture University - who hail from such countries as France, Mexico, Croatia and the Republic of Congo - performed a mini stage play based on this proverb, their audience of younger students from Beijing No 2 Experimental Primary School burst into loud recitations of these lines. They all know the words are those of the philosopher and educator who, in a large sense, shaped thousands of years of Chinese thought and culture.
The students had gathered for the launch of a bilingual audio version of The Analects of Confucius published by Foreign Languages Press in late June.
The Analects is a record of the words and deeds of Confucius and his disciples. It's considered "indispensable reading for understanding Chinese culture".
The collection contains Confucius' guidelines to becoming a benevolent person, such as noting "the gentleman aligns with those of principle and disdains to run with the herd, whereas the opposite is true of the petty man", and how, "he who does not show concern for what is far from him will soon find worries close at hand".
It also includes his wisdom in the running of government. One example is when a disciple, Zi Gong, asked about the practice of benevolence, the master said: "A craftsman, in order to do his work well, must first sharpen his tools. Likewise, in government service, one must serve officials who are virtuous and befriend scholars who are benevolent."
This new version of the classical text is among the first to present a bilingual translation combined with an audio recitation, which its editors say are done by professionals from different fields.
The original text is in ancient Chinese accompanied by its pinyin transcription, a translation into modern Chinese and the corresponding English, which, as the book jacket states, "follows strict collation and checking, so that it is not only a work of great diligence but its language is fluent and up-to-date".
The audio comprises recordings in Chinese by a broadcaster from Radio Beijing and in English by an educational professional from the United States. It can be accessed by scanning a QR code on the book's cover.