Baidu condemns attack on its CEO
By Fan Feifei | China Daily | Updated: 2019-07-05 09:00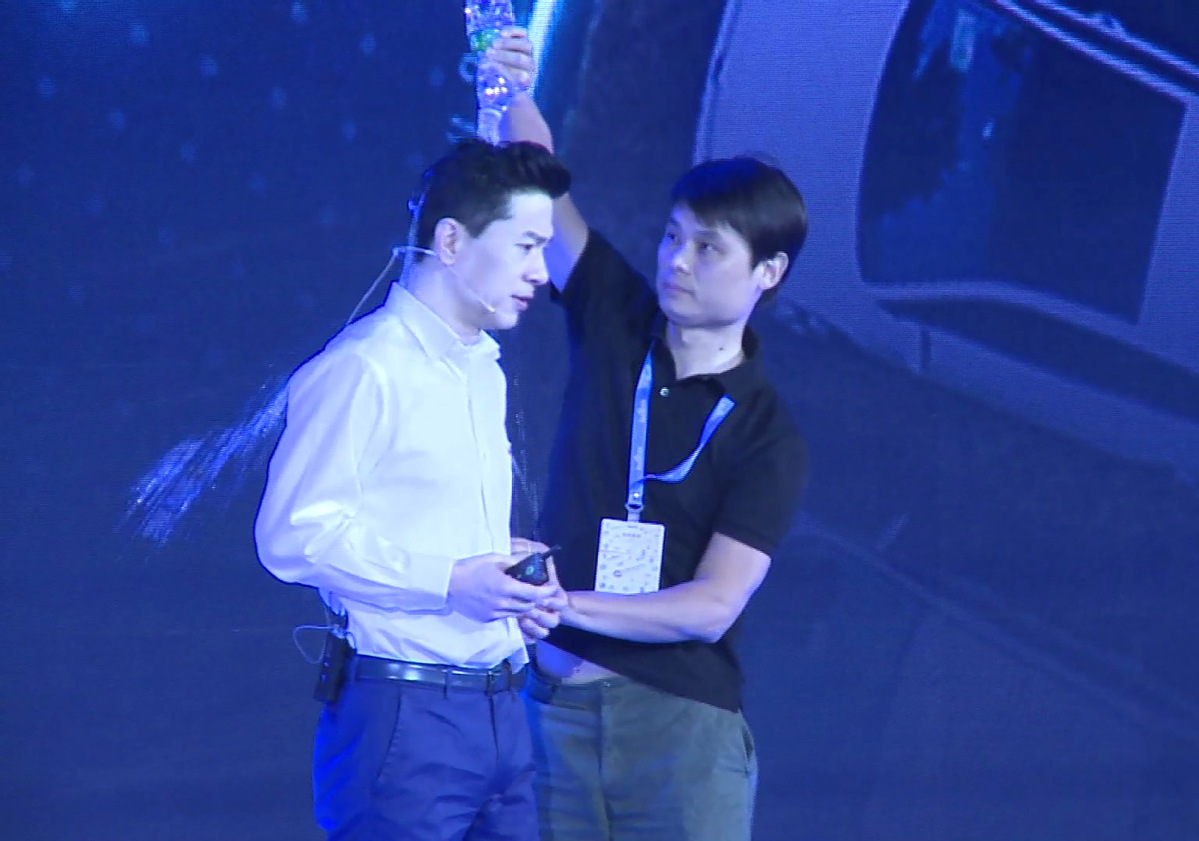 Internet search giant Baidu Inc has strongly condemned the man who poured water on the head of Robin Li, its chairman and chief executive officer, during the company's annual developers' conference in Beijing on Wednesday, saying that the man's "malicious" action was "shameful" and "disturbing".
The man, surnamed Cheng, was given five days of administrative detention on Thursday morning for disturbing public order by Beijing police.
The police conducted an investigation and made the decision after receiving a report from Baidu staff members at about 11 am on Wednesday, according to a statement posted on the Sina Weibo account of the public security sub-bureau in the capital's Chaoyang district.
Baidu released a written statement on Wednesday evening, saying that "if our society tolerated such extreme behavior, then similar practices could be repeated in future conferences and events, and everyone exposed at public events could become potential targets. People definitely don't want to see this."
It said the man had been taken away by police for investigation. "Some unexpected things will happen on the road to artificial intelligence. However, our determination to move forward will not change," Baidu said.
Li was speaking about the AI-powered valet parking service when a man in a black T-shirt rushed up to the stage from the audience and upended a small bottle of water over his head.
"What's your problem?" Li said in English. About 20 seconds later, he continued his speech. "As everyone has just seen, there will be a variety of unexpected happenings on the road to AI."
A video of the attack quickly spread on Chinese social media and aroused public attention. A Sina Weibo user named Zhinanshangshu was suspected by Chinese netizens as being behind the attack on Li.
The user had been uploading photos to his Sina Weibo account detailing his plans, and had posted the caption he was "ready to go on stage" and "what will happen if I pour water over your boss' head "under a photo of the conference venue before the incident.
Baidu didn't confirm if that user and the man on stage were the same person, but said live-blogging the incident was "shameful" and "disturbing".
"If the person poured water on the speaker who was giving a speech, it will not only interfere with the normal progress of the conference, but also insult the speaker's personality and dignity to a certain degree," said Cao Lei, director of the China E-Commerce Research Center, adding that such behavior could be punished for disturbing public order.
Cao said the netizens should make comments on Baidu rationally, but don't take "extreme" actions and attack others.
"The incident has also exposed some problems such as inadequate security at large venues, which has also sounded alarm bells for other internet companies," Cao added.