Exotic pets a rage despite concerns
By Alexis Hooi | China Daily Global | Updated: 2019-07-08 10:01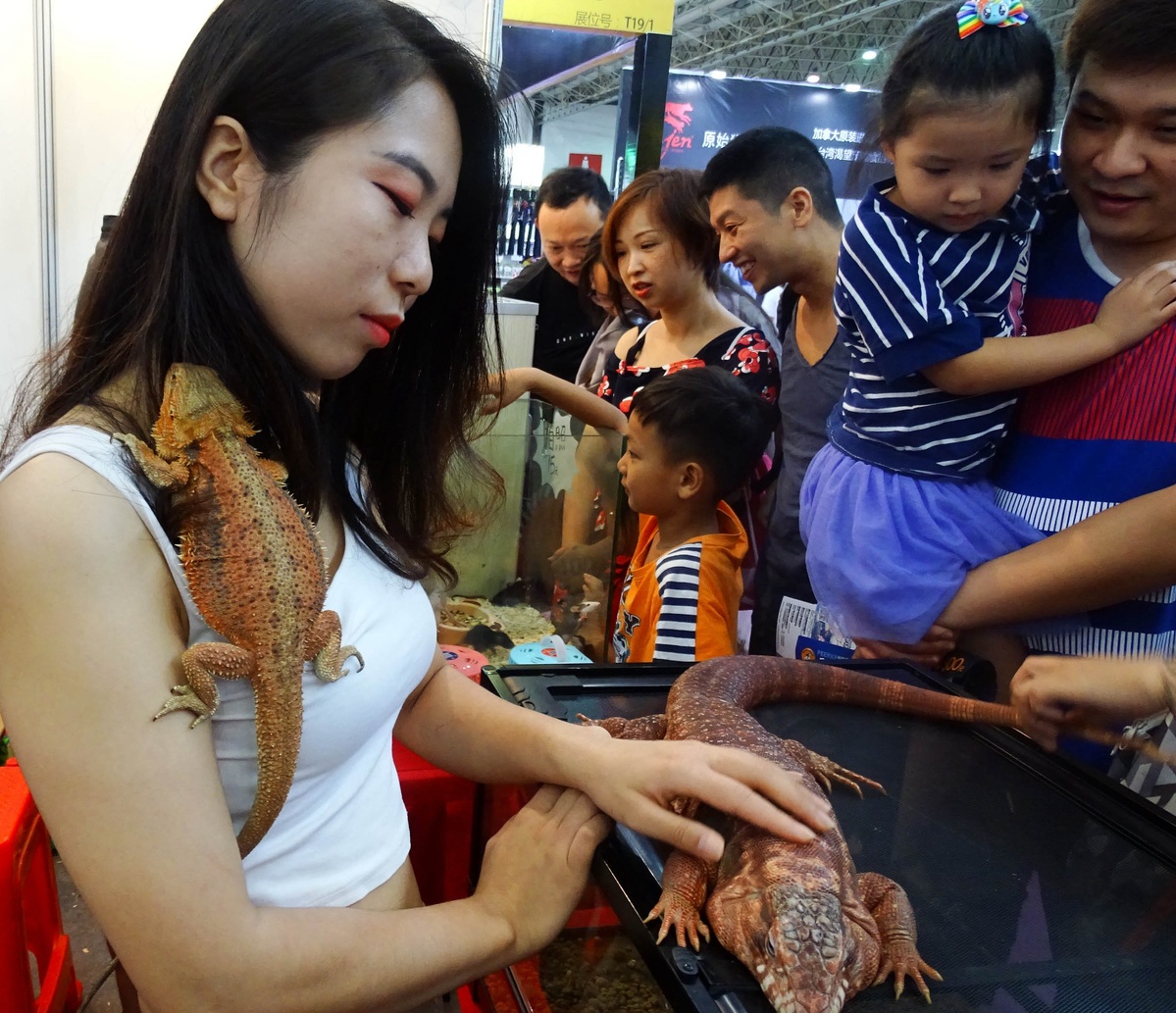 Beijing resident Tan Jingcheng shows photos of what he believes to be a lesser chameleon on his smartphone and smiles.
"I think it's beautiful, certainly more interesting than a common cat or dog," the 33-year-old computer analyst said.
Tan said he bought the reptile, listed as an endangered species, via an online vendor for a "substantial" part of his salary.
"Many of my friends think these types of animals are cool. They are really not so difficult to get hold of and more people are raising them," he said.
Tan is one of a growing number of increasingly affluent Chinese pet owners who are helping to fuel a global exotic animals trend, despite repeated warnings about biodiversity loss and potential health risks.
Exotic pets include animals taken from the wild or those that are produced from breeding wild species ranging from amphibians and reptiles to birds and fish, according to a statement from global nonprofit animal welfare group World Animal Protection. The exotic pets trade has "flourished", with more than 500 bird species and 500 reptile species traded worldwide, it said.
The international wildlife trade is worth up to $42 billion a year, with illegal trading practices estimated at $20 billion, the group said. Endangered and protected animals trading as exotic pets make up a substantial segment of the industry.
"The rise and popularity of the exotic pets trade pose a huge threat to wildlife conservation efforts around the world," World Animal Protection CEO Steve McIvor said.
"Airlines and internet platforms play an extremely important role in this trade chain... e-commerce platforms have also placed greater requirements on regulating and enforcing the wildlife trade."
China's wild animal protection laws prohibit the hunting and killing of wildlife, with improved mechanisms for reining in trafficking and other illegal wildlife trading practices. The country also signed the Convention on International Trade in Endangered Species of Wild Fauna and Flora in 1981, aimed at protecting endangered plants and animals and ensuring that any international trade in them does not threaten their survival.
Chinese customs authorities have been stepping up efforts to target the illegal exotic pets trade. In January, customs officers intercepted a consignment of nearly 30 spiders in the Luohu area of Shenzhen, Guangdong province, bordering Hong Kong. A few months earlier, joint customs and security forces reported foiling a major smuggling attempt by a crime syndicate involving more than 10,000 endangered parrots in Xiamen, Fujian province.
More measures to tighten supervision of online transactions that involve exotic pets are being rolled out, amid the rising number of plants and animals being confiscated at the country's entry-exit points, according to Chinese quarantine authorities.
Li Feng, co-owner of the Yongle pet store and animal clinic in Beijing, said there has been a marked increase in interest among young urbanites for more "non-traditional pets".
"These animals may require specialized food and care that can obviously be difficult for us to provide. Many queries can be plugged online but owners can still find it more and more challenging to care for such pets later," said Li, 48.
"Every day, thousands of wild animals are captured from the wild or farmed and sold ... Whether or not such trading is legal, there are serious animal welfare issues in the process," World Animal Protection said in its report on the global exotic pets trade.
The report showed that at least one-third of wildlife species being traded die during transportation every year due to confined spaces and harsh environments. Similarly, at least three-quarters of pet snakes, lizards, tortoises and turtles die within a year of domestic breeding due to inadequate food and other living conditions, it said.
Keeping exotic pets may also pose risks to public health as wild animals can carry bacteria and parasites that are linked to infectious diseases, according to the group.
Changing people's perceptions and raising awareness on the need to protect the animals are crucial in reducing the need for the exotic pet trade, according to its report. Nearly half of first-time buyers "hardly take the time" to learn more about the animals they buy, so they do not know the issues involved in wildlife protection and the trade in exotic animals.
Potential pet owners who learn about the harms associated with the exotic pet trade also significantly reconsider their purchases, it said.