Talks underway on Boeing Max compensation
By Zhu Wenqian in Beijing and Scott Reeves in New York | China Daily Global | Updated: 2019-07-09 10:02
Chinese airlines could boost bargaining power by joining forces, analyst says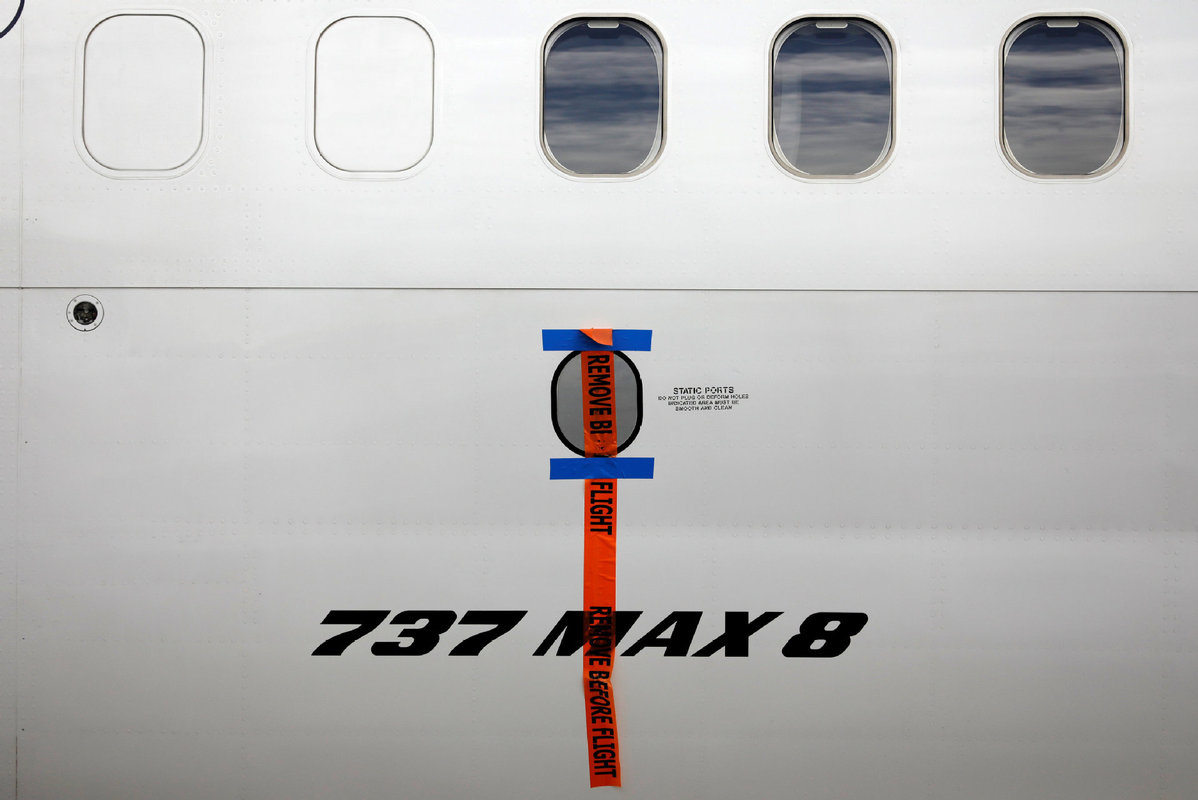 Boeing is having ongoing conversations with airlines about possible reimbursements following the worldwide grounding of it 737 Max jets. All of the 13 Chinese airlines that own Max planes have requested compensation, and further steps might be taken, an industry expert said.
There were about 400 Max jets in service worldwide before the grounding, including 96 in China, Boeing's largest market for the aircraft model. By May 24, all of the 13 Chinese airlines that own Max aircraft, in addition to Norwegian Air, Turkish Air, Ryanair, Flydubai and United Airlines, had filed requests for compensation from Boeing for the grounding of the troubled aircraft and for postponed deliveries of new aircraft that they had booked earlier.
Diao Weimin, an expert of international aviation law and an arbitrator of the Shanghai International Economic and Trade Arbitration Commission, has been invited by Chinese carriers recently to provide legal advice about seeking compensation from Boeing.
"Next, Chinese airlines might take bigger actions regarding compensation, but we have signed confidentiality agreements and I can't disclose any information," he was quoted by the Beijing magazine Vistastory as saying.
Diao said the negotiations are likely to be long and tough. For years, the civil aviation aircraft market has been a seller's market. The dominant status of the aircraft manufacturer duopoly of Boeing and Airbus has put airlines in a vulnerable position in negotiations.
"If airlines joined forces and reached a consensus to request compensation together, they might get more bargaining chips in the negotiations," Diao said. Boeing will feel the pressure and take the issue seriously, he said.
The China Air Transport Association posted a statement earlier that it would support and help Chinese carriers in seeking compensation. The association said it hoped that Boeing could pay great attention to the claims and requirements of Chinese companies, and resolve the problems reasonably and legally.
Meanwhile, in June, the US Federal Aviation Administration identified a new risk that Boeing Co must address on its 737 Max before the grounded jets can return to service. The FAA didn't elaborate on the latest issue, and it said there is no time set for resumption of flying the aircraft model.
In March, China was the first country to take action to ground the aircraft from commercial flights. The Civil Aviation Administration of China has also suspended the airworthiness certificate application of the 737 Max for Chinese airlines, meaning no new deliveries of this model will take place in China until the jet is confirmed to have no design flaws.
Boeing Max jets were grounded worldwide following two fatal crashes - one on Oct 29 last year in Indonesia and the other on March 10 in Ethiopia - that killed a total of 346 people.
Chinese carriers haven't disclosed how much they are seeking from Boeing, and industry experts estimated that if the model can't resume flying by the end of the year, the average compensation amount sought by the airlines could be as high as 1 billion yuan ($145 million), based on the grounding scale and operational capacity.
Boeing CEO Dennis Muilenburg didn't say how the plane maker would compensate airlines, but it could be cash, discounts on future orders or additional pilot training and services, he said in an interview with news portal Axios.
John Cochran, president of Eaglemark, an aviation consulting company and professor emeritus of aerospace engineering at Auburn University, told China Daily: "Reimbursement isn't a technical problem. It's a matter of first impression. Some of what Boeing proposes to do may be contractual and it's certainly sound public relations. Boeing wants to keep its customers happy."
Airlines have used other planes when possible to replace grounded Max jets, but some flights have been canceled. The airlines apparently seek compensation for lost revenue as well as storage and the cost of preparing the Max to return to commercial service when the FAA and other regulators say it's safe to fly.
Preliminary investigations suggest the aircraft's automated anti-stall equipment forced the noses of the airplanes down to gain speed, resulting in a fatal plunge, after erroneously determining that the planes were about to stall.
Wall Street analysts expect Boeing to spend about $1 billion to update and install new software worldwide to fix the anti-stall system. Boeing demonstrated its updated anti-stall software in Shanghai from April 9 to 11.
"It is difficult for the Max jet to resume flying in a short period of time, and it is hard to estimate the potential grounding time," said Lin Zhijie, an aviation industry analyst.
"For the moment, Boeing should finish its own task and finish upgrading the aircraft model sooner to pass the airworthiness certifications of countries around the world, and regain trust from passengers," he said.