Iran warned against uranium enrichment
By CAI HONG | China Daily Global | Updated: 2019-07-09 10:14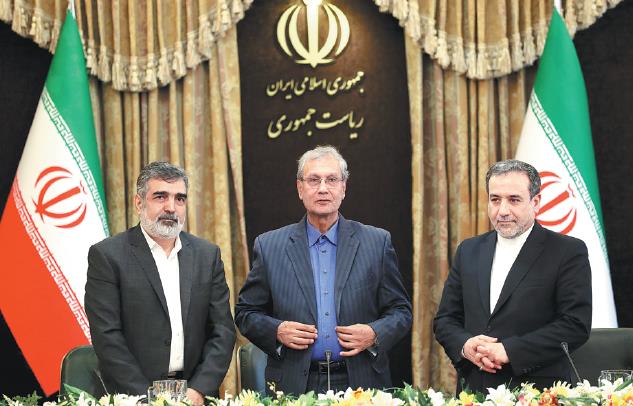 While China expressed its concerns over Iran's announcement that it had raised its levels of uranium enrichment, the United States and France issued a warning.
Teheran said on Sunday it would, within hours, start enriching uranium above the limit set under the 2015 international nuclear deal and would keep reducing its compliance with the deal every 60 days unless world powers shield it from the sanctions that US President Donald Trump reimposed after quitting the agreement last year.
"We are fully prepared to enrich uranium at any level and with any amount," said Behrouz Kamalvandi, spokesman for Iran's Atomic Energy Organization.
At a daily press briefing on Monday, Chinese foreign ministry spokesman Geng Shuang said China regrets Iran's decision to boost uranium enrichment above the cap, reiterating that the standoff needs to be resolved diplomatically.
Geng highlighted that China called all the sides involved to exercise restraint.
In a tweet, US Secretary of State Mike Pompeo said on Sunday that Iran's latest expansion of its nuclear program will lead to further isolation and sanctions. "Nations should restore the longstanding standard of no enrichment for Iran's nuclear program. Iran's regime, armed with nuclear weapons, would pose an even greater danger to the world."
The nuclear deal is formally known as the Joint Comprehensive Plan of Action, which Iran signed along with China, Britain, France, Germany, Russia and the US. Under the pact, Teheran would scale down its nuclear program in exchange for limited sanctions relief, resumption of oil and gas trading on international market and unfreezing of some $100 billion of its assets held worldwide.
Iran denies it seeks nuclear weapons, but the nuclear deal sought to prevent that as a possibility by limiting enrichment and Teheran's stockpile of uranium to 300 kg. On July 1, Iran and United Nations inspectors acknowledged Teheran had amassed more low-enriched uranium than the stockpile cap agreed under the nuclear deal.
On Sunday, the European Union urged Iran to stop actions that would undermine the nuclear deal, saying it was in touch with other parties to the deal and may set up a joint commission to look into the issue.
"We are extremely concerned at Iran's announcement that it has started uranium enrichment above the limit of 3.67 percent," Maja Kocijancic, spokeswoman for EU foreign policy chief Federica Mogherini, said in a statement.
Trying to find a diplomatic solution, French President Emmanuel Macron has said France and Iran agreed to "explore" dialogue, while also threatening Teheran with "consequences".
Israeli Prime Minister Benjamin Netanyahu, who long has described Iran and its nuclear program as a threat to his country, called on world powers to impose "snapback sanctions" on Iran.
In a tweet on Sunday, Bill Weld, former governor of Massachusetts, said thanks to Trump's withdrawal from JCPOA, Iran announced that it is now on its way to being able to produce nuclear weapons.
It is now clear that Trump's cancellation of the non-proliferation agreement was a colossal blunder, added Weld, who is running for the Republican nomination for US president in 2020. "He has put the United States in a position of increasing danger, and gotten absolutely nothing in return."
Andrew Young, an entrepreneur who is seeking Democratic nomination for 2020 presidential election, tweeted that Iran's incentives to adhere to the 2015 multilateral nuclear agreement are limited if US economic sanctions are being reimposed. "The goal should be to reduce tensions while moving our interests forward."
An article published by Politico, an American policy intelligence platform, said Iran's moves are a calculated gamble, officials and analysts said - an attempt to both rebuke Trump and pressure European leaders, who are trying to salvage the nuclear deal, to stand up to the United States.
"The Iranians also may be betting that Trump, who has shown little appetite for war, will fold first, lifting sanctions in exchange for talks," Politico said.
It noted that Teheran is still smarting from Trump's decision to pull the US out of the nuclear deal. There's also lingering suspicion in Teheran that the Trump administration wants to oust the Iranian regime.
"The possibility of a military confrontation is high in the Middle East following a series of attacks on international oil tankers that the US has blamed on Iran. The US has sent hundreds more troops to the region as a hedge against Teheran," Politico said.