Schools urged to cut burden of student work
By Zou Shuo | China Daily | Updated: 2019-07-10 07:34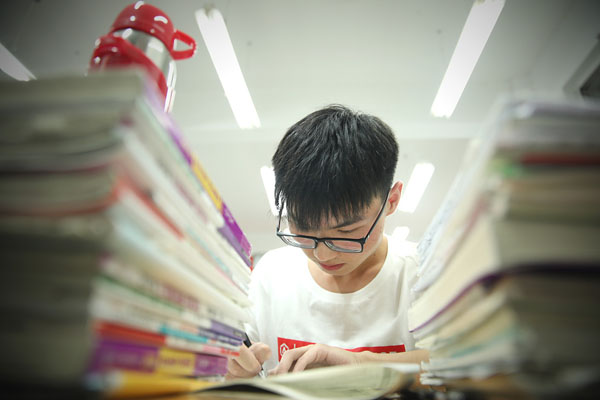 Education Ministry wants a more comprehensive evaluation system
China will establish a more comprehensive evaluation system for schools and students to cut excessive workloads for primary and middle school students, the Ministry of Education said on Tuesday.
Local governments should not evaluate middle schools based on how many of their students go on to enroll at good high schools.
Instead, schools should be evaluated based on the quality of their teachers, efforts to cut excessive workloads for students and public opinions about their performance, Lyu Yugang, director of the ministry's basic education department said at a news conference organized by the State Council Information Office.
The Communist Party of China Central Committee and State Council on Monday issued a guideline for advancing education reform and improving the quality of compulsory education.
It is the first guideline issued by the CPC Central Committee and State Council on compulsory education since the founding of the People's Republic of China in 1949.
Lyu said students should be evaluated based on their moral, intellectual and physical grounding, as well as their interests, hobbies and work ethic, not just on their grades.
Zheng Fuzhi, vice-minister of education, said the ministry will continue to cut excessive workloads on primary and middle school students.
Excessive workloads harm the healthy development of students. However, he added that learning comes with difficulty and stress, so a certain amount of work is good for students.
"We need to improve the quality of classroom teaching so students do not need to work too hard after school," Zheng said. "Teachers should not teach ahead of the syllabus or increase the difficulty of classes."
After-school training institutions should not teach students material that is too advanced for their grade or anything outside the national syllabus, he said.
He also stressed that schools should not assign any homework for parents. "Homework is for students to reinforce what they have learned in class. Students should do their homework by themselves, not ask their parents to do it for them," he said, adding that teachers or schools that assign homework for parents will be seriously dealt with.
The guideline also demands high-quality and professional teaching personnel, proposing more training to strengthen teaching fundamentals and teachers' work ethic, as well as improved salaries and benefits.
Exam-free access to nearby primary and secondary schools should cover all school-age children, and schools are encouraged to promote the well-rounded development of students, the guideline said.
Zhong Binglin, president of the Chinese Society of Education, said compulsory education lasts nine years, which is the longest of all education stages with the most number of students.
Compulsory education lays the foundation for later stages of education and is crucial for cultivating a child's talents, personal qualities, integrity and knowledge, he said.