'Beijing Bikini' not an attractive sight
By Zhang Zhouxiang | China Daily | Updated: 2019-07-10 09:03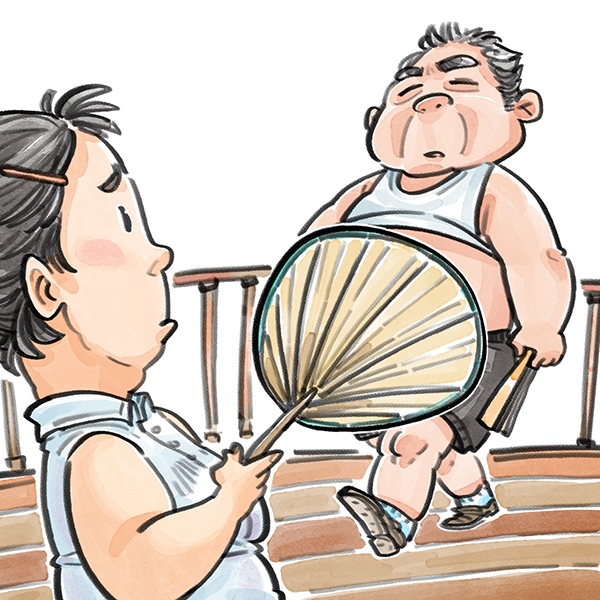 ONE CITY AFTER ANOTHER has introduced local bans on the so-called Beijing Bikini, which refers to men who roll up their T-shirts to expose their bellies in the street in summer. China Daily writer Zhang Zhouxiang comments:
It should be stressed that Beijing Bikini is not something that belongs to Beijing alone. Which is why Jinan, Tianjin, and Shenyang, as well as a growing list of other cities have banned the sartorial eyesore.
Nor is the Beijing Bikini unique to China. At an international fashion show in Germany in 2017, one model walked on stage, wearing a T-shirt that exposed the belly, which prompted a global discussion on social media with people uploading photos of their own local residents sporting the "Beijing Bikini".
They showed that the "Beijing Bikini" is really the "Global Bikini" as it can be spotted around the world. The mentality behind this uncivilized behavior is clear: Those doing it do not care about how unsightly they look and how offensive other people may find their behavior.
Indeed the bigger the belt overhang and the more pronounced the wobble the more eager men seem to be to let it all hang out.
Unfortunately, it is proving rather difficult to root this phenomenon out. As early as 10 years ago, Beijing organized volunteers who would give anyone wearing "Beijing Bikini" a T-shirt with "Civilized Beijing" printed on it.
In 2015, the urban management staff of Handan, North China's Hebei province, introduced a similar measure.
Tianjin introduced a regulation on May 1, saying people could be fined up to 200 yuan ($29 ) if they go shirtless in a public place.
And the authorities in Jinan have released a notice banning the uncivilized behavior, saying it seriously affects the image of the city.
All these provide ample legal support for the city authorities to fine those wearing "Beijing Bikinis", which means that the days of bared bellies may be numbered, at least in China.
Some will give a sigh of relief that belly buttons are no longer thrust before their eyes, but there will be those that mourn the passing of something that has become a tradition.