Social commerce sector on the up
By Fan Feifei | China Daily | Updated: 2019-07-12 07:53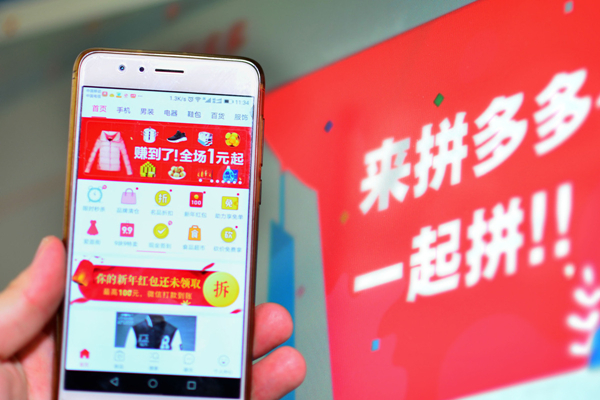 The market size of China's social commerce sector is expected to reach 2.07 trillion yuan ($302 billion) in 2019, an increase of 63.2 percent year-on-year, as the use of mobile technologies to access social media is increasingly popular in China, a new industry report said.
The sales revenue from social commerce platforms will account for 20 percent of the country's online retail market this year, and this proportion will amount to more than 30 percent in 2020, according to the report issued by the Internet Society of China and Chuangqi Social Commerce Research Center.
Social commerce is a subset of e-commerce that involves using social media, online media that supports social interaction and user contributions, to assist in the online buying and selling of products and services.
The report also said the number of people engaged in the social commerce field is expected to reach 48.01 million in 2019, up 58.3 percent year-on-year. In addition, the tendency with regard to the integration of online and offline shopping channels will be strengthened, with diversified, personalized products favored by Chinese consumers.
Experts said social commerce has become a driving force of the booming e-commerce sector. "E-commerce on social networking platforms is rising in the retail industry because people increasingly use mobile phones and tablets to replace PC-based online shopping, so group-buying has gained traction," said Cao Lei, director of the China E-Commerce Research Center.
He added that social commerce will become the mainstream method in the e-commerce industry, and will attract more tech giants and capital as the cost of acquiring consumers' data flow is relatively low.
"Social commerce is playing a crucial role in the digital retailing industry. Essentially, almost everyone in China is jumping on the social commerce bandwagon and showing great enthusiasm for the platforms by engaging in a variety of social commerce activities," said Cici Wu, a research analyst at consultancy firm Mintel.
"Although more consumers today still prefer traditional e-commerce than social commerce channels, their expectations for the latter are more optimistic," Wu noted, adding that the post-1990 generation favor social commerce over traditional e-commerce platforms.
Shanghai-based social commerce platform Red, known in Chinese as Xiaohongshu, has begun testing live broadcasts and real-time sales. Online influencers have been invited to use the live streaming feature, which lets broadcasters interact and sell products directly to viewers.
Founded in 2013, Red initially began with the objective of helping Chinese people traveling abroad share their shopping experiences online before changing into a social commerce site selling international luxury brands and sought-after foreign products.
Moreover, Pinduoduo's group buying-and-discount model continuously grabbed the headlines last year. Founded in 2015, the company follows the model of "the more people buy the cheaper the price". It is now the third-largest e-commerce platform in China, behind Alibaba and JD.