China's entertainment industry sees drop in first-half earnings
By Liu Yukun | China Daily | Updated: 2019-07-16 09:24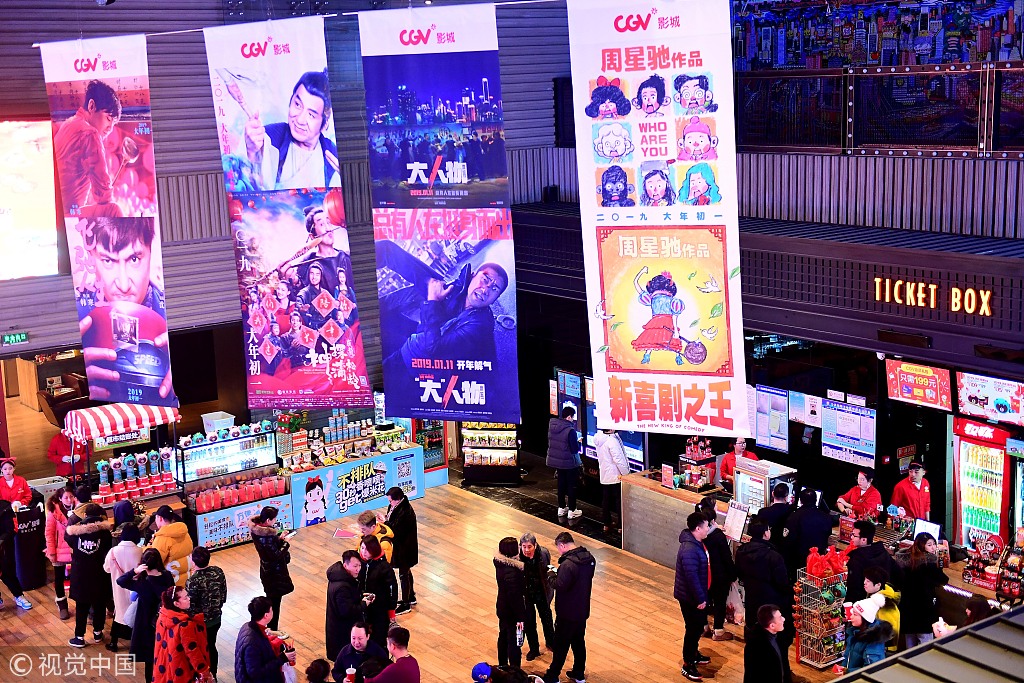 China's entertainment sector, which was on a roll last year, seems to have run into a rough patch judging by the lower-than-expected profit of top companies in the first half of this year.
China's leading Wanda Film Holding Co Ltd reported an estimated drop in first-half profit of between 55 percent and 65 percent year-on-year to between 481 million ($70 million) and 619 million yuan, compared to the same period in 2018 when the company's profit hit 1.38 billion yuan.
Another giant, Huayi Brothers Media Corp, posted an estimated loss of between 324.79 and 329.79 million yuan during the same period. Its profit last year during the first half of the year stood at 277.37 million yuan.
Some 12 major entertainment companies, including those that posted hefty revenues last year such as The Wandering Earth's producer Beijing Jingxi Culture and Tourism Co Ltd, also reported loss, according to a rough estimate by industry analysis service provider Mirror Entertainment.
Beijing Jingxi Culture and Tourism reported a loss of roughly between 48 million and 68 million yuan in the year's first half.
"The reasons why a majority of entertainment companies saw a drop in profit can be complicated. On one hand, last year's tax crackdown and tightened regulatory policies in taxes have certainly struck some major players, costing them both time and money to pay the fine and restructure their businesses," said Chen Shaofeng, a professor in culture and entertainment at Peking University.
"On the other hand, China's film box office market is heading toward saturation, which means that the profit surge that many entertainment companies saw in the past is less likely to happen," Chen added.
Data from the National Radio and Television Administration showed box office revenue in the first half of 2019 in China stood at 31.17 billion yuan, down 2.7 percent year-on-year. Cinema visits dropped 10.3 percent year-on-year to 808 million visits within the same period.
Chen believes, though, the companies will bounce back.
"The industry is still likely to see a boom in the near future as there is more market potential to be tapped, such as film derivatives (toys and figure models), various genres of intellectual properties or trans-media storytelling (presenting the story with multiple platforms like films, TV shows, and games)," Chen said.
"Such approaches to IP development can be an effective way to generate more revenue for entertainment companies," he added.
Wanda and Huayi said in their statements that losses were due to a lack of projects premiering in the first half of the year. Most of Huayi's film projects such as The Eight Hundred directed by Guan Hu would premiere in the second half of 2019.
"It's common that entertainment companies adjust their film distribution plans based on market demand, and choose to release their films during a certain period of time to maximize their profits," Chen said.
"But it is certainly not the reason why a majority of entertainment companies saw a drop in profit. Although it is common for entertainment companies to premiere their major film projects in second-half seasons with peak demand, it is unlikely for most of them to do so at the same time, as the first half of the year also has many peak movie-going seasons," said Chen.
"As you can see, there are several films that became a hit during the holiday, like The Wandering Earth, a film with a 4.65 billion yuan box office. Its box office record was the second highest in China's history and turned out to be a revenue spinner for its major producers," Chen said.