China leads in promoting green energy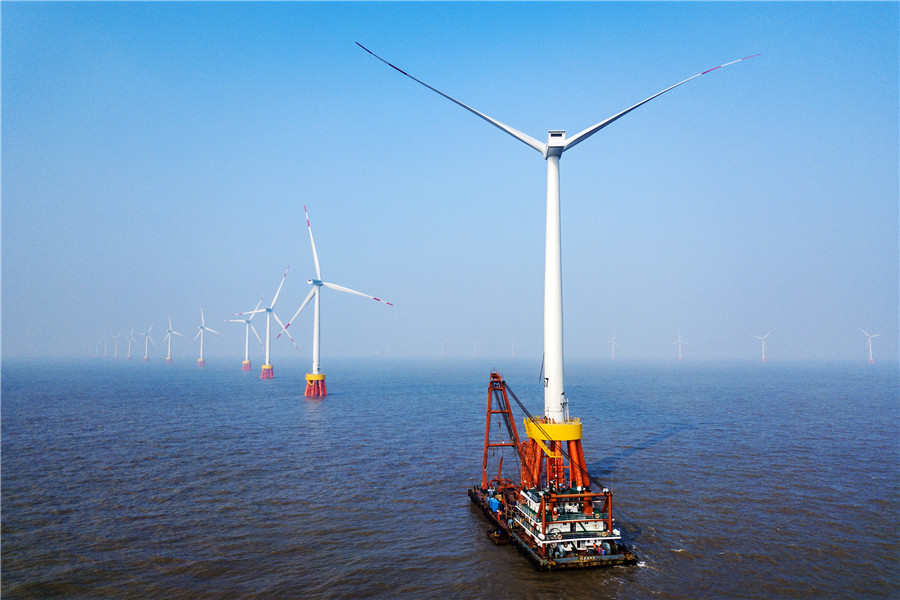 Members of the influential G20 nations account for around 90 percent of the world's gross domestic product, 80 percent of global trade, two-thirds of the population and around half the land mass.
The G20 Summit in Osaka, Japan, sent one positive signal on the environment. The Leaders' Declaration issued on June 29 said: "We recognize the urgent need for addressing complex and pressing global issues and challenges, including climate change, resource efficiency, air, land, fresh water and marine pollution, including marine plastic litter, biodiversity loss, sustainable consumption and production, urban environmental quality and other environmental issues."
The declaration also noted outcomes of the G20 Ministerial Meeting in Nagano, Japan, on June 15 and 16, which adopted the G20 Karuizawa Innovation Action Plan on Energy Transitions and Global Environment for Sustainable Growth, despite differences between the United States and other G20 members on climate change.
Key points outlined the importance of international cooperation throughout the global scientific community, highlighting increased public and private sector research. The digitization and sharing of information among industry, academia and government will be encouraged to support technical innovation globally.
Perhaps the most crucial aspect is continued development and deployment of innovative technologies. It acknowledges the role and importance of artificial intelligence and the internet of things in defining more efficient use of resources. All are worthy topics and certainly justifiable, but the question is who will follow through, commit and implement nonbinding agreements.
Massive industrialization over the past century has come at a very high cost to the planet we live on. While the lives of billions of people have improved as a result, billions of people also have been left behind in the pursuit of power and money. The disparity between the rich and the poor in almost all societies is growing and the middle classes shrinking. In one way or another, many of the problems facing us today can be traced back to environmental degradation and its consequences.
Recent examples of damage to the environment caused by economic growth can be seen in many places, particularly developing countries. In the case of China, consistent high economic growth and development has resulted in air pollution, water pollution and shortages despite empowering millions to contribute to continued sustainable economic and social development.
Yet the Chinese government has responded accordingly, taken a very tough stance and taken multiple measures to combat and control existing and future environmental problems. It is fully committed to reducing fossil fuel consumption and has made great strides in reducing its dependence on coal in line with its targets and commitments made in the Paris Agreement.
China could actually be ahead of the target. Cement and steel plants were instructed to suspend or reduce production, and many households switched from coal to natural gas for heating in an effort to reduce smog. This action has resulted in better air quality.
China has the largest number of electric vehicles in the world, and the country is committed to having 5 million electric or fuel cell vehicles on the road by 2020. It is playing a major role in all areas of green innovation and technologies, and the government clearly understands the importance of sustainable development.
As a result of the lessons learned and continued commitment to environmental issues at home and overseas, China is leading the expansion of solar energy capacity around the world. Five of the biggest solar panel manufacturers are Chinese. China is also home to five of the world's largest wind energy developers. China's clean energy financing overseas is led by the Belt and Road Initiative, and all indicators suggest that the level of investment will continue to rise, particularly in the areas of research, development and deployment.
Another example of commitment to sustainable development is the recent blueprint for the development of the Greater Bay Area, a megalopolis consisting of nine cities and two special administrative regions. It is designed to accelerate transformation across the region with high value-added manufacturing activities replacing highly polluting industries. The emphasis is focused on sustainable development.
One positive agreement of the G20 Summit was to establish a new international framework to reduce marine plastic litter, which is a major problem in our oceans and rivers. Plastic waste causes serious health and environmental problems and has major economic impacts.
Once again, there is an opportunity for China to take the lead. Following the government's decision to ban 24 types of waste in 2018 as part of its environmental program, other countries have followed suit, putting pressure on offending nations to respond responsibly to waste management. This, in turn, will accelerate the development of technologies to cleanly dispose of waste and produce valuable byproducts ranging from jet fuel to charcoal produced from plant matter.
Both China and the world have a long way to go, but the intention and understanding of the benefits of sustainable development are reaping economic rewards.
The author is chairman of The Multitude Foundation. The views do not necessarily reflect those of China Daily.