Summer harvest called one of best
By Wang Xiaodong | China Daily | Updated: 2019-07-20 09:15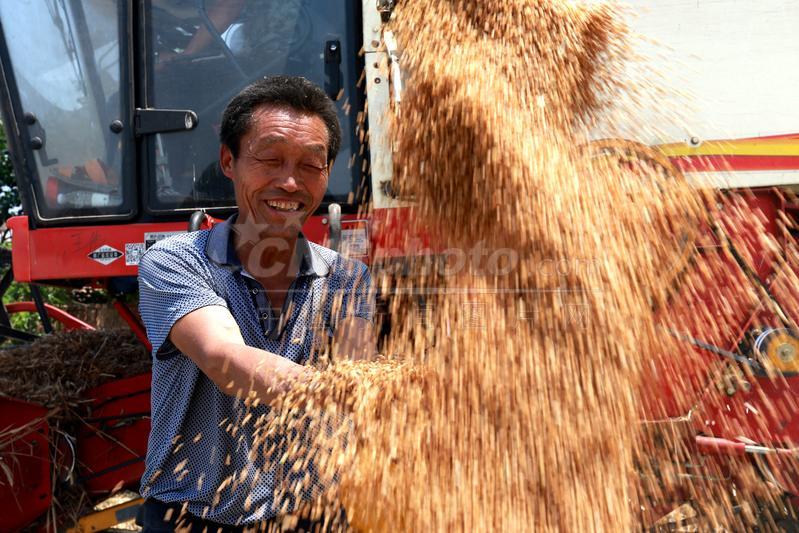 China this year has had one of its best summer harvests in recent years, and an overall good harvest of grain is likely for the whole year, the Ministry of Agriculture and Rural Affairs said on Friday.
Total grain production for the summer reached nearly 142 billion kilograms, an increase of 2.1 percent compared with last year and the same level as 2017, the year with a historically high summer yield, said Wei Baigang, head of the development and planning department at the ministry.
Meanwhile, grain to be harvested in the fall is growing normally. The spread of the crop-eating fall armyworm, a species that entered China from Southeast Asia in January, has decelerated, laying a foundation for an overall good harvest this year, he said.
Despite favorable signs, natural disasters such as drought and flooding, which have seriously affected many areas, pose obstacles for a good fall harvest, which usually accounts for about 75 percent of the total grain production in China, Wei said.
"The ministry will not spare any effort to protect crop production for the summer.... It will try its best to guide local authorities to prevent and control fall armyworms. It will work with related departments to closely watch fluctuations of drought and flooding, carry out emergency plans in a timely way in case of need and intensify oversight for implementation of disaster-relief measures to ensure another good harvest this year," Wei said.
In addition to grains such as wheat and rice, production of other major agricultural products such as beef, mutton, aquatic products and milk also increased in the first half of the year, resulting in adequate supply and stable prices, he said.
With increased agricultural production, China's international trade in agriculture kept growing in the first half of the year. China imported 416 billion yuan ($60.5 billion) worth of agricultural products in the first five months and exported 208 billion yuan worth of agricultural products, an increase of 14 percent and 4 percent year-on-year, Wei said.
Imports from Brazil, Southeast Asia, the European Union and Australia kept increasing rapidly, and exports to the United States saw a significant decrease in the first five months of the year, he said.
Ma Hongtao, deputy chief for international cooperation at the ministry, said with the implementation of the Belt and Road Initiative, China has intensified agricultural cooperation with countries involved in the initiative, resulting in increased trade and more Chinese investment in the countries.
Last year agricultural trade between China and countries and regions involved in the Belt and Road Initiative exceeded $77 billion, a rise of nearly 18 percent compared with five years ago. China has invested in more than 650 agricultural projects in these countries and regions, with a total investment of more than $9.44 billion, an increase of 70 percent compared with five years ago, she said.
These projects have contributed to the development of local industries such as grain and livestock production and food processing, and provided employment opportunities for more than 100,000 locals, she said.
Meanwhile, other cooperation programs such as agricultural technology cooperation and promotion have also been welcomed by locals in those areas and have helped increase connectivity between China and those countries and regions, she said.