Chinese medics filling gaps in Africa
By Lucie Morangi and Tang Ying in Dar Es Salaam, Tanzania | China Daily | Updated: 2019-07-20 10:08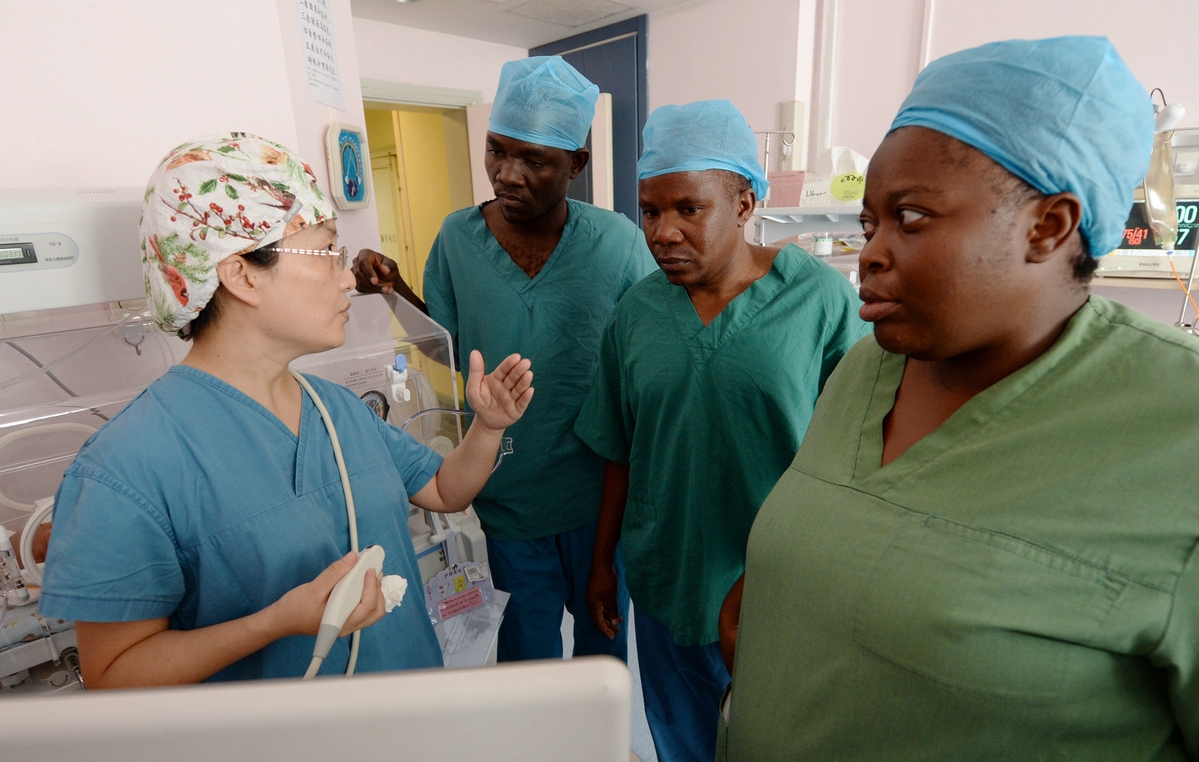 Doctors have been sent to 42 African countries for more than five decades
As debate rages on whether it is immoral for high-income countries to recruit medical doctors from Africa, China continues to send doctors to boost public healthcare to underserved communities in Africa.
Just finishing his first year at the Muhimbili National Hospital in Dar es Salaam, a port city in Tanzania, Qin Chengwei, 45, head of the Chinese medical team and an anesthesiologist, said: "This is a duty. It is a mission to save as many lives as possible, regardless of geographical location."
There are 11 Chinese medical doctors in Tanzania presently. Seven of them are serving in the Muhimbili hospital, the largest referral medical facility in Tanzania and its affiliate Jakaya Kikwete Cardiac Institute, a Chinese-built facility. Four others are deployed at the Mbeya referral, in southern parts of the country.
For more than five decades, China has sent medical teams to 42 African countries. Tanzania has been receiving Chinese teams continuously from 1968. For the last two years, Chinese doctors are deployed in urban and far-flung remote areas.
Following requests from the Tanzanian government, the doctors are highly trained specialists in cardiology, neurosurgery, pediatric surgery, intensive care unit, orthopedics and anesthesia.
With only six local anesthesiologists at Muhimbili hospital, Qin treats 60 to 80 patients daily. A large number of these patients are women giving birth and patients needing cataract surgery, a procedure to remove the eye lens and replace them with artificial ones.
Doctor Bashir Nyangasa, former director of surgeon services at Jakaya Kikwete Cardiac Institute, said that the team was very important, as there are only five Tanzanian cardio-surgeons in the country, serving 55 million people. "They do a lot. They have innately boosted provision of quality healthcare, especially to underserved people," he said.
They are always in the frontline. Besides handling emergency cases brought into the two hospitals, the team occasionally holds outreach programs in rural Tanzania to provide health services to poor communities. This has also boosted the country's surveillance mechanisms on contagious diseases while helping with early detection of fatal but preventable diseases.
"These doctors have alleviated the critical shortage of doctors by plugging gaps left by the loss of qualified doctors overseas," said Dr Nyangasa.
The World Health Organization puts Tanzania among countries with an enormous shortage of skilled health workers. The doctor-to-patient ratio stands at one doctor for every 20,000 patients, while the recommended doctor-patient ratio is one to 300.
Research has shown that foreign doctors experience challenges in adjusting to new working environments. Nevertheless, the Chinese team said preparation sessions, before traveling to Tanzania, have helped them to adjust quickly to the environment.
They are given country-specific knowledge of the health sector to reduce the stress that accompanies practicing in a new environment.
But this does not entirely prepare them for the reality on the ground. Lack of critical equipment, especially in the emergency room, inadequate essentials such as hemoglobin, facing patients with terminal diseases such as cancer at stage four and knowing that early detection may have changed the odds remarkably, weighs heavily in the hearts of the doctors. But they persevere.
"I think our mission is to change the attitude of the people, by emphasizing the importance of early medical screening through tests. The burden of this disease is heavy in Tanzania," said 38 year-old Hu Bin, a cardio-surgeon and the youngest in the Chinese team. He handles about 16 heart operations in a month at the Jakaya Kikwete Cardiac Institute, which has modern equipment.
He has observed that most of his patients suffering from congenital heart disease are young people. This profile is in stark contrast to statistics in developed economies. This means that families lack funds to address this medical condition early, he said.
His local colleague, Dr Nyangasa, noted that besides enhancing knowledge and skill exchange, the Chinese team helps to explain the use of some of the newly installed equipment in the Jakaya Kikwete Cardiac facility. Furthermore, they also make follow-up calls to the Chinese manufacturers when the machines need maintenance.
He commended the team's enthusiasm. A beneficiary of a Chinese-sponsored scholarship where he undertook his higher learning at a medical college in Hubei province, he said that the Chinese team's persistence, passion to save lives and knowledge of how important they are in deepening Sino-Tanzanian relations have built in them coping mechanisms to propel them forward every morning.
Africa accounts for 24 percent of the world's health needs and 16 percent of the global population, but it receives just 1 percent of global health spending, said the World Health Organization.