Curbs on after-school classes, social credit repair, and easing exit of 'zombie' companies on agenda
By Mo Jingxi | China Daily | Updated: 2019-07-23 08:38
Several ministry-level departments, including those responsible for education, development and banking, have responded recently to issues of public concern.
Rules for off-campus online education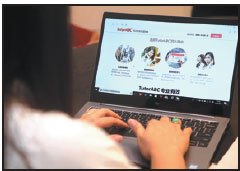 China will take a series of measures to regulate off-campus online education programs in an effort to ease the burden of extracurricular studies on primary and middle school students, according to a notice released on July 15.
The notice, jointly issued by six government departments including the Ministry of Education and the Ministry of Public Security, listed five priorities for the regulation of training institutions that provide online courses, including the quality of content and faculty.
Each class should last no longer than 40 minutes and the intervals between two courses should be no less than 10 minutes, the notice said.
It also requires that all livestreaming training activities for schoolchildren should be finished before 9 pm.
Institutions that fail to correct irregularities by the end of June next year will be put on a blacklist and receive punishment, the notice said.
Market exit of 'zombie' SOEs to be encouraged
China will speed up the exit of State-owned "zombie" companies from the market to create a better business environment, the National Development and Reform Commission said on Tuesday.
According to guidelines jointly released by NDRC and a number of other government departments, related parties should not use means such as illegal government subsidies or loans to hinder the exit of bankrupt State-owned companies from the market.
The establishment of a personal bankruptcy system was also proposed in the guidelines, with a focus on resolving the joint liabilities of natural persons resulting from business bankruptcy.
The exit of all types of market entities, including financial institutions and State-owned "zombie companies", should be in line with market principles and the rule of law, according to the guidelines.
The reform of the exit system for market entities will help advance the country's supply-side structural reform and enable its bankruptcy system to better adapt to economic and social development, Meng Wei, a spokeswoman for the NDRC, said at a news conference on Tuesday.
Microcredit funds meant to aid poor families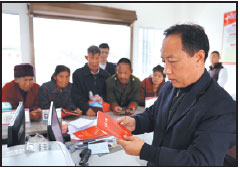 China will further regulate the management of microcredit for poverty alleviation as part of efforts to win the tough battle against poverty, according to a notice published on Thursday.
The notice, jointly released by the China Banking and Insurance Regulatory Commission and three other government departments, said microcredit for poverty alleviation should be used only to help poverty-stricken households engage in production.
Its use for unproductive purposes such as getting married, building houses or purchasing household objects is prohibited.
It should also not be used to fund government financing platforms or support the production and operation of enterprises, according to the notice.
Microcredit for poverty alleviation provides loans of less than 50,000 yuan ($7,268) for a period of less than 36 months without the need for guarantees or collateral.
Social credit repair mechanism mooted
The National Development and Reform Commission said on Thursday that China will explore ways to establish a social credit repair mechanism.
Lian Weiliang, deputy head of the NDRC, told a news conference that repair will be based on the premise that parties with discreditable records have completely corrected their discreditable behaviors and accepted their legal liabilities.
Punishment can only be removed when the discreditable parties have received credit education, and promised to keep faith and fulfill their social responsibilities, he said.
Lian said social credit repair is by no means a simple "whitewashing of discredit records".
It should be a limited rectification process with preconditions and procedures, he added.