Bookstores to blossom on university campuses by 2020
chinadaily.com.cn | Updated: 2019-07-26 13:45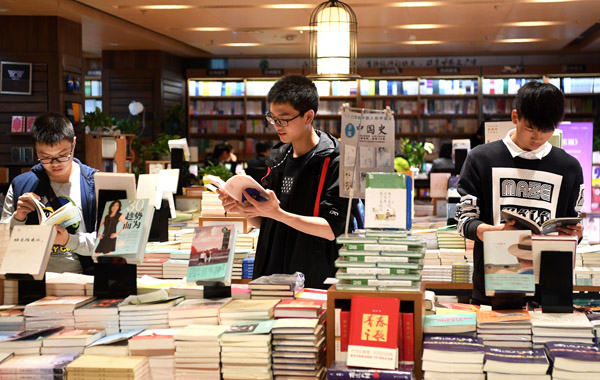 The Ministry of Education issued a guideline on Wednesday urging universities across the country to have at least one brick-and-mortar campus bookstore that meets students' needs and in accordance with the university's own characteristics.
Those without a physical campus bookstore should set up one as soon as possible, the guideline said.
The guideline comes as some physical campus bookstores are facing difficulties in operation, hit by ever-popular digital reading and online book purchases. It aims to better support the development of physical campus bookstores.
The guideline requires universities to integrate brick-and-mortar bookstores into the overall campus construction plan. Universities should offer support to the bookstores based on their actual situations, from providing an appropriate location, reducing and exempting venue rental and utility bills, to investing in equipment and facilities.
Campus bookstores should take advantage of the internet and new technologies like artificial intelligence to expand online sales and delivery services via e-commerce platforms. They should also promote digitalization and intelligence upgrade, according to the guideline.
A number of on-campus smart bookstores that display the unique characteristics of different universities will be established across the country by the end of 2020, the guideline said.
Universities should explore how to turn a traditional bookstore into an integrated cultural activities center, where book clubs, academic salons, exhibitions and leisure-time gatherings could be held. University libraries and publishing houses should help bookstores keep up with students' needs by sharing information and resources, according to the guideline.
The guideline also supports campus bookstores recycling and selling second-hand books to help save and reuse resources and build a greener campus. Branded bookstore chains are welcome to open outlets on university campuses.
Physical bookstores in universities are encouraged to play a part in work-study and entrepreneurship programs, according to the document. Campus bookstores can offer work-study jobs to students. It also encourages university graduates to run such bookstores as a startup business.