Analysts see push to integrate European defense accelerating
By Chen Yingqun | China Daily | Updated: 2019-07-29 10:23
Macron's call for building a joint army gains support but faces many obstacles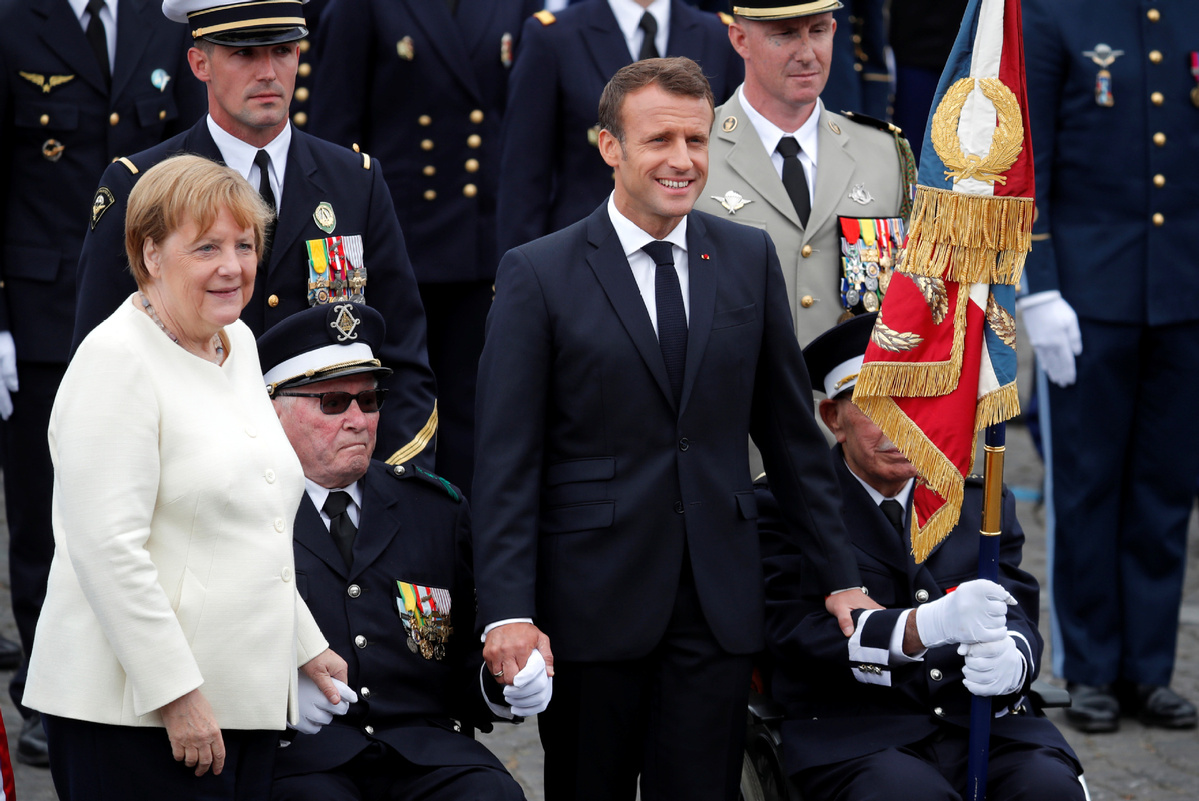 France's goal of building a European army still has a long way to go, but European defense cooperation has been boosted in the past few years, analysts said.
Ever since becoming the French president in 2017, Emmanuel Macron has called for building a European army to share in procurement, command and operations, to better defend Europe and to reduce its dependence on the United States and NATO.
His vision has been backed by some European leaders, including German Chancellor Angela Merkel.
He Yun, assistant professor at Hunan University's School of Public Management, said that Europe is facing multiple security challenges, including homegrown terrorism endangering people's lives on the street, and for the external defense it relies on the North Atlantic Treaty Organization forces and the US security guarantees.
However, the US has adopted an "America first" doctrine for the past few years, which has sometimes put Europe' s security interest at grave risk, the US withdrawal from the 2015 Iran nuclear deal being a good example. US President Donald Trump has also threatened to reduce US alliance commitments, saying that NATO members, especially its European allies, are not paying enough for their defense.
"These factors have prompted some European countries to question whether Europe can rely solely on NATO for its defense, and have also accelerated Europe's defense integration with the possibility of creating an independent European army in the future," He said.
But there are still many obstacles for building a real European army, including the US' opposition to a European army, whether there is enough financial support from the EU bloc and who would lead the whole process, she said.
In September 2017, soon after taking power, Macron unveiled the European Intervention Initiative, or E2I, to undertake missions outside of existing structures like NATO and to strengthen military cooperation that has focused on procurement and operations among 10 European nations.
Forces from all nine countries, including Germany and the United Kingdom, took part alongside France, in France's annual July 14 Bastille Day parade. Macron also invited the leaders of these countries "to act together" for a rapid European intervention force that defends common strategic interests.
Sven Biscop, director of Europe in the World Program at the Egmont-Royal Institute for International Relations, a think tank based in Brussels, said that Macron's E2I initiative is good as it makes Europe decide which security responsibilities it wants to assume, and it will be more effective if brought under the EU mechanism.
He said a real European army would mean that soldiers will be on the payroll of the EU and member countries will no longer have a national army, which is still "very far away". But as the global situation changes, it is important for Europe to develop its independent defense.
"The current Iran issue is an example that European and the US' interests most of the time are still overlapping, but less than before. Iran is an example of how the US government is having a policy that directly undermines Europeans' strength," he said.
He said that the US is always ambivalent about Europe's defense. On the one hand, the US wants Europe to have more capabilities but, meanwhile, the US wants Europe to use its capabilities only where it is told to.
"Politics doesn't work that way, because if you have more capabilities, you will want to decide for yourself," he said. "My advice is that Europe doesn't need to worry much about the US views. If it is serious about European defense, just do it."
He said that the first useful step for Europe to develop its defense is to strengthen cooperation among national forces of its members, get the capabilities together and make the maximum use of it.
In his view, the most important development in the last few years in the defense sector is the European defense fund, which was established in 2017 and enables the EU Commission to have its budget for defense research and also to support defense industry development.
"EU should do more and do it quickly to realize the real integration of military capacities," he said. "I think the commission will become very influential in stimulating defense cooperation."