HKSAR government condemns repeated violence
By staff writer in Hong Kong | chinadaily.com.cn | Updated: 2019-07-29 13:32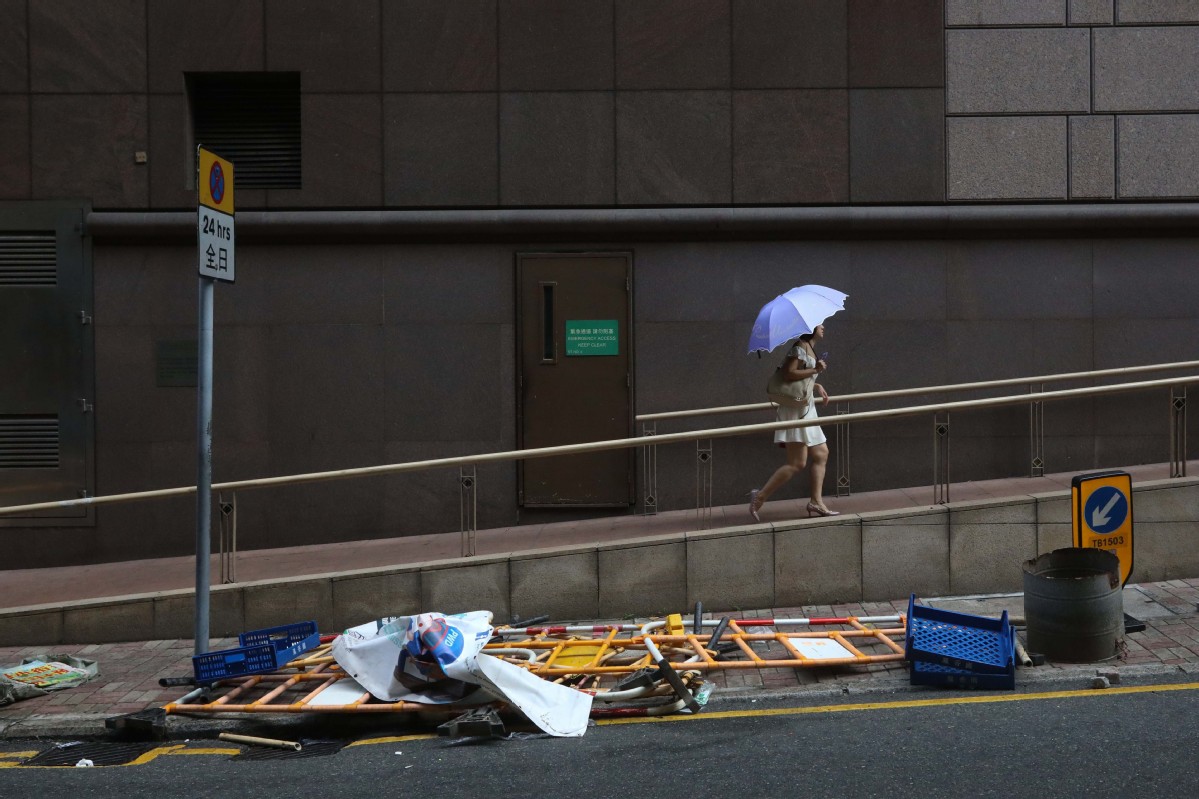 The government of the Hong Kong Special Administrative Region on Monday strongly denounced escalated and repeated violence by radical protesters after further conflicts in the heartland of the city on Hong Kong Island.
Central, the heart of the Asian's finance center, was left littered with trash and debris after hours-long protest continued late into Sunday night. Sanitarians were busy cleaning up the remains of violent clashes on Monday morning while people began their journeys work.
Graffiti of vulgar language were seen on building facades, road barriers, on the ground, and dustbins when a China Daily reporter visited Connaught Road Central, a major thoroughfare running through the whole Central Hong Kong, on Monday morning.
"We strongly condemn the radical protesters who disregarded law and order and violently breached public peace," said the spokesperson.
The government vowed to give full support to the police to strictly enforce the law to stop all violent behaviors and resume public order as soon as possible.
According to the police, at least 49 people were arrested for offences including unauthorized assembly and possession of offensive weapons over the violent clashes on Sunday.
In condemning the violence, the police said "The radical protesters' acts were getting increasingly violent. They escalated from removing railings, hurling metal poles and bricks to extensive arson and destruction."
The violent clashes unfolded at around 3:30 pm on Sunday, when a large group of protesters ignored police's warning, branching out from a public assembly and blocking carriageways in Sai Ying Pun and Causeway Bay, causing traffic obstruction in a number of areas on Hong Kong Island.
The protesters, with face masks, took cover from umbrellas held by their peers when dismantling metal railings from sidewalks to build their makeshift blocks to fend off police's dispersal attempts. Bricks on the pavements were pried and used as weapons to attack police, together with paint bombs, corrosive liquids, and metal marbles shot from crossbows.
The owner of a stationary shop in Sheung Wan, surnamed Lam, said the violence had grossly affected the business.
"I didn't and wouldn't dare to open the shop yesterday for the whole day," Lam told China Daily.
Lam's concerns and fears were shared by the owner of another dried seafood shop, surnamed Chan, on Wing Lok Street, which is famous for specialties of ancient Chinese tonic foods – mostly ginseng and bird's nest - and adjacent to Hong Kong's iconic Dried Seafood Street.
"The weekly disruptive protests are unsettling," Chan lamented, hoping that the society could return to its peace and order as soon as possible.