Why is Ne Zha making a huge splash?
chinadaily.com.cn | Updated: 2019-07-30 11:00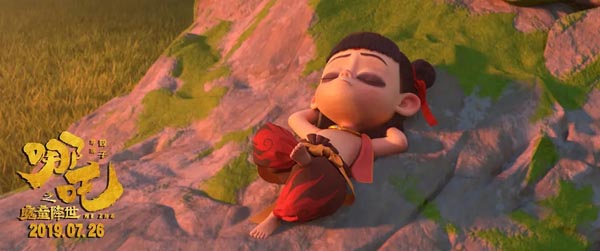 Ne Zha, the first Chinese 3D animated film in the IMAX format released Friday, having raked in more than 900 million yuan ($130.5 million), sweeps the Chinese box office, as well as sets social media abuzz with rave reviews and a frenzy of Ne Zha cosplay.
With excellent word-of-mouth among Generation Z, Ne Zha is rated higher than the 2015 phenomenon, Monkey King: Hero is Back. It scored 8.7 points out of 10 based on 320,000-plus reviews on Douban, China's largest film review site.
Optimism about this film also runs high among critics and industry insiders, with many predicting it will be this summer's biggest money spinner and soon shatter the box office record held by Hero is Back, the highest-grossing Chinese animated film of all time.
Film tracker Maoyan also keeps increasing its predication of the film's final box office takings, with its current prediction being 2.25 billion yuan ($337.5 million).
If you wonder what the magical formula of Ne Zha's success is, please read more to find out.