A horrible night for a 'war correspondent'
chinadaily.com.cn | Updated: 2019-07-30 11:07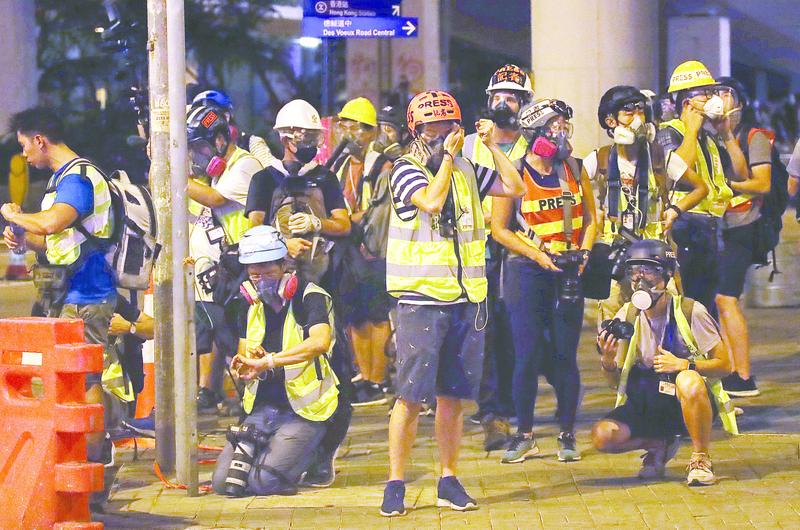 The most frightening moment during my three-hour stay in the epicenter of Sunday's protests in the city's central business district occurred when I discovered a masked protester had been stalking me for about five minutes.
I arrived at Sai Ying Pun around 6:30 pm - three hours after thousands of demonstrators had left Chater Garden in Central and marched to different locations on Hong Kong Island.
When I stepped out of the MTR station, I found different groups of protesters were dismantling roadside metal barricades to use parts from them as weapons. As I pulled out my phone and began videotaping the scene, it took less than 10 seconds for a young man holding an umbrella to notice and demand that I stop.
I was just doing my job. So I kept filming despite his opposition. However, after I left that spot, I noticed that he was following me. "You have taken too much video. Now stop," the protester warned me. All around the world, people know that recording what happens at the scene of a major news story is a journalist's job.
About five minutes later, I noticed the man was still stalking me - with another protester next to him.
I became afraid as I was not wearing any protective gear. I didn't even have time to put on a press jacket. So I began to walk faster and move away from them to join other journalists.
Similar threats occurred to one of my colleagues - a photographer who was also sent to the front lines. He said that several times the protesters made the same demands - or even threatened passersby filming them.
Unlike previous clashes, Sunday's protest took place in narrow streets in a densely populated district where the risk of collateral damage was high.
This fact didn't seem to bother the protesters who hurled bricks, glass bottles, iron rods and other hard objects at police. At some locations, the protesters set fire to piles of trash to stop the police advancing.
In return, the police fired tear gas at the angry crowd as the riot control officers advanced forward to disperse the protesters. Blinded by tear gas which filled the air, I tried but failed to find a place to hide to avoid being injured by accident.
When the action died down, I had flashbacks of the first major clash between protesters and the police outside the Legislative Council on June 12. The difference this time was the protesters were much better organized and equipped. As such, they posed a much greater risk to the safety of police officers and passersby.
They were trying to use anything handy they could find as weapons. Metal bars, dismantled from street barricades - which I filmed - were just one example. What's more, they even set fires in various locations, which was rare to see in recent protests. An arson conviction could send them to jail for a long time. But without effective measures to stop them, they are very likely to repeat the tactics next time.
Protesters also had a clear division of labor. They were divided into groups in charge of different jobs such as digging up bricks, supplementing their provisions, or monitoring the overall situation. These tasks were all done quickly and quite efficiently.
They also upgraded their equipment. Every time they took to the streets, they appeared to be more organized than before. They were not just random group of individuals.
In the wake of a string of anti-extradition bill protests, most of which have ended in violent clashes, I felt distressed, upset, sometimes helpless doing my job. Being a war correspondent has been a childhood dream. Yet I have never expected that I could take a step closer to the dream in Hong Kong - one of the world's safest cities.
I love Hong Kong. I really hope young people could stop venting their anger by destroying parts of the city.