Property sector cooling to help real economy funding
By Zhou Lanxu in Beijing and Wang Ying in Shanghai | China Daily | Updated: 2019-08-01 09:19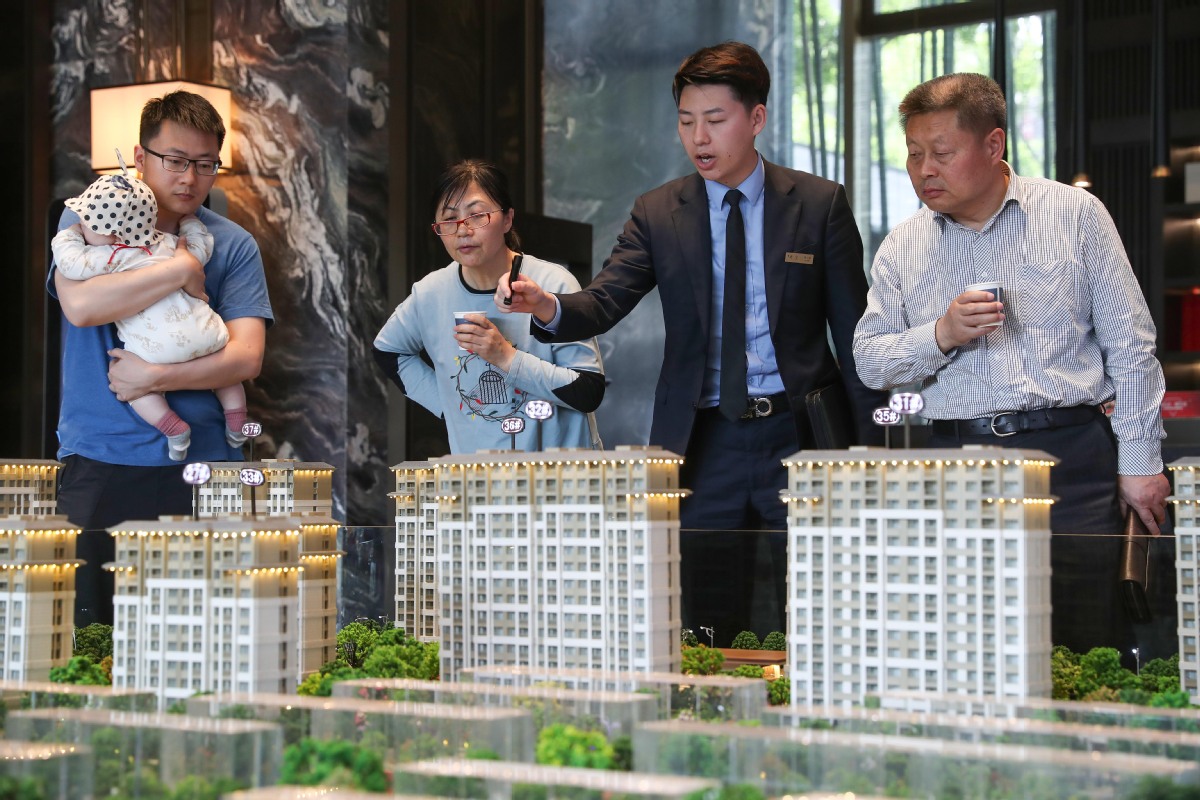 China's real estate sector may cool down a bit over the rest of the year, helping direct more funds into the real economy and brighten long-term growth prospects, as the top leadership seems more determined to curb property speculation, analysts said.
The world's second-largest economy will not use real estate as "a short-term means of stimulating the economy", despite that it faces new risks and increasing downward pressure, said a statement released on Tuesday after a meeting of the Political Bureau of the Communist Party of China Central Committee.
This marked the first time that the tone-setting meeting of the country's top leadership directly clarified the policy stance of not using real estate stimulus to shield the economy from short-run downturns.
The meeting also reaffirmed commitment to the principle of "housing is for living in, not for speculation", and vowed to implement long-term mechanism to maintain the sound development of the real estate market, according to the statement.
"Dispelling expectations among some market participants that housing prices may rise markedly in the second half of year may be the main purpose of stressing the policy stance on real estate in the statement," said Yang Weiyong, an associate professor in economics at the University of International Business and Economics in Beijing.
As economic growth slowed to 6.2 percent in the second quarter, speculation began to take shape that policymakers may loosen their grip on the property market to combat downside pressure, as they did amid earlier economic downturns, according to Yang.
It is of great importance to guide market expectations over a steady and modest rise of housing prices, as it will help direct more funds into the real economy, such as privately-owned manufacturers and high-tech firms, which are the engines of long-term growth, Yang said.
Otherwise, liquidity released by the central bank recently may flock into properties, where returns seemed more assured than in the current lackluster manufacturing sector, blowing risky property bubbles and leading to a deteriorating economic structure, he said.
Investment in real estate development as a part of GDP may cool down a bit in the second half, Yang added. "But such a structural slowdown is worthwhile as it will contribute to the country's economic restructuring and high-quality development," he said, citing that President Xi Jinping had stressed that high-quality development is the fundamental requirement for economic policies.
During the first six months, the country's investment in real estate development rose by 10.9 percent year-on-year, faster than the 5.8 percent for total fixed-asset investment, according to the National Bureau of Statistics.
Under the meeting's guidance, more tightening policies, including curbing excessive financing, may be in the pipeline for the real estate sector, said Yan Yuejin, director of the Shanghai-based E-house China Research and Development Institution.
"It is almost impossible that local governments will loosen regulations over the sector in the third quarter," said Yan, adding that tighter regulation may push real estate developers to take active measures to shore up sales, such as offering discounts.
On Wednesday, real estate developers saw their shares leading the decline of the A-share market, with a subindex tracking the sector dropping by 2.48 percent, according to financial information provider Wind Info.
Dong Dengxin, director of Wuhan University of Science and Technology's Finance and Securities Institute, said real estate developers may seek "a major transition of business models" in the coming years as the country showed greater resolution of abandoning real estate as a means of stimulus.
"Traditional developers may explore business in infrastructure construction, as well as security housing and rental housing to better cater to people's living needs," Dong said.
Lu Wenxi, an analyst with property consultancy Centaline Shanghai, said the property market in China's major cities is expected to develop in a more healthy and sustainable way in the coming year with related regulations further filtering through.
In the long run, the real estate sector will continue to be an important pillar of China's medium-to-high growth, given the large room for encouraging rational consumption of real estate amid continuing urbanization, Steven Zhang, chief economist with Morgan Stanley Huaxin Securities, said in a report.