Learning kung fu can help kick bad habits
Xinhua | Updated: 2019-08-06 08:13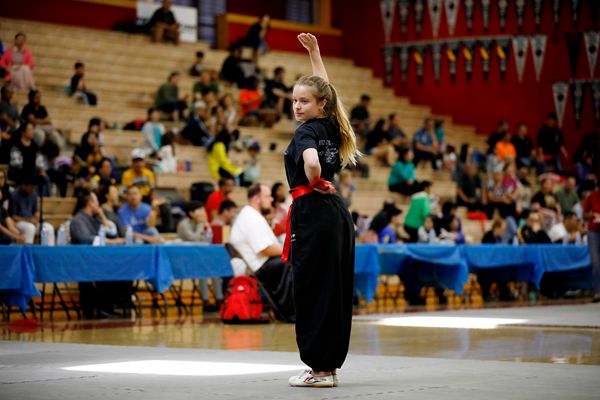 Learning martial arts can help children develop more meaningful habits by diminishing their addiction to modern electronic devices, Chinese kung fu star Bruce Leung Siu-lung said on Saturday.
"Practicing Chinese kung fu not only gives you the ability to learn the combat skills and techniques, but also keeps you healthier physically and mentally," says Leung, who appeared in many Hong Kong martial arts movies throughout the 1970s and 1980s.
Leung, who was in the Bay Area to attend the Eagle Claw Cup International Wushu (Kung Fu) Invitational Tournament held in Union City, expressed concern about mobile phone addiction among young people. He says they spend too much time online, leaving them lost in real life.
"There are a lot of children who are spoiled by their parents and lack independence in real life, and there are some who struggle to face setbacks and even commit suicide," he says.
Leung says he is happy to see many foreign people practicing kung fu in China, some of whom speak Chinese fluently.
"This indicates they are devoting their enthusiasm and energy to Chinese traditional culture.
"Chinese kung fu is more than just a set of skills and techniques. It is full of profound Chinese philosophy and core values, which focus on the spirit of love, kindness, tolerance, perseverance and strong will," says the 71-year-old, who had retired from acting in the late 1980s, but returned to the screen with Kung Fu Hustle in 2004.
Leung says he is encouraged to see kung fu heritage becoming more popular in the United States, reflected by the large number of kung fu fans at the Union City tournament.
More than 400 athletes competed in Saturday's event.
Jennifer Dvorak, an employee with a tech company in San Francisco, says she has practiced kung fu for about two years at the Lily Lau Eagle Claw Kung Fu School in Millbrae, about 25 kilometers south of San Francisco.
"I got to sweat out all of the negative stuff and just train really hard. That's a good feeling," she says.
Dvorak, who moved from North Dakota to San Francisco, says she finds traditional kung fu fascinating.
"It's interesting to learn about the values in the culture and the philosophy behind it and the history that is passed down from my master's father and seven more generations before that," she adds, referring to the family of grandmaster Lily Lau, an eighth generation grandmaster of Eagle Claw Chinese martial arts.
"Practicing kung fu is good for keeping you in shape and healthy," she says, noting that it is a good way to learn to "clear your mind".
"To learn kung fu is also very empowering, especially as a woman. I feel like I would be able to defend myself if I were under attack," Dvorak explains.
Michael Hammond, a visual art worker and part-time instructor at a kung fu school in Washington D.C., says he has practiced martial arts for more than 16 years and is inspired by Bruce Lee movies.
"Chinese kung fu is something you can practice for your whole life. It's very rewarding. I'm never bored and I'm always learning new things," he says.
He also expresses worries that people nowadays have become less active and energetic as a result of modern life, something that kung fu can change.
"Modern conveniences make people a little bit more lazy," he says.