Modi's Kashmir move draws praise, criticism
China Daily | Updated: 2019-08-07 07:42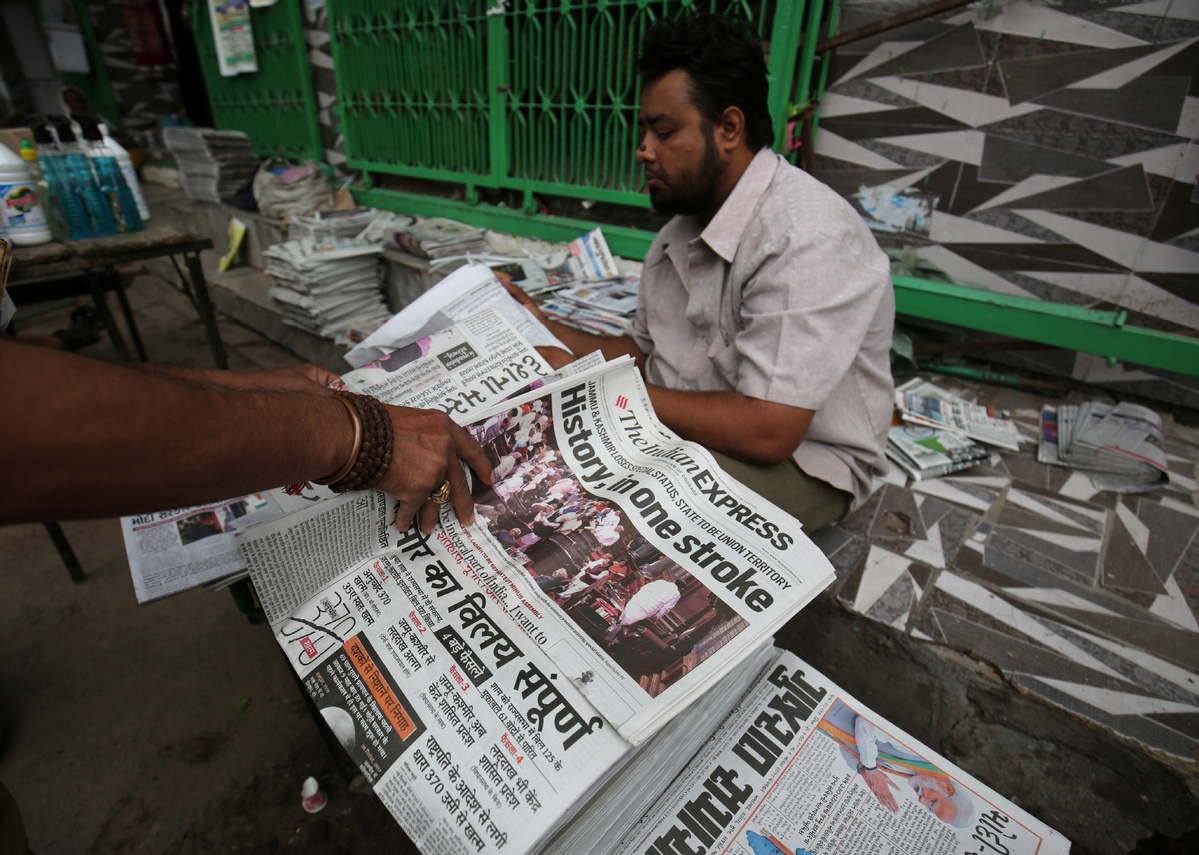 NEW DELHI/ISLAMABAD-Indian Prime Minister Narendra Modi's decision to revoke the special status of the India-controlled part of the disputed Kashmir region is a bold gamble to end a three-decades old armed revolt and draw the territory closer to the rest of India, the country's media said on Tuesday.
The Hindu nationalist-led government on Monday scrapped a constitutional provision that allowed the Muslim majority state of India-controlled Kashmir to make many of its own laws and barred non-residents from buying property there.
"History, in one stroke," ran a front-page headline in the Indian Express newspaper about the biggest political move in nearly 70 years in one of the world's most militarized regions.
"Mission Kashmir Accomplished: In one swift stroke, India gets special status in state," The Economic Times said on its front page.
Modi's ruling Bharatiya Janata Party, or BJP, has long advocated for an end to India-controlled Kashmir's special status, saying it hindered the region's development and spurred young people to join the Muslim insurgency against Indian rule.
But none of former Indian governments has tried to change the autonomy granted to India-controlled Kashmir after it acceded to India in 1947, fearing more violence in a region where tens of thousands of people have died in the insurgency of the past 30 years and India has fought two wars with Pakistan, which also has claims over the region.
"BJP's Kashmir move is bold, but has risks," The Hindustan Times newspaper said in its editorial, adding that the government must now reach out to Kashmiris.
New Delhi gave no prior warning that it planned to withdraw the special status of India-controlled Kashmir.
Isolated from outside
The measure is likely to provoke a backlash in the region, where hours before Monday's decision, Indian authorities cut off mobile, internet and cable television networks in a bid to prevent protests.
India-controlled Kashmir remained virtually isolated from the outside world for a second day on Tuesday with phone and internet links cut and thousands of troops enforcing a curfew.
India's lower house of Parliament was set to ratify the bill on Tuesday to remove special status of India-controlled Kashmir.
Editorials and social media in Pakistan were buzzing over Modi's decision.
The Pakistani parliament on Tuesday opened a debate on the Indian government's decision to cancel the special status.
Pakistani President Arif Alvi has summoned the emergency session of Parliament to form a consensus on the Indian government's decision. Pakistani Prime Minister Imran Khan was expected to attend the session.
Pakistan's military "firmly stands" by Kashmiris, General Qamar Javed Bajwa, the country's army chief said on Tuesday.
Pakistan was braced for protests on Tuesday, a day after India's controversial move that Islamabad has branded as "illegal".
Demonstrations were set to kick off in the early afternoon with protests planned in Muzaffarabad, the largest city in Pakistan-controlled Kashmir, alongside rallies in Lahore, Karachi, and the capital Islamabad.
A United Nations' spokesman said on Monday that Secretary-General Antonio Guterres is very concerned about rising tensions in the Kashmir region and is urging all parties "to exercise restraint".
"We are following with concern the tense situation in the region," spokesman Stephane Dujarric said. "We're also aware of reports of restrictions on the Indian side of Kashmir, and we urge all parties to exercise restraint."
AGENCIES - XINHUA