Customers rejoice as domestic instant noodle makers move up the ladder
By Chen Meiling | China Daily | Updated: 2019-08-07 10:56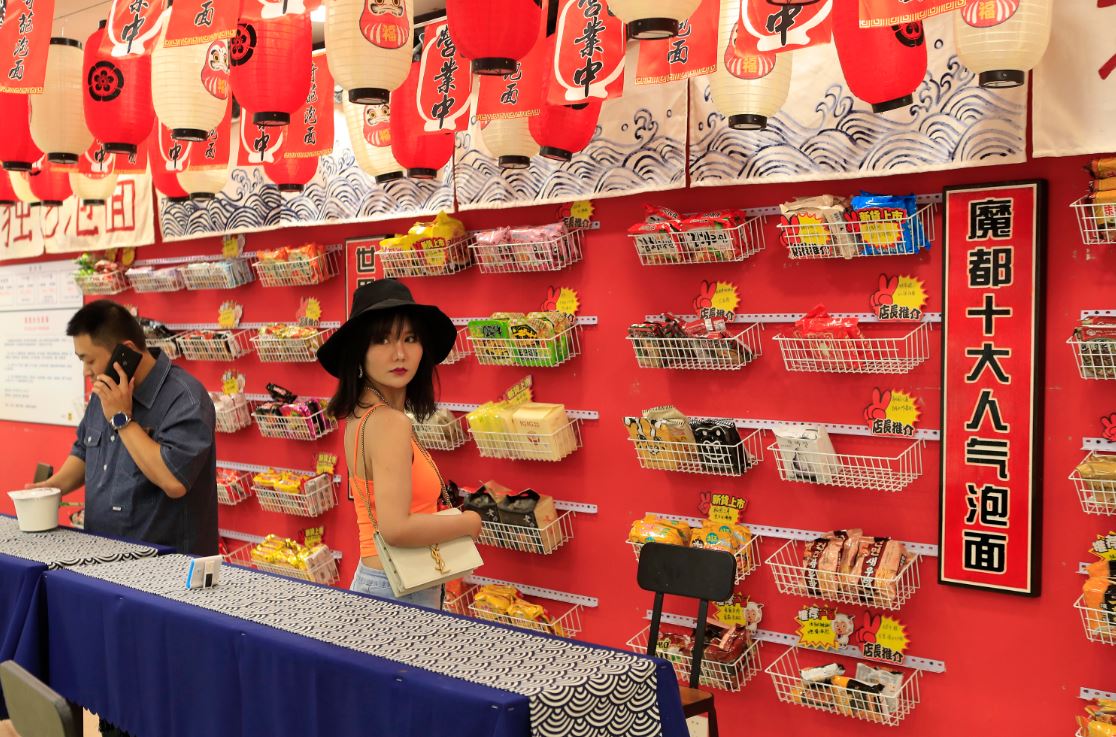 Happy days are here again for Chinese instant noodle makers, as products with better taste, healthier recipes and more innovative cooking techniques are gaining in popularity. Though the product had been largely phased out in the Chinese market due to the consumption upgrade in recent years, sales of such products have started rising again, an industry report said.
Total consumption of instant noodles worldwide reached 103.6 billion units in 2018, of which about 40.25 billion units or 39 percent came from China, according to a report from consultancy firm Ries Consulting. The second and third-largest markets were Indonesia and India, whose consumption accounted for about 12 percent and 5.8 percent, it said.
Sales of instant noodles in China began to drop in 2013 and reached a low point of 38.5 billion units in 2016, data from the World Instant Noodles Association showed. The market warmed up last year and will continue to grow in subsequent years as demand from both high-end and low-income consumers is expected to expand, said Zhang Yun, global partner of Ries Consulting.
On the one hand, consumers in third and fourth-tier cities showed a larger interest in commodities with lower prices such as instant noodles. But on the other hand, many related companies are putting more resources in improving taste, cooking methods and nutritional function, with an eye on consumers who look for quality lifestyles, according to Zhang.
"Though at an initial stage, Chinese instant noodles makers have invested more in research, development and marketing of innovative products, and it will become a future trend," he said. "It aims to change the stereotype of instant noodles as unhealthy, unpalatable and low end among the public."
Tangdaren, a brand under Uni-President China Holdings Ltd, a major beverage and instant noodle maker in China, for example, has said that it would make its soups taste like those from a noodle restaurant. Jinmailang, a domestic instant noodle maker, uses special freezing and steaming techniques to make its products more similar to freshly cooked dishes.
Though prices of such innovative instant noodles often double, they have started to become popular with white-collar workers in the first and second-tier cities, due to their advantages over noodle restaurants and takeout food in price and convenience, Zhang said.
Guo Ying, 22, who works for a long-term rental apartment operator in Shenzhen, said she buys instant noodles packed in boxes online about twice a month, each costing about 100 yuan ($14.5). Each bowl costs about six yuan.
"Dishes at surrounding restaurants are expensive and not tasty. And I'm too busy or too tired to cook. So boiling a bowl of instant noodles is the easiest way to fill my stomach," she said.
She said compared with instant noodles she ate when attending middle school, nowadays the products are much better. "The noodles are more chewable and I can smell the fragrances in the soup."
Revenue of major instant noodles producers also saw growth in 2018.According to the annual report of Uni-President China, its revenue from instant noodles grew by 5.7 percent to 8.4 billion yuan last year. Sales of Tangdaren, its middle and high-end brand, contributed about 30 to 40 percent of the total revenue.
Tingyi (Cayman Islands) Holding Corp, Hong Kong-listed food and beverage company, said revenue from instant noodles surpassed 23.9 billion yuan in 2018, up 5.73 percent year-on-year, among which, high-price products grew 10.6 percent.
Zhao Xiaoma, executive director of China Insights Consultancy, told Chinese financial news outlet Yicai that companies should take efforts to enter the high-end and ultra high-end market to promote upgrading of the industry.
They can innovate in marketing, such as sponsoring renowned internet or TV programs, or using new media such as livestreaming to expand influence among younger consumers, Zhao said, adding they can also try to explore overseas markets.