Year's strongest typhoon forecast to blast east coast with rain, wind
By Zhang Yangfei in Beijing and He Qi in Shanghai | China Daily | Updated: 2019-08-09 07:45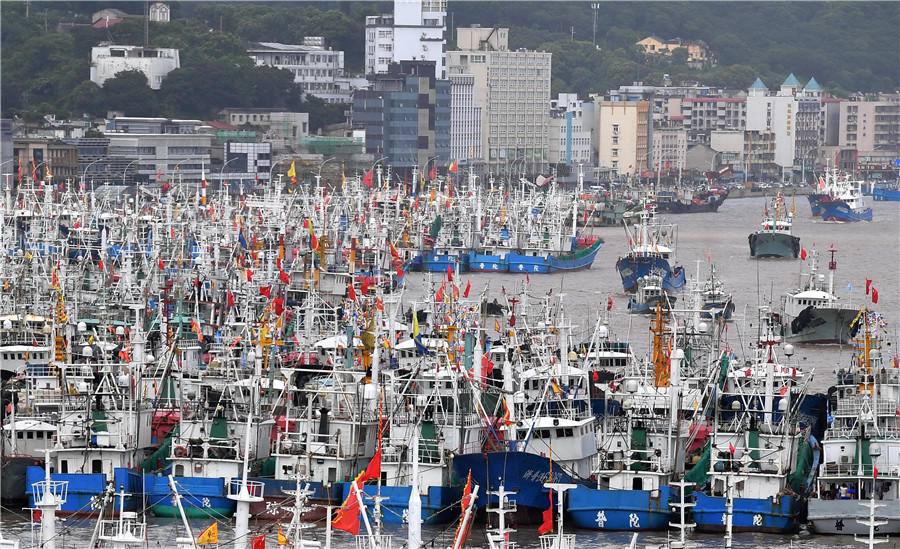 Orange alert issued as powerful Lekima churns its way toward Zhejiang province
A strong typhoon is forecast to either hit the coastal areas of East China's Zhejiang province or move northward along the coast on Saturday, according to China National Meteorological Center.
As of 5 pm on Thursday, Typhoon Lekima was 630 kilometers from southeast Wenling city, Zhejiang province, with wind speeds reaching 208 kilometers per hour at its center.
It's estimated that Lekima will travel northwest at a speed of 20 km/h and enter the East China Sea on Friday morning. It is expected to make landfall at a coastal area in Zhejiang province on Saturday morning.
The National Meteorological Center renewed its orange alert at 6 pm on Thursday.
Orange is the second most severe in China's four-tier color-coded weather warning system.
The center also said that Lekima, the ninth typhoon of the year, strengthened into a super typhoon on Wednesday night but will be downgraded by the time it reaches Zhejiang.
Heavy rains will fall on Taiwan, central and eastern Zhejiang, Shanghai, eastern Jiangsu, eastern Shandong and Liaodong peninsulas, through Sunday.
Meteorologists suggest potentially affected areas strengthen safety inspections of coastal dikes, rivers and lakes and be prepared to prevent urban floods, landslides and other geological disasters. Ships and offshore platforms should be evacuated in advance, and tourist attractions near the sea, islands or mountains should be closed.
Huang Ming, Party chief of the Ministry of Emergency Management, led a video conference on Thursday in Beijing to organize preparations for the typhoon.
He said that monitoring should be enhanced to issue early warnings. Also, residents-especially those living in old communities, construction sites, tourist attractions and places easily affected by geographic hazards-should be transported to safe shelters.
Zhejiang's flood control authority issued an emergency notice on Thursday to raise the typhoon response to Level 3. In Taizhou, one of the province's coastal cities, nearly all fishing boats docked at the port.
In Xiangshan of Ningbo, a traditional fishing hub in Zhejiang, over 2,700 fishing boats have returned to shelter with 8,184 fishermen brought onshore, according to the local fishery administration.
Shanghai's flood control department also issued an emergency notice to lower the water level in rivers and check drainage networks, pumping stations and related facilities.
The notice reminded all districts to check underground spaces including garages, shopping malls, construction sites, and entrances and exits of rail stations to reinforce advertising billboards, air conditioners and decorations on high buildings, particularly in commercial and crowded places, to withstand strong winds.
Jiangsu has issued warnings to brace for strong winds, rainstorms and temperature drops since Friday.
The provincial meteorological administration said large-scale indoor and outdoor activities should be suspended and precarious buildings should be demolished or repaired to ensure safety. People are also advised to stay at home.
Ma Zhenhuan and Cang Wei contributed to this story.