Reveling in global legacy of the silk road
By Alexis Hooi/Wang Linyan | China Daily | Updated: 2019-08-09 09:45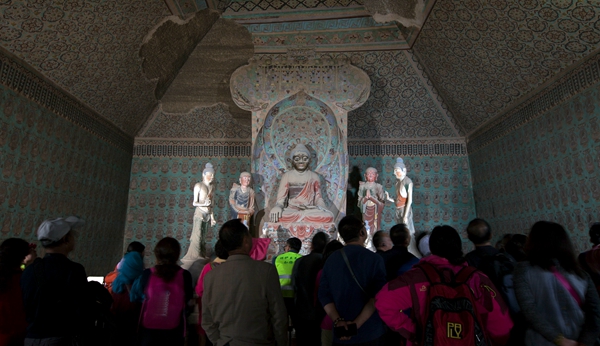 Conservation of Buddhist artworks at the Mogao Caves is encouraging similar efforts at home and abroad
Editor's note: As the People's Republic of China prepares to celebrate its 70th anniversary on Oct 1, China Daily is featuring a series of stories on the role regions have played in the country's development and where they are today.
When asked in front of foreign visitors what it takes to sustain the love for his job after three decades, mural restorer Yang Tao said it is all about having "peace of mind".
"You need to be in a state of tranquility, to guide a stable hand to mend the lines and reconnect the dots," said Yang, 52, who works at the Mogao Caves near the major Silk Road hub of Dunhuang, Gansu province.
The UNESCO World Heritage Site is home to some of the best examples in the world of Buddhist murals, sculptures and writings located in nearly 500 grottoes. They cover a large expanse of Chinese history, including the golden age of the Tang Dynasty (618-907).
Yang's approach to repairing and preserving the iconic works of art for future generations reflects the serious conservation efforts undertaken in Dunhuang in recent decades.
Zhao Shengliang, director of the Dunhuang Academy of China, said the achievements helped to continue the site's historic role bridging relations between the East and West.
"In the past 70 years, our direction and role to protect, research and promote the grottoes have not changed. We are carrying forward that tradition and culture," Zhao said.
As a pioneer in cultural relics conservation, management and research, the academy boasts state-of-the-art preservation and restoration technology, such as environmental monitoring devices and digital imaging equipment.