China's transformation proves anything is possible
By Edeh Emmanuel Chidiebere | chinadaily.com.cn | Updated: 2019-08-09 13:14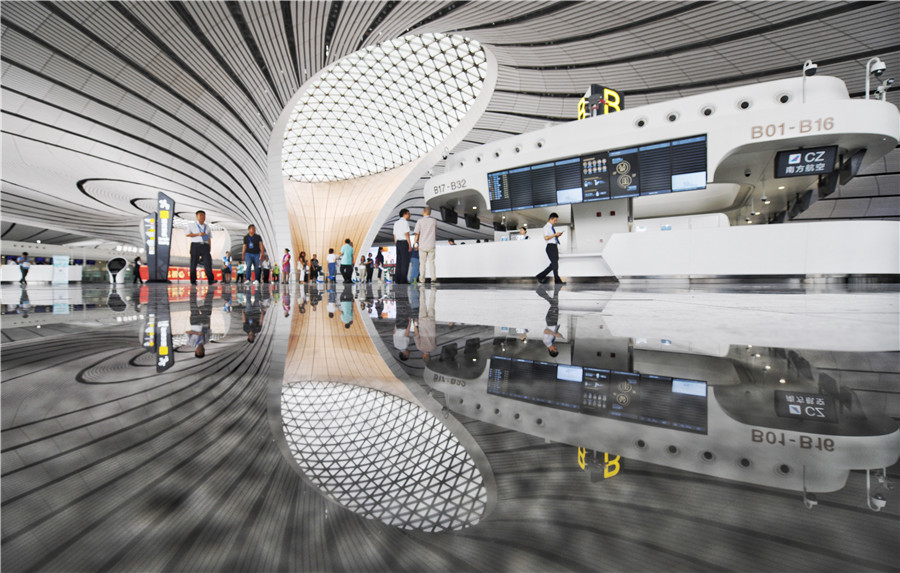 When I was growing up in my country, Chinese martial arts films were my favorite and I used to think that every Chinese person was a martial arts master. I wished I could one day go to China and learn martial arts. While still in my country of Nigeria, I had the opportunity to get in touch with the Chinese language through the Confucius institute, which has helped me to actualize part of my dream of coming to China. As a new student in China two years ago, I couldn't forget how amazed I was at the level of development and advancement, especially in the area of technology. I admired the skyscrapers, good road networks and high-speed trains. China's development is based on common prosperity for mankind.
Groundbreaking reforms in agriculture, health, education and institutions as well as the country's opening-up policy governing trade and international relations has made China a pace setter among developing countries. Its economic growth rate and technological advancement have not only contributed greatly to the world economy but also helped with poverty reduction around the globe. Globally, China is the largest and fastest-growing economy, and its development is a major part of global development. China's growth has lessened the effects of the Great Recession as it opened up a market of more than $1.7 trillion to foreign investment and invested more than $1.2 trillion abroad. The great improvements in agriculture, productivity, manufacturing, transportation and urbanization have made pivotal contributions toward China's perseverance in the fight against poverty. These factors also contributed immensely toward achieving the global poverty reduction target of the millennium development goals set for 2015. As such, China was the first country to meet this target, lifting over half a million of its people from abject poverty, an unprecedented achievement.
Over the last decade, China has extended the benefits of its development and transformation to the world and contributed annually on average 30 percent of the global economic growth through its demographic dividends, investments, and innovation in areas of technology. As the largest contributor to the world economy, one of the greatest achievements of China's development policy has been the promotion of labor-intensive enterprises and the attraction of foreign investors, which has helped improve China's growth. Over the last three decades, China has accumulated rich experience through its reform and opening-up policy in the areas of agriculture, infrastructure, technology and educational development. Through many of its initiatives, such as the Belt and Road Initiative and Forum on China-Africa Cooperation, China has extended a hand for win-win cooperation toward developing countries, especially those in Africa. China's engagements in Africa have indeed changed the narratives of the Western media from hopeless Africa to hopeful Africa. China's emergence has brought about a paradigm shift from handouts to handshakes, replacing aid with cooperation. Today, African countries see China as a reliable partner with mutual dreams of attaining modernization. A 2017 report by Africannews asserted that China has invested in 293 FDI projects in Africa since 2005, totaling an investment outlay of $66.4 billion and creating 130,750 jobs. The China-Africa opportunity is larger than that presented by any other foreign partner including Brazil, European Union, India, UK and US. A 2017 report from McKinsey predicted the revenues of Chinese firms in Africa would grow to around $250 billion in 2025, from $180 billion in 2017. According to McKinsey, the growth would result from expansion from existing sectors -- such as manufacturing, resources and infrastructure -- to new sectors – such as agriculture, banking and insurance, housing, information and communication technology and telecommunications, and transport and logistics. Chinese infrastructure projects in Africa -- ports and harbors, rail networks, roads, dams, power stations and telecommunication networks -- have contributed toward transforming the physical appearance of the continent and boosting economic activities.
China has also become a major destination for international students, and ranks third overall among the world. China's reform in the area of education has attracted African students toward Chinese universities, making China the second most popular destination for African students, ahead of the US and the UK, and only behind France. Statistics on foreign students in China revealed that, in 2015, there were over 397,635 foreign students from 202 countries and regions studying in China, showing a 5.46 percent increase from the previous year of about 377,054, with about 12.52 percent, or 49,792 students, from Africa. The influx of foreign students to China in recent years has been linked to the Belt and Road Initiative, and the FOCAC framework on the African side.
In conclusion, I believe China's success today lies in the tenets of its venerable culture of love and respect, evident in the BRI, FOCAC and many other collaborative initiatives. Therefore, having witnessed the level of transformation in China as a result of reforms that took place over the last four decades, I came to this conclusion: Anyone who says something is impossible should not interrupt the person – or country – making it happen.
Edeh Emmanuel Chidiebere, from Nigeria, is currently studying at Zhejiang Normal University, Zhejiang province.
The opinions expressed here are those of the writer and do not represent the views of China Daily and China Daily website.