DPRK fires 2 short-range projectiles off east coast: ROK
Xinhua | Updated: 2019-08-10 06:12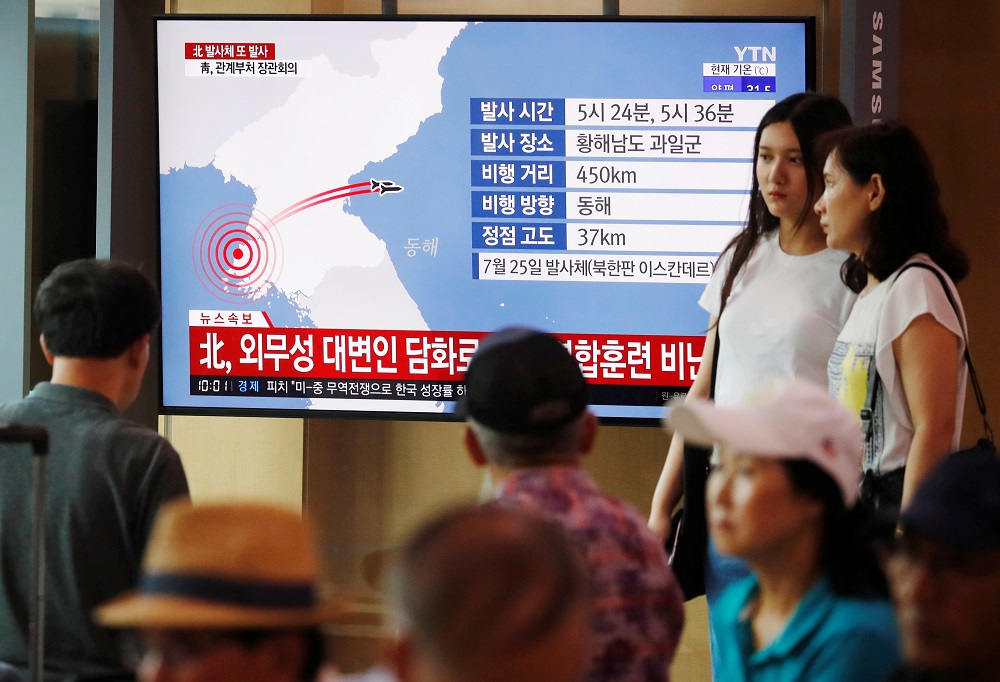 SEOUL - The Democratic People's Republic of Korea (DPRK) fired two short-range projectiles off its east coast on Saturday, the fifth such launch in over two weeks, according to the Republic of Korea's Joint Chiefs of Staff (JCS).
The projectiles, presumed to have been short-range ballistic missiles, were launched at 5:34 am and 5:50 am local time each from the DPRK's eastern coastal city of Hamhung in South Hamgyong province into its eastern waters.
They flew about 400 km at an altitude of some 48 km and a maximum speed of Mach 6.1 or higher.
The JCS said in a statement that it saw a high possibility for the DPRK's additional projectile launches as the DPRK forces were under summertime drills and the combined forces of the ROK and the United States launched their joint military exercises.
The ROK-US joint military drills kicked off on Monday, and were scheduled to last for about 10 more days.
Pyongyang has denounced the joint ROK-US military drills as a dress rehearsal for northward invasion. The Saturday projectile launch was the fifth of its kind since July 25.
The JCS noted that the ROK's military was closely monitoring relevant situations while maintaining staunch defense readiness.
Right after the DPRK's test-firings, the top national security adviser for ROK President Moon Jae-in held a meeting with the defense minister, the intelligence agency chief, the JCS chairman and the deputy directors of the National Security Office (NSO), according to the presidential Blue House of the ROK.
The security officials saw the Saturday test-launches as the DPRK's show of force against the ROK-US joint military drills and also the DPRK's aim to test its newly-developed short-range projectiles.