Art of reforming realty for greater economic good
By Hu Yuanyuan | China Daily | Updated: 2019-08-12 07:47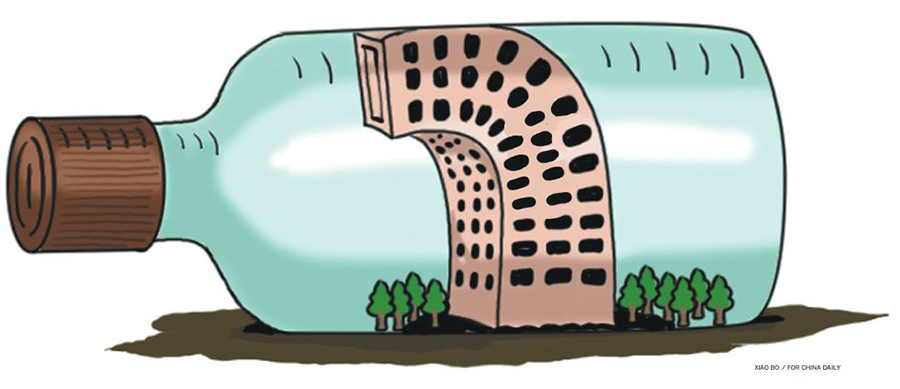 There was a time when China's real estate insiders used to feel their sector was treated like a chamber pot-used opportunistically during economically unpleasant times, only to be cast aside irreverently, even disdainfully, later.
Every time the economy took a downturn, real estate was expected to perform the rescue act. Once sorted, the economy quickly moved on, and the sector's contributions were forgotten, perhaps taken for granted.
Well, that's history, and ain't the industry insiders glad for that.
The world's second-largest economy won't use real estate as "a short-term means of stimulating the economy" anymore.
China's top leadership is determined to curb speculative investments in the property sector. Home is for living, not for investing with a view to make a profit through reselling-that's been the norm for a while now.
Even though the economy appears to face a few downturn risks, the norm will stay, and property won't be required to play savior. That's the essence of a statement released after a meeting of the Political Bureau of the Communist Party of China Central Committee on July 30.
The declaration is a first of its kind. The past decades haven't seen one such move. It is consistent with the central government's commitment to establishing a long-term mechanism to maintain the sound development of the real estate sector.
It is also in line with China's supply-side structural reform spearheaded by President Xi Jinping. That means, unlike in the past, property developers should not bet on stopgap measures.
Centaline Property data show that 251 policy moves were made in the first half of this year to further streamline China's real estate. That marks a 31-percent year-on-year rise.
In July alone, some 40 policy moves were made across the country. Measures included tightening of financing for property developers, and tighter restrictions on home sales in some cities.
The central government is determined to see the real estate sector, which tended to overheat again in recent months, cool down-never mind the downward pressure on the economic growth. Real estate is not a chamber pot.
Managing market expectations, and stabilizing prices of land parcels and homes are the central goals of these policy moves.
According to the National Bureau of Statistics, real estate investment accounted for nearly 21 percent of the overall fixed asset investment in the first half of this year, up 1.9 percentage points year-on-year. Property developers are more eager to increase their land parcels, even though there are obvious premiums on prices.
Moves for establishing long-term mechanisms to stabilize property are gathering pace. An increasing number of government-subsidized properties entered the market in the last two years. These helped counter demand-supply imbalances, and slowed the growth of home prices in most cities, especially metros.
With measures from both demand and supply sides gradually in place, home prices in 70 major Chinese cities continued to stabilize with slower month-on-month price increases in June, NBS data showed.
In June, new home prices in four first-tier cities-Beijing, Shanghai, Shenzhen and Guangzhou-rose 0.2 percent month-on-month. The rise itself was down 0.1 percentage point from May. Prices of pre-owned homes in the four metros were flat month-on-month, compared with a 0.1-percent increase in May; prices in second-tier cities rose 0.3 percent, with the rise being 0.2 percentage point lower than that in May.
The July 30 statement also seems to be an attempt to remain prepared for any possible easing in China's monetary policy in the near future.
The monetary policy usually has a direct impact on short-term home prices, though industry fundamentals like the demand-supply equation and the demographic structure determine them in the long run.
The US Federal Reserve recently cut the interest rates by a quarter-percentage point to buoy the US economy amid a global slowdown and the continuing US-China trade dispute, the first time since 2008 when the subprime mortgage crisis threatened to torpedo the US economy. China's central bank may not necessarily cut rates, as the Chinese economy is in a different situation compared to some developed economies, where low inflation and precarious growth are key concerns. But, there will likely be leeway in China's monetary policy in the following months.
On Aug 2, the PBOC said that China will keep its prudent monetary policy "neither too tight nor too loose" and make adjustments in a timely and moderate manner in the second half of the year.
That means, even though there will likely be some loosening in the future, the government still wants to keep the increased liquidity out of the real estate sector.
The reason is simple: given the existing home prices and the leverage ratio, the risks in loosening real estate policies far outweigh short-term benefits.