How my China experience changed my life
By Eboh Ekenedirichukwu Bethel | chinadaily.com.cn | Updated: 2019-08-12 13:40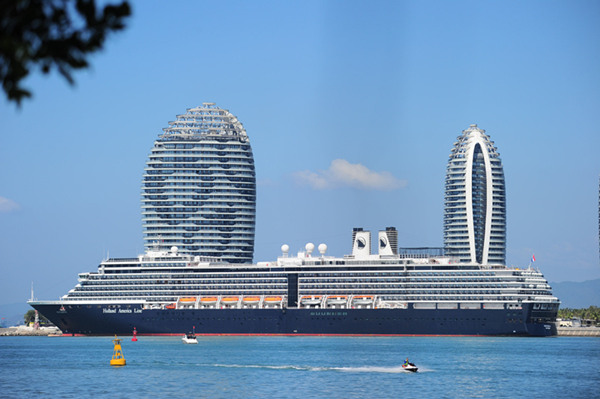 Before coming to China 10 months ago, I knew nothing much about China. My little knowledge was through television programs and lectures on community medicine in which China played a key role in ancient medicine. Previously, in my local community where I lived with my grandmother, I only knew China as a nation in East Asia with its popular movie actor, Jackie Chan. Having a history teacher as an uncle motivated me to read and study the histories of nations, and Chinese history captured my heart. With that said, after studying Chinese history I would strongly say that China is a reflection of light to nations of the world that have lost faith in themselves, particularly African nations.
My aim of coming to China was to study in the MBBS program at Hainan Medical University and acquire skills that will make me useful when I go back to Nigeria. Furthermore, developing my spoken Chinese language skills from my Chinese friends and listening to Chinese folktales truly touches my heart to love and embrace Chinese culture with so much diversity. Spreading the history and showing respect to the national flag has made the Chinese people so patriotic.
I understand in China that agriculture is a vital industry not just for rural people alone; this sector employs over three hundred million farmers, as well as feeding the nation at large. The agricultural sector has a great impact on the economy of China.
As a result, my stay in China has taught me that food is an important medicine to the body. Back in Nigeria I never had such understanding until I came to China and observed that the Chinese did not eat just to get satisfied, but eat to be healthy. They serve their dishes based on the seasons and most times add vegetables to their meals to strengthen their immune systems. China has a long history of medicine. China promotes its traditional medicine by packaging, which adds value and a modern look to the herbs. This has shown the world the importance of traditional herbs, especially in Africa.
Frankly speaking, access to university education is more difficult in most parts of the world than in China. Access to a good education is a top priority to the Chinese government, which is the reason for the evident reduction in illiteracy rates and high increase in human resources with higher educational qualifications. Chinese education is affordable for international students compared to other countries, such as in Europe and the USA. Personally, China has a great impact on my academics. Studying in this nation has changed my way of reasoning, which proves that the system of education in China does not only teach academic works but also shows ways to be disciplined, strong and wise. I once lost hope in my studies but my "laoshi" made an inspiring statement in class: "We Chinese are not the strongest, neither are we the weakest but we are not too weak to be bullied, our actions speak for our bravery", and these words gave me the courage to push on.
Looking back to my 10 months in China, I can say it has opened my mind to novel ways of seeing the world. It has been a time of growth and maturity for both my mind and character; above all, it has been the most thrilling, inspiring and fulfilling years of my life. I truly believe China has a lot to teach the world at large when it comes to good governance, stability in the economy and achieving goals within a short time, with unity as a key point.
China as an independent nation has proven to developing nations what being independent means. As such, China is a good example to reckon with in terms of being self-reliant, unlike African countries which claim to be independent and are still indirectly dependent on Western imperialism. In summary, China is a sea that salts waters that flows into it; all nations should embrace China's success through the BRI Program.
I will conclude by saying my 10 months of studying in China have taught me dreams can come to pass; and when shared hardship forges bonds of unbreakable loyalty and understanding, it can turn into wealth creation and redefine a nation.
The author is a Nigerian student studying at Hainan Medical University, in South China's Hainan province.
The opinions expressed here are those of the writer and do not represent the views of China Daily and China Daily website.