Norway mosque shooting treated by police as possible terrorist act
By JULIAN SHEA in London | China Daily Global | Updated: 2019-08-13 09:18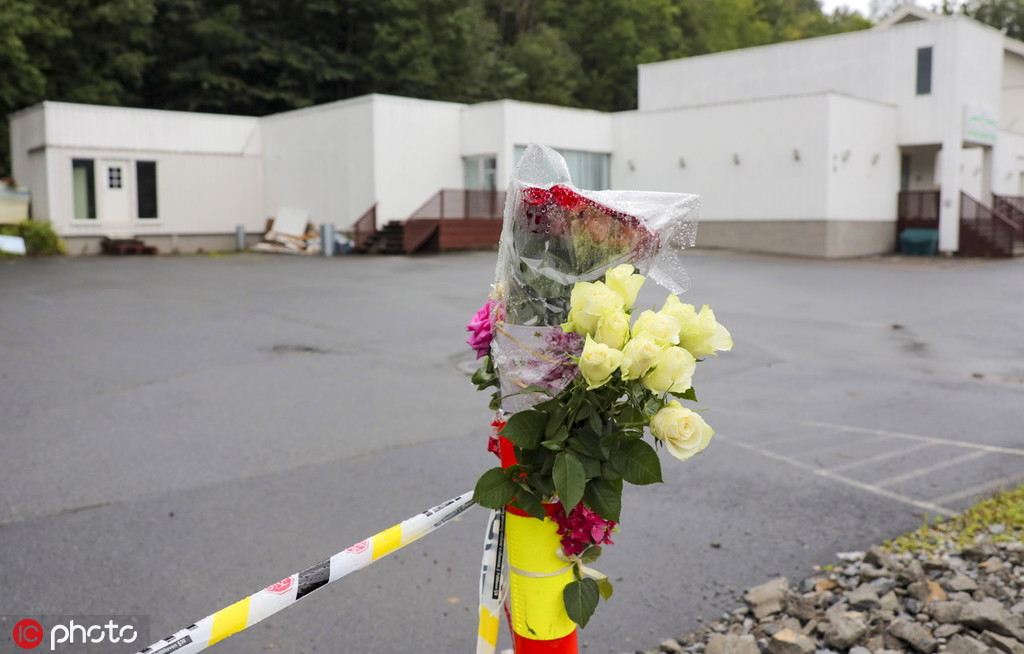 An armed attack on a mosque in the Norwegian town of Baerum on Saturday is being treated as a possible act of terrorism, local police have confirmed.
Only three people were in the mosque at the time, preparing for Sunday's celebrations for the feast of Eid, when up to one thousand worshippers could have been in attendance.
Eyewitnesses said the man, named by local media as 21-year-old Philip Manshaus, entered wearing body armor and carrying two "shotgun-like weapons" and a handgun. He opened fire before being wrestled to the ground and disarmed by Mohammed Rafiq, a 65-year-old retired Pakistani Air Force officer, who suffered minor injuries.
Norway's state broadcaster NRK said the suspect had invoked his legal right not to be questioned, which his lawyer said was not an admission of guilt, adding "He has so far chosen to exercise his right not to explain himself. That is status now, how it will be later we wait and see".
Police have said they had had previous contact with the arrested man, but gave no details, other than confirming that they have linked the suspect to right-wing online discussion groups.
There are also reports that in the days before this incident, he posted messages praising the gunmen of the recent El Paso shooting in Texas, which left 22 people dead, and the Christchurch mosque attack in New Zealand in March, which claimed 51 lives, going as far as to claim he had been "elected" by the Christchurch shootings suspect. In addition, police are investigating after the body of a 17-year-old woman, identified as Manshaus's step-sister, was found at his house.
Official figures from 2016 showed that Norway has around 200,000 Muslims, out of a population of 5 million. Muslim organization Islamic Council Norway said there was "a long-lasting hate of Muslims that has been allowed to spread" which the Norwegian authorities had not taken seriously, and that the attack was a consequence.
Irfan Mushtaq, the director of the Baerum mosque, said the attack showed the need for the government to take firm action against the spread of racial hatred.
"For so many years, the secret police says the Muslims are the biggest risk for this country, but if you look at those last two major incidents of terrorist activities, it's not Muslims who have done this," he said.
Norway has tight controls on gun ownership, with fully automatic weapons and disguised weapons banned altogether, and restrictions on semi-automatic weapons. The country is particularly wary of right-wing activity following the deaths of 77 people in July 2011, in a bomb blast in Oslo and mass shooting at Utoya Island. The perpetrator is currently serving the maximum 21-year sentence allowed for the offences.