Palestinian worshippers, Israeli police clash at Jerusalem holy site
China Daily | Updated: 2019-08-13 09:54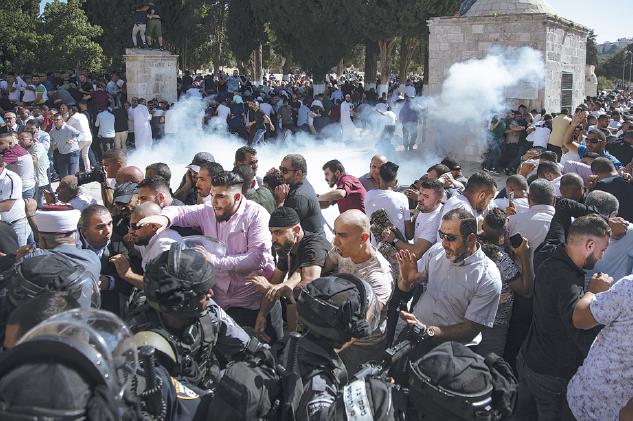 JERUSALEM - Clashes erupted between Muslim worshippers and Israeli police in East Jerusalem's holy site on Sunday, drawing condemnation from the Palestinian government.
Separately on the Gaza border, a Palestinian shot at Israeli soldiers, who returned fire and killed him in the third such incident in recent days, the army said.
Hamas' health ministry confirmed the death of the Palestinian. Hamas is the Islamist organization that controls the Gaza portion of Palestinian territory.
In Jerusalem, police fired sound grenades as Palestinian protests intensified at the highly sensitive Al-Aqsa mosque compound, known to Jews as the Temple Mount, according to an correspondent from Agence France-Presse.
The Palestinian Red Crescent reported 61 Palestinians wounded, 15 of whom were taken to hospitals, Agence France-Presse reported.
Israeli police said in a statement that thousands of Muslim worshippers were rioting and hurling stones, chairs and other objects at the police, adding four police officers were lightly wounded in the clashes.
Seven people were arrested, police said.
Sunday marked the start of the Muslim Eid al-Adha holiday and thousands of Palestinians prayed at the Al-Aqsa mosque.
It coincided with the Jewish Tisha B'av holiday, which typically sees an increase in visits by Jewish religious nationalists to the holy site.
In a bid to ease tensions, police initially barred Jewish visits to the site on Sunday but Muslim worshippers still feared they would be allowed in and protested there. The clashes with police broke out afterward.
After relative calm returned and following criticism from Israeli far-right politicians, police then opened the site to Jewish visits, sparking further clashes.
Israeli Prime Minister Benjamin Netanyahu said that he decided in advance "in consultation with all the security bodies" to allow Jewish entry.
"The question was not whether they would go up but how to manage it in the best way for public security and that is exactly what we did."
The clashes sparked fresh tensions and condemnation from Palestine.
Hanan Ashrawi, a member of the Palestine Liberation Organization executive committee, held Israel responsible for "fueling religious tensions in Jerusalem".
"We condemn this aggression, which is reprehensible and dangerous," Ashrawi said in a statement.
Nabil Abu Rudeineh, spokesman of Palestinian President Mahmoud Abbas, held the Israeli government responsible for "settlers' incursions" into the Al-Aqsa Mosque compound.
In a statement published by official news agency WAFA, Rudeineh said Abbas is holding contacts with "all relevant parties to stop the Israeli escalation" against the Palestinian people and holy sites, warning Israel not to "transform this conflict from a political one into a religious one".
Yehuda Glick, a former Israeli parliament member and a prominent campaigner for greater Jewish access to the site, accused Palestinian worshippers of provoking the clashes.
"When the Muslims were alone and they told them the Jews were not coming, they celebrated by doing riots," he said.
About 1,300 Jews visited the site on Sunday, according to the Muslim Waqf organization, which administers the holy compound.
Jordan, the site's custodian and one of only two Arab countries with a peace treaty with Israel, also condemned Israel's "continuous violations" there.
Similarly, Saudi Arabia called on the international community to "protect the Palestinian people from various Israeli aggressive practices".
AFP - Xinhua