Gun violence: victims of US shootings
China Daily | Updated: 2019-08-13 09:58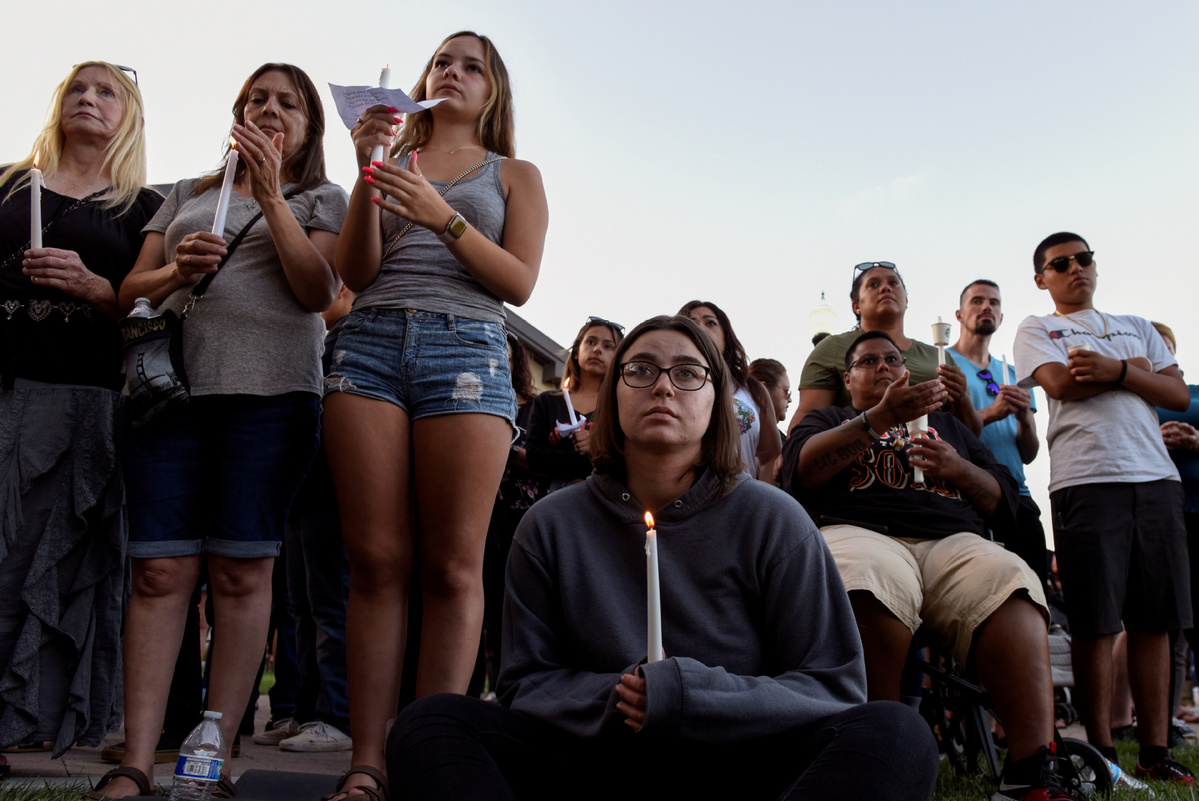 More than 36,000 people shot to death every year on average in the country
WASHINGTON - A boy accidentally killed by his father during a fishing trip in Montana. A woman dead and her husband behind bars after a single gunshot in a Dallas hotel room. A teenager cut down on his porch on a warm day in Washington state.
During the week bookended by mass shootings in Gilroy, California; El Paso, Texas; and Dayton, Ohio, in which gunmen killed 34 people, hundreds of others were shot to death across 47 US states, according to the Gun Violence Archive, a nonprofit group that uses local news and police reports to track gun incidents.
The deaths were the sort of everyday murders, suicides and accidents that may not grab the headlines of mass shootings, but in many ways show the true toll of the gun violence endemic to the United States.
More than 36,000 people are shot to death every year on average in the US, according to US government data compiled by the gun-control advocacy group Everytown for Gun Safety. That works out to about 100 a day. Suicides account for more than 60 percent of those deaths. Slightly more than a third are homicides.
Here are three of the victims of deadly shootings during the week between the attack in Gilroy and the attack in Dayton:
Sunday, July 28
Soon after a gunman opened fire at the Gilroy Garlic Festival, Steven Parsons was sitting in a parked car with two other people 1,500 miles (2414 kilometers) away in an alley in Kansas City, Missouri.
The 27-year-old died there along with another man, Montae Robinson, shot by a gunman who is still at large, police said. The third person in the car is being sought by police for questioning but is not a suspect.
"I have a wedding dress in my closet that I will never wear," Marissa Tantillo said during Parsons' funeral service on Wednesday evening at a chapel in Blue Springs.
They had two daughters together and planned to marry in a few months. She urged mourners never to take their loved ones for granted. "All I want you to do is hold your husband a little closer, hold your wife a little tighter," she said.
Monday, July 29
Guests at the Hotel ZaZa in Dallas heard a commotion and screams from the room where Jacqueline Rose Parguian and her husband, Peter Nicholas, were staying on Monday night.
When hotel security staff knocked on the door, no one answered. Paramedics, responding to a 911 call about a woman loudly in distress and a report of a possible drug overdose, listened to the commotion outside as they waited for police to arrive, per department rules. A noisy hour passed. A gunshot rang out. The arguing stopped. Parguian was dead.
"Jackie had a passion for beauty," an obituary published by Parguian's family said. She pursued a degree in cosmetology and graduated from a Dallas beauty school in 2016.
She loved 1990s pop music and collected concert tickets in a box of memories. One of six children, she was known for checking in frequently with her younger siblings.
She was 32. Her sons are ages 2 and 8.
Nicholas, 30, was arrested and charged with his wife's murder. He was later released on a $250,000 bond. An attorney for Nicholas did not respond to a request for comment.
Tuesday, July 30
It was a warm day in Tacoma, Washington, and Jamone Pratt was out on a friend's front porch when he was shot in the head. Witnesses told police they saw at least two cars speeding away. Pratt was 16 years old.
Police have made no arrests. Jamone's mother, Kyndal Pierce, has filled her Facebook page with anguished posts, saying she's finding it hard to go on without her eldest son, a "tall and skinny" kid the family called Junior and who was inseparable from his sister.
A schoolmate of Jamone's who makes music under the name Kiing-Calebb recorded a rap tribute to his friend called MonesWrld. The lyrics include oblique references to gang rivalries.
"Thought you were going to make it to 18," the lyrics went. "All you wanted were your dreams/but now you fly high."
Reuters