When sun is lethal: Moroccans struggle with skin illness
China Daily | Updated: 2019-08-13 10:14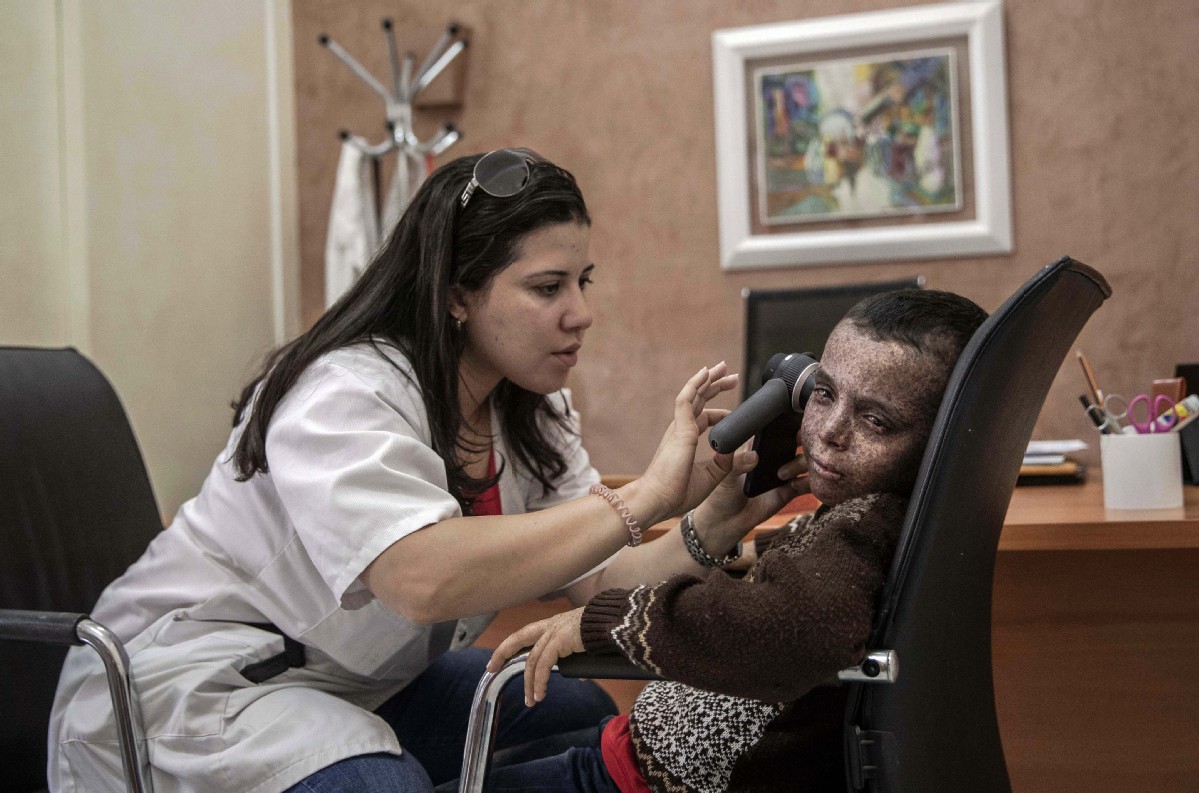 CASABLANCA, Morocco - Determined for her 7-year-old son to attend school despite a life-threatening sensitivity to sunlight, Nadia El Rami struck a deal with the school's director: Mustapha would be allowed in the classroom, but only if he studies inside a cardboard box.
Mustapha Redouane happily accepted the arrangement. He knew his mother's idea would silence the school's worries about his condition, a rare genetic disorder called xeroderma pigmentosum, or XP, which can make sun rays and other sources of ultraviolet light extremely damaging to the skin and eyes. The disorder is more common in North Africa than much of the world.
"I hate the sun anyways. It gives me blisters," he said, sitting on his mother's lap, his face covered with the dark brown freckles that the school director considered a distraction to other students.
Now 8, Mustapha has already had 11 operations to remove cancerous growths on his skin.
His family is among thousands around the world struggling with XP, and increasingly sharing advice and seeking new treatments. In Morocco, families are also fighting for recognition, government help - and the simple right to go to school.
The disorder affects about 1 in 10,000 people in North Africa - more than 10 times the rate in Europe and about 100 times the rate in the United States, according to Kenneth Kraemer, who researches XP at the US National Institutes of Health.
Because the disorder is inherited, XP is more common in populations where marriage between relatives is high, Kraemer said. Affected children inherit two copies of a mutated gene, one from each parent. A 2016 Moroccan government study estimates about 15 percent of marriages are between family members.
Living in a country where the sun shines year-round makes them more susceptible to skin cancers that can be caused by the disorder, said Fatima El Fatouikai, a pediatric dermatology specialist at the Ibn Rochd University Hospital in Casablanca.
Without protection, few XP patients in Morocco live beyond their teenage years, El Fatouikai said. It is particularly challenging in developing countries, where an awareness of the disorder and access to treatments are scarce, and in poor, rural communities where people spend more time outside.
Most Moroccan children with XP don't continue their education. While US schools install window filters for XP pupils and otherwise adapt to their needs, such accommodations are rare in Morocco.
Associated Press