Social media roasted over US shootings
By LIA ZHU in San Francisco | China Daily Global | Updated: 2019-08-14 09:10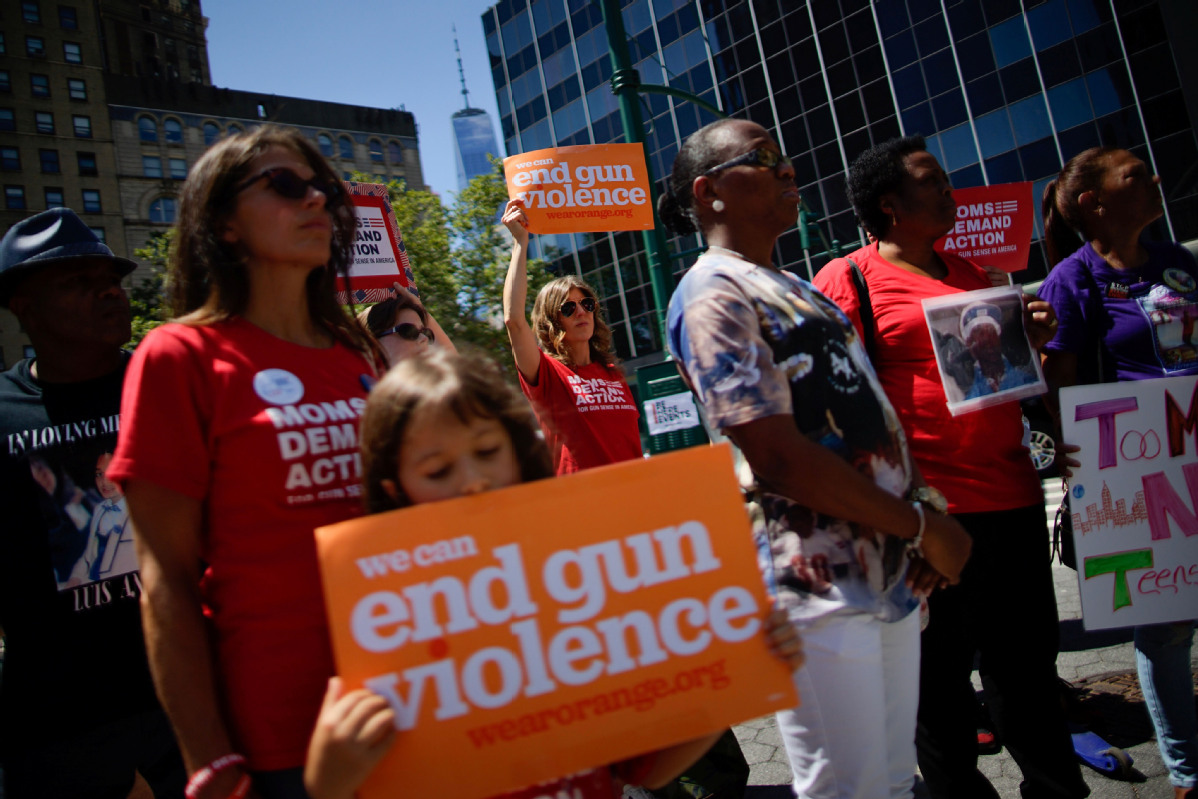 Online platforms' role in how they deal with extremist content questioned
Shootings that left 31 people dead and 53 injured in two US cities during a 24-hour period have prompted a national outcry over the role of social media in distributing white supremacist and extremist content online.
Violent extremism online has dominated the news since the shootings on Aug 3 at a Walmart in El Paso, Texas, killed 22 people and 9 people in Dayton, Ohio, raising questions about online platforms' responsibility to deal with extremism.
The suspect in the El Paso case is accused of publishing an anti-immigrant "manifesto" on the web forum"8chan"' minutes before the attack.
Patrick Crusius, 21, of Allen, Texas, has been charged with capital murder in the mass shooting that left more than two dozen injured. He is being held without bond and prosecutors are handling the attack as a case of domestic terrorism.
Trump administration officials met with leaders from the technology companies on Friday and discussed efforts to combat online extremism.
A four-page document, titled "The Inconvenient Truth," was published on 8chan about 20 minutes before the shooting in El Paso. Shootings in Christchurch, New Zealand, on March 15, and at a synagogue in Poway, California, on April 27, began with a post on 8chan.
The suspect in the El Paso shooting claimed in the document that he was inspired by the Christchurch massacre that killed 51 people.
It is filled with white supremacist language and racist hatred aimed at immigrants and Latinos. The author says he opposes "race mixing" and encourages immigrants to return to their home countries.
The website 8chan has a history of use by extremists celebrating racist, anti-Semitic and white supremacist violence. The El Paso shooting prompted the site's founder, Fredrick Brennan, who no longer controls it, to urge its owners to "do the world a favor and shut it off".
The site has remained offline since Monday after the cybersecurity company Cloudflare, which had been keeping the site online for years, decided to cut off services to 8chan under public pressure. Tucows, a company that managed 8chan's domain name, said it would no longer provide services to the site.
"We have a white nationalist terrorism problem in this country and it's being aided and abetted by our largest technology companies," said the activist group Sleeping Giants in a tweet.
"If you're doing business with a site that helps people spread violent, racist ideologies, you are just as culpable. Full stop," the group tweeted.
The El Paso shooting came only a few days after a shooter killed three people and injured 13 others on July 28 at the Gilroy Garlic Festival in California. The FBI announced on Tuesday it had opened a domestic terrorism investigation into the shooting.
The shooter, who died in the incident, didn't have a manifesto, but had a "target list" of religious institutions, political organizations and federal buildings, said the police.
The authorities believe that the gunman in the Dayton shooting on Aug 3 was exploring "violent ideologies" before going on a killing spree. The shooter was killed in the incident, too.
"There is a direct correlation between the rise of hate groups on social media and the frequent attacks," Keegan Hankes, a senior research analyst for the Southern Poverty Law Center advocacy group, told USA Today.
Hankes said Twitter "does one of the worst jobs of content moderation", calling it an "absolute cesspool "of hate.
Sleeping Giants criticized Twitter for still allowing 8chan to have a verified account. On 8chan's Twitter profile, 8chan owner Jim Watkins told his users in a statement on Tuesday: "Sorry for the inconvenience, common sense will prevail."
Joan Donovan, director of the Technology and Social Change Research Project at Harvard University's Shorenstein Center, said "posting to 8chan is a tactic" for attackers to gain attention.
"It draws in reporters, police and experts and ensures amplification; content can't be removed because users have developed a culture of reposting; journalists who refer to this board or manifesto increase its reach," said Donovan in a tweet.
The manifesto of the El Paso suspect contains instructions and a weapons kit and a call for continued violence, said Donovan. "It is meant to inspire other white supremacists," she said.
Clint Watts, a senior fellow at the Foreign Policy Research Institute and a former FBI counterterrorism expert, believes that white nationalist terrorism hasn't been taken seriously enough in the US.
"We'd try to close the gap between social media signal and law enforcement response by creating public-private Social Media Intelligence Fusion Center that protects privacy while rapidly detecting/responding leads," said Watts in a tweet.
He also suggested legislation to designate white supremacy as domestic terrorism, policing small platforms and mandatory background checks for firearm purchases.
"What if the elected leader of a country puts full weight of the executive branch into solving the problem? Maybe we could stop it," he said in a tweet. But then he said it's a "crazy idea".
The El Paso suspect's words such as "Hispanic invasion" and "open borders" echo the rhetoric commonly employed in Donald Trump's tweets. The US president recently told a group of congresswomen to "go back" where they came from in a series of tweets.
"Social media has become a tool of the powerful to dominate, harass and coerce vulnerable groups. If we do not acknowledge this shift, the freest speech will benefit only those who are already powerful," said Donovan in an article for The Washington Post last month.