Tianjin takes lead in benefits for top foreign experts
By YANG CHENG in Tianjin | China Daily | Updated: 2019-08-19 06:50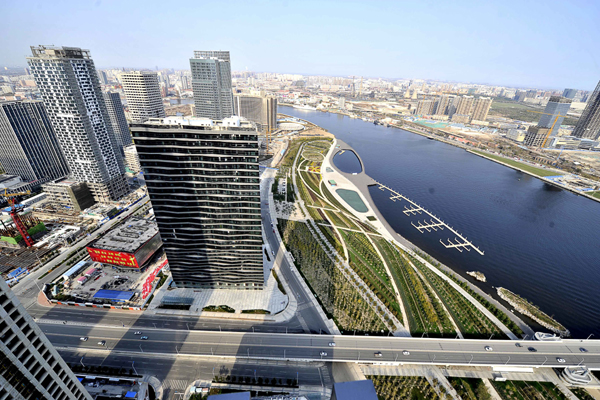 Tianjin has taken the lead in helping top foreign experts build up pensions and qualify for other benefits, including housing and real estate loans.
More benefits are in the offing, including assistance with commercial medical insurance expenses and children's tuition fees.
"The pilot project has been going for a year and has won high praise from foreign experts," said Yu Xuefeng, director of the Tianjin Municipal Science and Technology Bureau's division of foreign experts affairs.
Under the project, high-end foreign personnel are entitled to pensions and other benefits, known as provident funds. Previously, foreign experts in China were not entitled to the same benefits as Chinese citizens.
Tianjin is now allowing certain highly skilled foreign experts to contribute to provident funds beyond the usual retirement age of 60.
"This is the latest move we have made to help leading foreign experts take advantage of the service this year," Yu said. Even though the experts may not have completed the 15 years of contributions ordinarily required to qualify for a pension, they can continue to pay into the funds.
After they complete 15 years of contributions, regardless of when those payments began, they will qualify for retirement benefits.
Last year, the city became the first in the country to help foreign experts invest in housing provident funds, from which they can make withdrawals to buy property, pay off bank loans or qualify for a cash lump sum after retirement.
To date, 112 foreign experts have opened housing provident fund accounts, Yu said.
Bringing aid to foreign experts to a new level this year, the bureau is also offering subsidies for commercial medical insurance and tuition support so that the children of foreign experts can enroll in international schools near their homes.
Foreign experts with long-term commitments are entitled to up to 20,000 yuan ($2,836) to purchase commercial medical insurance. Those with short-term commitments qualify for up to 10,000 yuan.
Children with foreign nationality can qualify for up to 150,000 yuan in tuition payments.
Two years ago, a foreign expert from Nankai University was envious of his Chinese wife's access to the housing provident fund. She was eligible for a considerable amount of money after she retired, and the expert asked the Foreign Experts Bureau in Tianjin-now merged with the city's science and technology bureau-for similar assistance.
The authorities conducted research and launched the benefit pilot project last year.
In addition to the favorable policies, the city launched fast-track medical services for foreign experts through a WeChat account.
Chloe Emma Puccia, a foreign expert at the Heping IELTS English test training center, said she was supported by a medical service plan after a recent car accident.
She was grateful for the speedy help and told the foreign experts affairs authorities she would work until retirement and help promote Tianjin's scheme to other foreign experts around China.
In April, Tianjin ranked among the Ministry of Science and Technology's Top 10 Amazing Cities for attracting foreign experts for the eighth time.